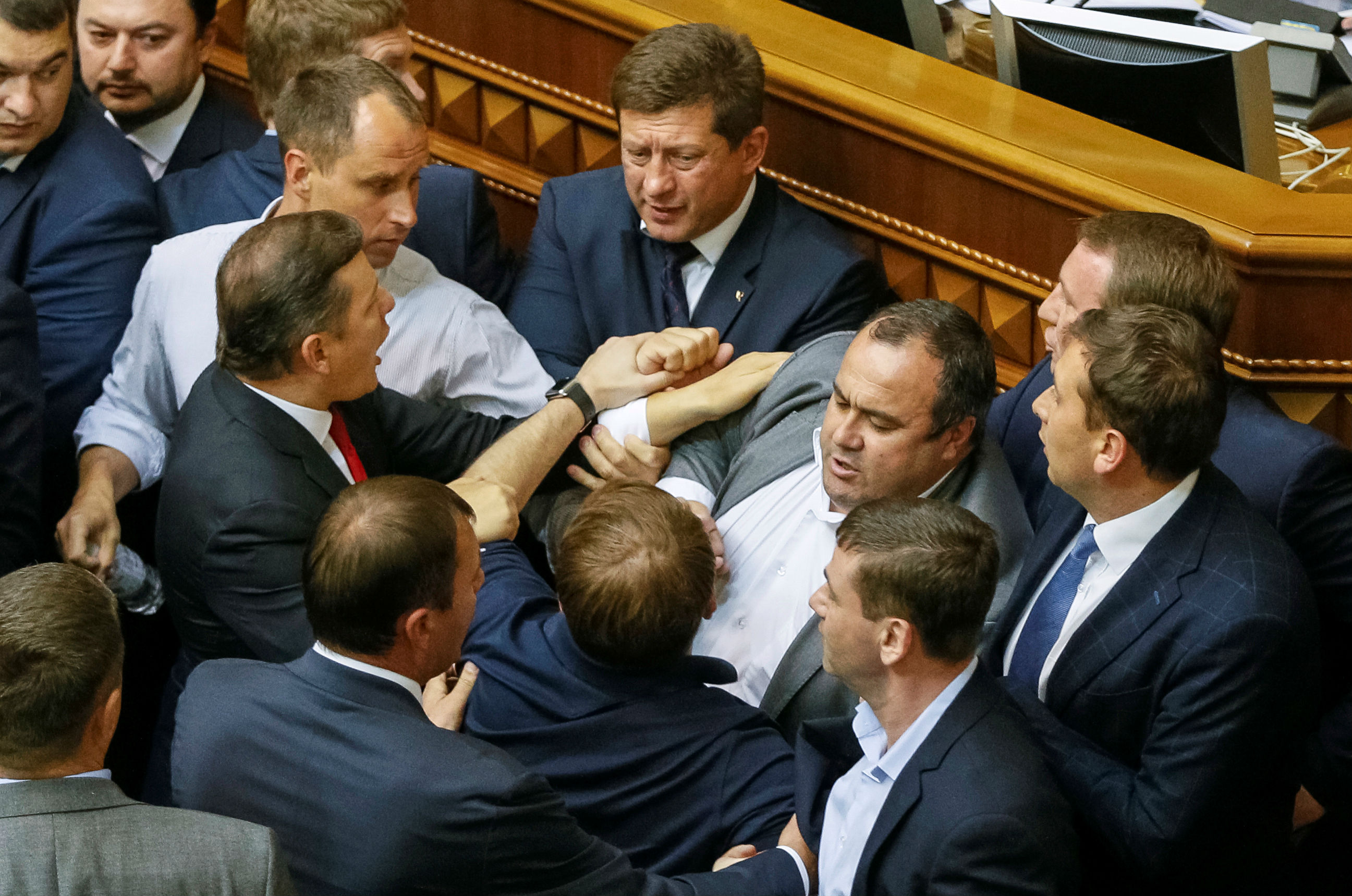 The newly elected Speaker of the Verkhovna Rada, Andriy Parubiy, wasted no time in announcing a series of internal reforms for the Ukrainian parliament, which has long been the most hated institution of public life. In the latest International Republican Institute (IRI) poll, 88 percent of Ukrainians viewed the institution unfavorably. Contributing factors to this negative view include parliamentary immunity, parliamentarians' habit of voting for other members, and an overall perception of massive graft and corruption.
In an effort to clean up the institution's image, Parubiy announced three reforms. First, he advocated increasing the number of plenary meetings from two sessions to three sessions per month. Plenary sessions are the equivalent of voting meetings and typically occur on four consecutive days. With an average of just eight days per month usually allotted to plenaries, it is no wonder that little legislation—and even fewer reforms—get passed.

Parubiy also proposed the creation of a "council of committees," which would be held following regular committee meetings. This council of committees would propose the agenda for the next plenary week of parliament—that is, what items will be voted on.
Second, Parubiy signed an order to withhold the salaries of MPs who are absent from parliament's plenary meetings. Since being a member of parliament provides immunity from all prosecution, it tends to attract individuals who are often too busy managing their financial affairs to show up. Therefore, Parubiy proposes to dock their salaries pro rata for missed plenary sessions. The names of those absent members would then be published for public consumption in Holos Ukrainiy (Voice of Ukraine), the official medium for government information. Given that MPs' salaries are a mere $660 per month (17,000 hryvnas, plus rent, transportation, and staff salaries), their official salaries are not what they are living on. The order is symbolic in nature, but a step in the right direction.
More specifically, Parubiy is aiming to tackle the so-called "piano voters": MPs who vote for other members in the same way that a pianist touches many keys on the piano at once. This will potentially expose multiple voting by MPs who seek to falsify the official vote counts on pieces of legislation. Parubiy proposes to ban those MPs who vote multiple times or are excessively absent from participating in foreign delegations; another option is to ban them from the session hall for several sittings. Given existing parliamentary immunity, that is the extent of punishment available at this time, but at least it draws attention to the problem.
Third, Parubiy has called on committees to render decisions on legislation beyond a simple passage or rejection. For example, the Budget Committee should not only pass legislation by vote, but should also offer its analysis of the legislation's effect on tax revenues. This is common practice in the United States and other Western democracies, but has been absent so far in Ukraine.
Parubiy's proposed parliamentary reforms coincide with fifty-two reform recommendations made by a technical mission of the European Parliament that was led by Irish politician Pat Cox. The reforms were developed to improve the efficiency and transparency of parliamentary operations in Ukraine. However, not everyone is happy with the proposed EU recommendations and Parubiy's proposals. Fatherland MP Serhiy Vlasenko said, "Let's perhaps postpone the issue of so-called reform of parliament for a little while. . . . and try to observe the current Parliamentary Rules of Procedure and see what areas we need to reform and which we do not need to reform."
In addition to proposing these reforms, Parubiy expressed his hope that parliament will pass judicial reform before the current session ends in July. The legislation has already passed on the first reading with a majority, but due to constitutional changes contained within the bill, it requires a two-thirds vote on the second reading to take effect. Parliament also must pass a major decentralization bill in the second reading, although supporters are at least thirty-five votes short at this time.
Time will tell if Parubiy's proposed reforms improve the performance of parliament. Nonetheless, he is making moves in the right direction, and his efforts deserve the West's support.
Brian Mefford is a Nonresident Senior Fellow at the Atlantic Council's Dinu Patriciu Eurasia Center. He is a business and political consultant who is based in Kyiv, Ukraine. This article has been adapted from Mefford's blog.