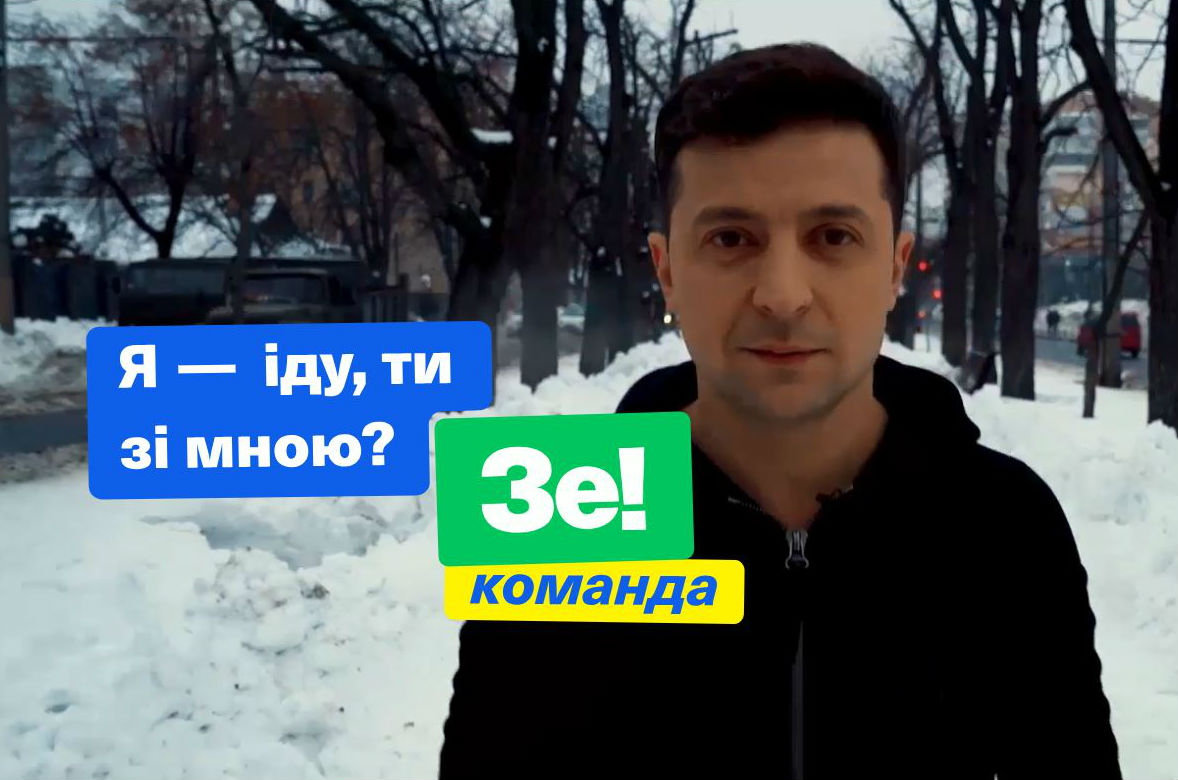 On New Year's Eve, Ukraine's top comedian Volodymyr Zelenskiy announced that he will run for president.
The timing of the announcement was curious: Zelenskiy's short spot aired before President Petro Poroshenko's annual address on the second most popular TV channel "1+1," which belongs to Ihor Kolomoisky. The order caused many to speculate that the Ukrainian oligarch Kolomoisky is backing the forty-year-old comedian.
In 2015, Zelenskiy starred as a Ukrainian teacher who becomes president in the popular television series "Servant of the People." Zelenskiy plays ordinary school teacher Vasiliy Holoborodko, whose tirade against the Ukrainian authorities was captured on a secret video recorder. After Zelenskiy's students publish the video on YouTube, the teacher becomes extremely popular and decides to leave his job and run for the presidency using crowdfunding. He wins, and Holoborodko is an honest and passionate president who doesn't take bribes. He lives with his family in the suburbs and uses public transportation to get to work.
It's great TV but rumors began to spread that Zelenskiy might want to be the real president. No one knew if he was serious about running. And no one knew what his platform would be. Meanwhile, he refused to grant interviews and made it clear that he was working on the third series of "Servant of the People."
Meanwhile, Zelenskiy's polling numbers grew and he began to best the incumbent and other known faces. In a November poll, he came in second at 11 percent. Only former Prime Minister Yulia Tymoshenko scored better with 21 percent. Another poll predicted that Zelenskiy might beat Tymoshenko in the second round of the presidential election (no candidate is expected to win outright). One persistent rumor is that Tymoshenko isn't afraid of anyone, except Zelenskiy.
Even if Zelenskiy loses the presidential race, he's a huge player in Ukraine's politics now. Zelenskiy, Tymoshenko, and Poroshenko are likely to be the top three presidential candidates in the first round; if Zelenskiy comes in third, he will determine which candidate wins in the second round by supporting or denouncing one of them. And then there's the fall parliamentary elections. His party has every chance to enter parliament even if he loses.
The day after he made his announcement, Zelenskiy appears in a short video in snowy Kyiv asking volunteers to join his team. So far, 198,000 people have signed up. The comedian says he wants everyone, but there's one condition: one must be new to politics.
In spite of the hype, Zelenskiy's got a reputational problem. Many connect Zelenskiy with Kolomoisky, the Ukrainian oligarch and governor of the Dnipro region in 2014-2015. After a conflict with the government, Kolomoisky moved to Israel. Kolomoisky owns the 1+1 TV channel, which airs "Servant of the People" and Zelenskiy's talk show. Others speculate that the oligarch is supporting Zelenskiy as payback, since Poroshenko and Kolomoisky have a long-term personal conflict.
In interviews, both Zelenskiy and Kolomoisky claim they are only business partners. "We don't have slavery and I didn't sign any contract with my blood," Zelenskiy said.
Despite these statements, many questions remain. Who will fund Zelenskiy's campaign, including the 2.5 million hryvnias (about $90,000) registration deposit for his candidacy? What's Zelenskiy's political platform and who will make up his team given that only three months remain until the election? Finally, what role will the 1+1 channel play?
Many Ukrainian voters are still undecided and a majority don't trust anyone in power, which gives Zelenskiy a real chance at first, second or third place. When I spoke with ordinary voters, many compared Zelenskiy to Ronald Reagan, who was also an actor before politics. However, he had served as governor of California, while Zelenskiy is a complete novice.
Once Ukrainians return from the holidays, the presidential campaign will be in full swing with almost forty candidates. On the one hand, Zelenskiy may become a serious contender by satisfying a desire of voters for new faces in politics. His readiness to build a team from those who have never been in politics may pave the way for young, professional Ukrainians to join public life.
On the other hand, it would be foolish to underestimate the oligarchs, who have determined the Ukrainian political landscape over the last twenty years. This campaign will not be an exception.
One thing is clear, however: Ukraine's presidential elections will be anything but boring.
Mykola Vorobiov is a Ukrainian journalist and a former Austrian Marshall Plan Foundation fellow at Johns Hopkins University (SAIS) in 2017-2018.