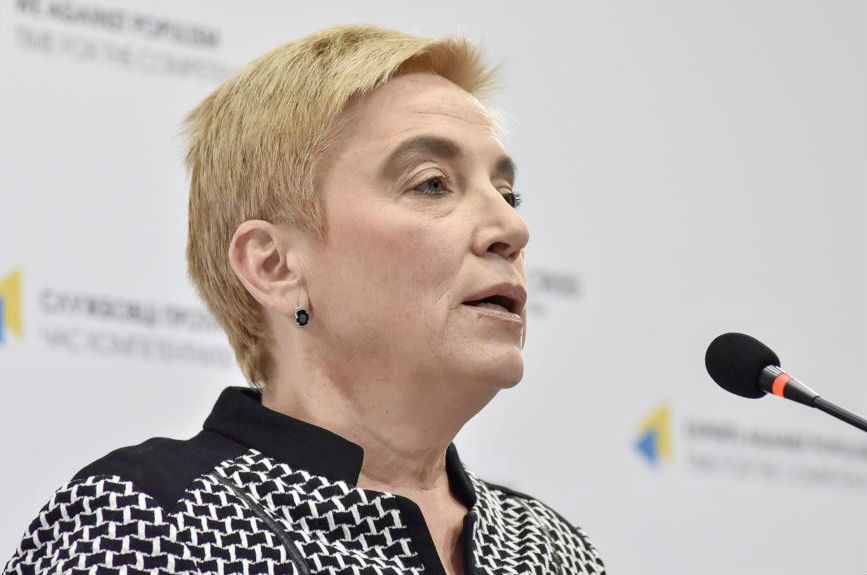 It is ironic but fitting that in Ukraine, the agency tasked with protecting whistleblowers has instead fostered so much corruption that its own employees, after speaking out, have become victims of retaliation.
In mid-November, Hanna Solomatina, the former head of the financial control department within the National Agency for Corruption Prevention (NACP), alleged that she was fired after disclosing that the organization's chairwoman forged Ukrainian members of parliament's income statements, prevented the investigation of specific judges' tax returns, and illegally enriched herself. According to Transparency International, further disclosures revealed that at least five other high-level NACP members were guilty of similar misdeeds and were part of a crime ring allegedly linked to President Petro Poroshenko's administration.
While Solomatina's case is well known in Ukraine, she is not alone. Three other NACP employees similarly discovered that agency staff were tampering with the results of the income declaration inspections and internal audit results. Given the NACP's state of gross mismanagement and lack of independence, an organizational overhaul may be necessary, as whistleblowers continue to come forward with details involving widespread abuses of authority.
But the real problem is that Ukraine does not have sufficient protections for whistleblowers, who can play a critical role in reforming corrupt state institutions. By exercising their free speech rights to challenge abuses of power that betray the public trust, whistleblowers—employees who disclose information that they reasonably believe is evidence of illegality, gross waste or fraud, mismanagement, abuse of power, general wrongdoing, or a substantial and specific danger to public health and safety—are able to hold accountable organizations and officials that control substantial resources.
Aside from the external threat from Russia, which continues to destabilize eastern Ukraine, insidious and deep-seated corruption has proved to be the country's most challenging issue. Without substantial and timely reform, the state may not be granted critical subsidies from the EU and IMF, which would further jeopardize Ukraine's stability. In response, Ukrainian MPs should prioritize passing new whistleblower legislation this year in order to begin restoring the public's faith in Ukraine's institutions.
Civil society in Ukraine has already provided an outstanding blueprint that can serve as the foundation for a new law. Oksana Nesterenko, an internationally recognized scholar on whistleblowing, and Olena Shostko headed a team that prepared a draft law consistent with international best practices. However, parliament has stalled on reviewing the draft law for over a year.
The draft legislation protects both internal dissent and public freedom of expression for all citizens without any arbitrary loopholes based on formality, context, or timing. The law would shield those assisting whistleblowers, as well as journalists who publish their disclosures. Most significant, the draft law would protect whistleblowers against criminal liability and even physical threats of violence, not just employment harassment.
"It's important to act as soon as possible, because whistleblowers in Ukraine are under severe pressure," says Olena Prokopenko, head of international relations at the Reanimation Package of Reforms, the largest coalition of NGOs in Ukraine that advocates for reform across a variety of issue areas. "The need for a specific law has long been overdue. Every time we wait, something worse comes up. Despite the hostile political environment, it's the right time to push for this law."
However, protecting and empowering such individuals is much easier said than done. Whistleblowers may be thoroughly protected by good laws, but if the laws are not effectively enforced, they can backfire by implicitly allowing retaliation, creating a chilling effect and increasing cynicism.
Ukraine's robust civil society has played an integral role in monitoring agencies' and courts' effectiveness in upholding the rule of law. Civil society groups have also helped empower employees who wish to report waste, fraud, abuse, and mismanagement. In 2016, for instance, Transparency International Ukraine launched a nationwide awareness campaign called "It Is Not Shameful to Whistleblow," which reached more than 400,000 people. As a result, volunteers at Red Cross Ukraine revealed that millions of dollars of humanitarian aid earmarked for displaced Ukrainians were instead written off as charitable contributions and stolen.
"Student volunteers came to our organization with eye-witness accounts of misappropriation of state funds by the Red Cross," says Kateryna Ryzhenko, a legal adviser at the Kyiv-based Transparency International Ukraine. "With the help of Transparency International Ukraine, a thorough investigation was conducted and it resulted in a state audit." In 2017, Ukraine's Ministry of Health stopped funding Red Cross Ukraine altogether.
Whistleblowers like Hanna Solomatina have put their lives on the line so that Ukrainians can access the rights promised to them by the 2014 Revolution of Dignity.
The international community must encourage Ukraine to review and pass the draft whistleblower law. The new legislation would help end the corruption that has bankrupted the public and robbed Ukrainians of their trust in public institutions.
Luke Drabyn is a communications officer at the Government Accountability Project and a former Fulbright Scholar in Ukraine. Samantha Feinstein is an international and legislative policy analyst at the Government Accountability Project.