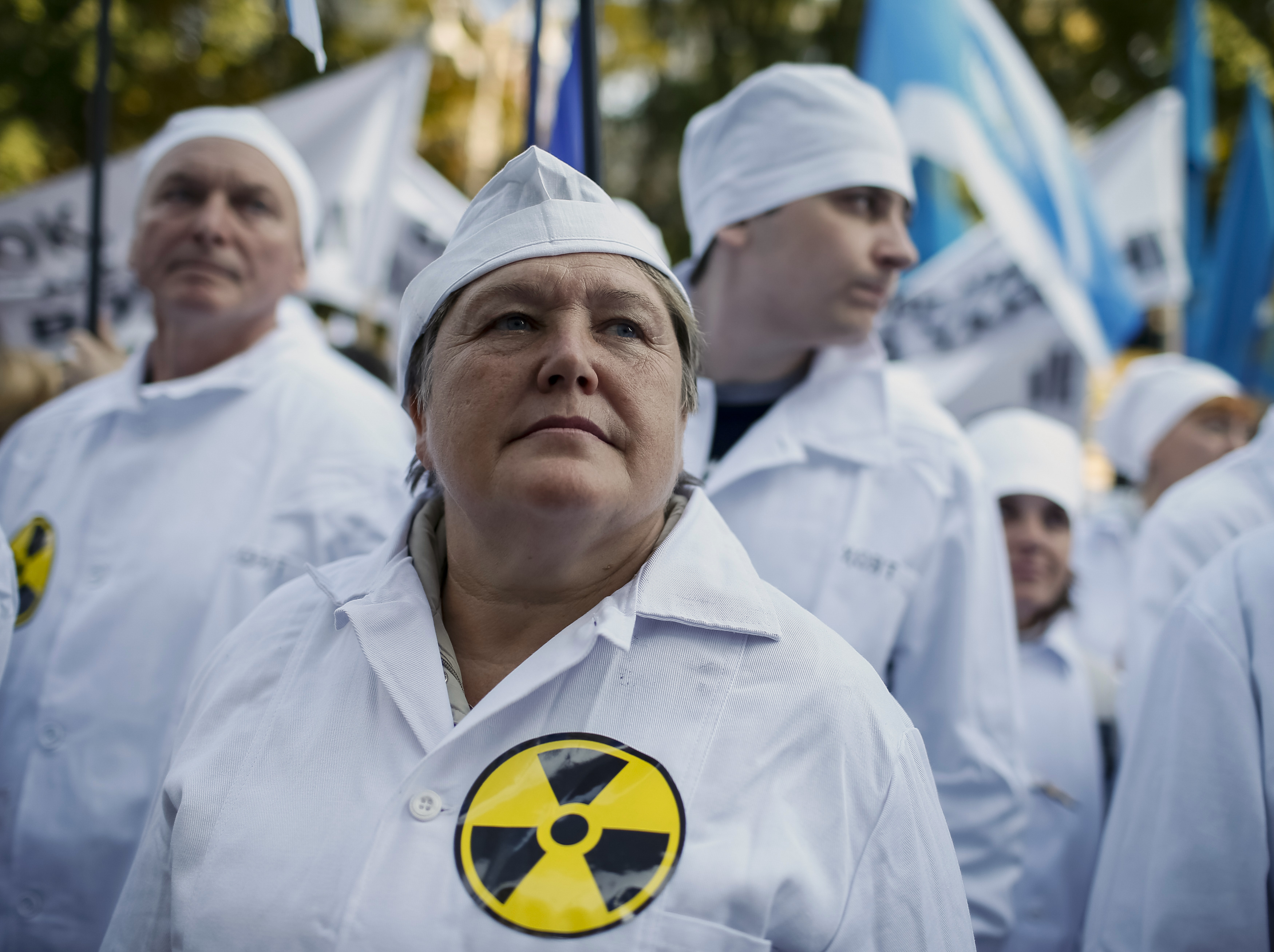 Atlantic Council Analyst Lists Whom to Watch in the Battle to Improve Governance and Economy

Ukraine's overhauled cabinet lineup, now complete, offers clues to the new leadership's seriousness and competence for its critical task of reforms. For a government that must decentralize governance, make official transactions transparent, prosecute and prevent graft, rebuild its finances, resuscitate its economy—and fight a war against Russia—the good news is that the Cabinet includes many new faces and is heavily loaded with real-world business experience.

That's the analysis of the Atlantic Council's Kyiv-based senior fellow, Brian Mefford, in his latest briefing from inside Ukrainian politics. Still, Mefford says, much is uncertain. How will the new party on the block—Oleh Lyashko's Radical Party—perform in the coalition? How can the government best attempt decentralization just as its central government and national integrity are under assault by Russia's army, media, and government? Will the foreigners in the Cabinet—ministers of finance, economy and health—manage to control the sclerotic bureaucracies that they command?
Of more than twenty ministers, only six (including Prime Minister Yatsenyuk) kept their jobs. Only two others have served in the Cabinet before. "Time will tell how well this team of businessmen, bankers, and finance wizards performs," Mefford writes. But, "given the country's economic woes, the extra emphasis on real world business experience [among government ministers] appears to be a wise one."
Read Mefford's summary on individual ministers below. And see his full essay on his blog.
---
Prime Minister Arseniy Yatsenyuk has proven more resilient than many expected when he was thrown into the job in February. With parliament's confirmation of his agenda, he has at least one more year on the job to get things done. One year in Ukrainian politics is a lifetime, so we will see if he can make the tough choices that lie ahead.
Vice Prime Minister Gennadiy Zubko will handle "regional development and communal services." He is a businessman from Zhytomyr province who has won the confidence of President Poroshenko. Zubko was elected to parliament in 2012 for Yuliya Tymoshenko's Batkivshchyna party. With Volodymyr Hroisman leaving the administration to be speaker of parliament,it is Zubko who presumably will continue Hroisman's decentralization efforts in the Cabinet of Ministers.
Deputy Prime Minister for Culture Vyacheslav Kyrylenko returns to the Cabinet, having served as minister of social policy and labor under the original "Orange Revolution" government, from February till September 2005. Kyrylenko has a solid record of supporting Ukrainian patriotic causes, although his record of achievement is mixed.
Deputy Prime Minister Valeriy Voschevskyi is the highest ranking member of the Radical Party (led by Oleh Lyashko) to receive a Cabinet post—and his actions will be a key clue on a big question in the new government: How will the sometimes erratic Lyashko and his Radicals perform in the ruling coalition and in government? Voschevskyi is a former head of Ukraine's State Road Service (Ukravtodor) and owns a factory in Chernihiv (Lyashko's home base). Given that no head of Ukraine's State Road Service can be considered as having done a "good job," Voschevskyi is someone to watch. If there is opposition to Yatsenyuk's agenda within the Cabinet, expect it to come from here first.
Finance Minister Natalie Jaresko was, as an American citizen, a surprise appointee. She is expected to be a "no-nonsense" minister. Her "outside the box" appointment has caused hand-wringing at the US Embassy about uncomfortable public perceptions of undue American influence in the government. Still, the appointment of a Harvard-trained, business-savvy (and now Ukrainian-citizen) finance chief is a positive sign that the new government is committed to reform. By the way, it's worth noting that the critics of the appointment of a foreign national were silent when Russian passport holders held Cabinet posts under the previous government of Viktor Yanukovych.
Economic Minister Aivaras Abramovychus was the second surprise "foreigner" appointment. Abramovychus, born in Lithuania, has a solid financial background and is expected to work closely with Jaresko at Finance. The assignment of these two ministries to foreigners is both a positive sign that the new Ukrainian government wants radical changes as well as an acknowledgement of the huge corruption in the Ukrainian economy overall. Appointing foreigners to high posts is not a new practice, of course. In the biblical book of Genesis, Egypt's Pharaoh appointed a Jew named Joseph as prime minister. He successfully managed the grain supplies from seven "fat years" to feed Egypt during seven "lean years" of famine. Ukrainians will hope that Jaresko and Abramovychus can help build some "fat years" for Ukraine's economy.
Interior Minister Arsen Avakov keeps his job. He is expected to appoint some of Georgia's former Ministry of Interior reformers as deputy ministers to try to replicate their success in professionalizing Georgia's police forces. Police reform will be a clear leading indicator of the government's success in governance reforms.
Health Minister Aleksander Kvitashvili held the same post in Georgia. The optimistic scenario is that he will use his experience to improve the efficiency and services of Ukraine's health-care bureaucracy, even though most of the Georgian reforms took place before his term there. Knowledgeable observers in Kyiv believe he was appointed as a favor by Poroshenko toward former Georgian President Mikhail Saakashvili. Given that Saakashvili faces criminal charges (albeit primarily on political grounds) in Georgia, any appointment of him to a post would have caused a rift in Ukrainian-Georgian diplomatic relations at a time when each country needs the other in their struggles against Russian pressures. To avoid alienating Georgian Prime Minister Irakli Garibashvili, Poroshenko appears to have stepped back from a notion of naming Saakashvili, and instead opted to pursue his reform agenda via a Saakashvili disciple.
Agriculture Minister Oleksiy Pavlenko has extensive business and financial experience and is part of the "new Ukraine" team of young financial professionals in the Cabinet. Agricultural harvests are among the few economic bright spots for Ukraine's economy this year. Whatever Pavlenko does with this ministry will likely be an improvement over Yanukovych's Mykola Prysyazhnyuk, whose main accomplishment was providing "the family" of Yanukovych relatives and cronies with a virtual ATM of cash from the agricultural sphere.
Energy Minister Volodymyr Demchyshyn worked in the private sector—ING Bank and Ernst & Young—before leading the National Commission for State Regulation of Energy and Utilities in August of this year. He replaces Tymoshenko ally Yuri Prodan. There had been speculation that Naftogaz Ukraina Chairman Andriy Kobolev might move over to lead the ministry, but given the tenuous situation with winter fuel supplies, he will stay on in his current role. Ukraine still faces a struggle to keep warm this winter and Kobolev has performed admirably under difficult circumstances.
Information Minister Yuri Stets, a close Poroshenko ally, was given a controversial post to fight Russian propaganda. The very concept of an Information Ministry, in a country with a history of suppressed freedoms of press and speech, startled Ukraine's civil society and its journalist community. Stets' every move will be second-guessed by suspicious journalists and the chance of ending his work on his own terms is small. While the idea for the ministry is understandable in wartime, its creation comes too quickly after the ouster of the authoritarian Yanukovych to be socially acceptable. Stets' best option is to quickly counter the Russian propaganda and then close the ministry as soon as possible to avoid being tarnished by his acceptance of this post.
Environment Minister Ihor Shevchenko is another young face with private sector experience as a lawyer and financial manager. Shevchenko passed the bar exam in New York and founded the Ukrainian Bar Association.
Youth and Sports Minister Ihor Zhdanov received this post as part of the Tymoshenko quota in the Cabinet. Zhdanov, a seasoned political strategist, seems an odd selection for this relatively unimportant ministry. It is further evidence of Tymoshenko's declining influence in Ukrainian politics. His appointment is the American equivalent of Karl Rove being appointed to the Presidential Commission on Physical Fitness, Sports and Nutrition. It's not that he isn't capable but it suggests the need to fill a post rather than find the most appropriate role for a political appointee.
Defense Minister Stefan Poltorak and Foreign Minister Pavlo Klimkin remain, as expected.
Prosecutor General Vitaly Yarema stays on the job for now but may be slipping close to endangered status. Poroshenko reportedly is searching for a replacement – possibly even another Georgian candidate.