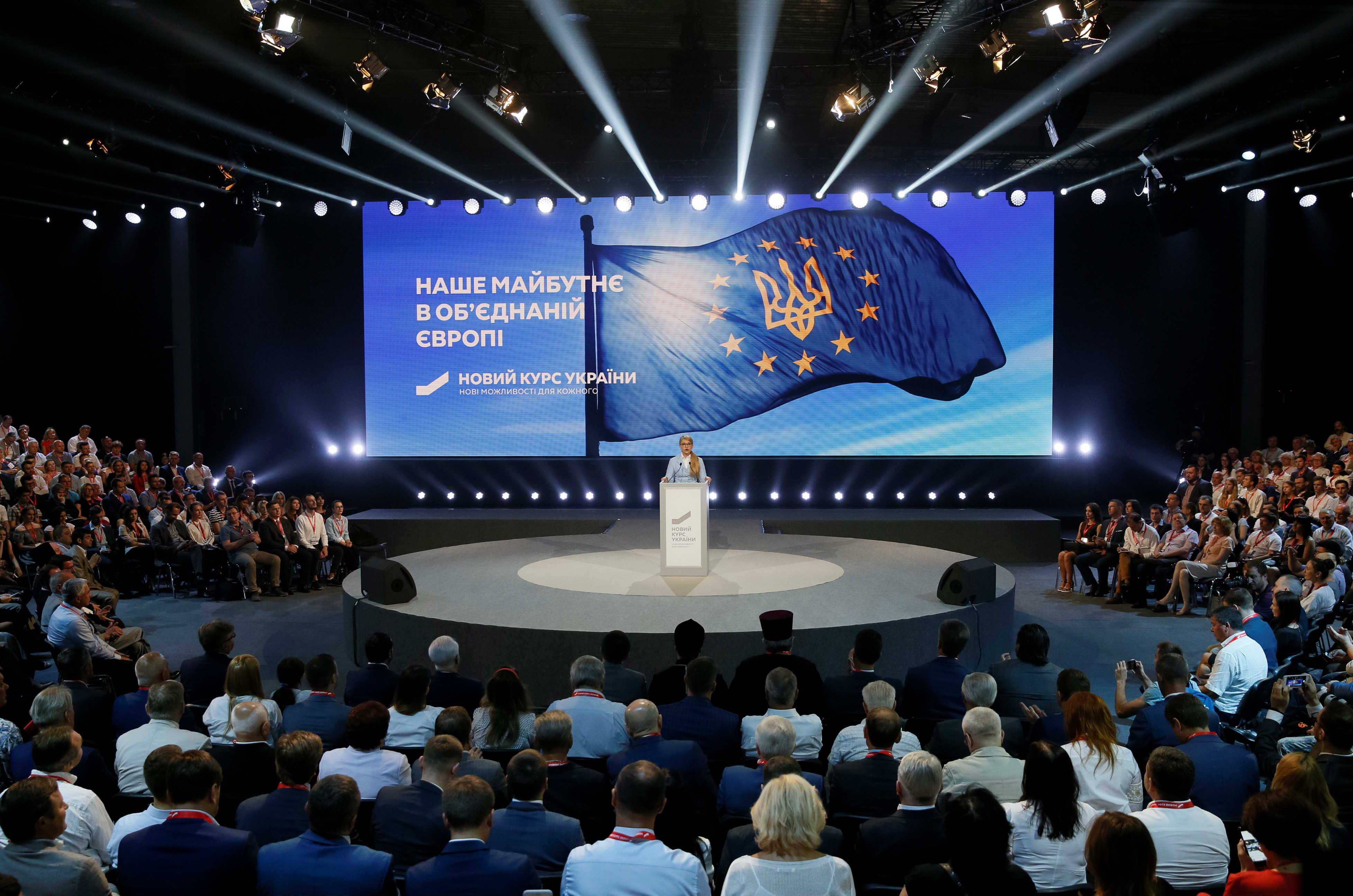 Ukrainian voters have long believed that in her drive for power, long-time politician Yulia Tymoshenko will do and say anything. This is not unusual for populists who routinely make promises that cannot be met and are flexible with the truth.
That characteristic has been on display since Tymoshenko announced her intention to run for the presidency. Tymoshenko's claim to be a supporter of NATO and European Union membership is at odds with both the voting record of her Batkivshchina (Fatherland) parliamentary party and her own populist campaign rhetoric. In fact, Tymoshenko has little love for IMF-driven reforms and there is little chance she will enact them if elected. This would bode very badly for Ukraine's European hopes.
Batkivshchina's poor voting record in parliament is a reflection of Tymoshenko's staunch opposition to most IMF-supported reforms since 2014. Vox Ukraine ranks Tymoshenko 330rd out of 423 Ukrainian MPs for her voting record on reforms. Tymoshenko and Batkivshchina's poor record on supporting reforms is evident in many areas, including pensions, healthcare, land privatization, and now utility prices.
Tymoshenko is continuing the tradition of every Ukrainian president who pursued a multi-vector foreign policy of espousing support for NATO and EU membership, while doing little to achieve this goal—and in some cases initiating policies that undermine it.
Tymoshenko's billboards supporting NATO and EU membership are everywhere. Meanwhile, she is actively campaigning against IMF policies using rhetoric at times similar to that of the Opposition Bloc (formerly the Party of Regions). For example, Tymoshenko has said, "The price of gas is a crime by [President Petro] Poroshenko against Ukrainians!" At another point, she exclaimed, "We will stop this mockery of the people. Citizens will have gas at their own, fair price." Tymoshenko went on to promise that under her as president the price of gas would be three times lower, but of course she didn't explain how.
The EU's financial support for Ukraine through the Association Agreement and Deep and Comprehensive Free Trade Agreement has always been conditional on Ukraine first reaching agreement with the IMF. Any Ukrainian politician attempting to divide the IMF from the EU is either naïve or being dishonest with the Ukrainian people.
The EU, European, and North American governments support the IMF's demands and will only provide financial assistance after Ukraine has reached an agreement with the lender. In a statement this month, Kyiv-based G-7 country ambassadors (who are leading members of NATO and the EU) hailed the new Ukraine-IMF agreement as "a key step towards ensuring the future economic stability of Ukraine and continuing economic growth."
The new IMF agreement with Ukraine will provide the country with $2 billion. Another $2 billion will be provided by the EU and World Bank. Following the new IMF agreement, the EU is offering Ukraine up to €15 billion over the next few years.
If Tymoshenko were elected president and, based on her rhetoric, refused to work with the IMF, the result would be an end to EU and Western government financial support to Ukraine, and this would be deadly.
Of course, she could be just using populist rhetoric to win power and will become a pragmatist if elected. After all, as prime minister in 2008, she signed an agreement with the IMF.
But if she were elected president and her populist rhetoric became official policy, where would Ukraine obtain credit? President Viktor Yanukovych received enormous amounts of credit from Russia and China, but that would be political suicide for any politician in today's Ukraine. Plus, IMF credit does not come with geopolitical strings attached; Russian credit most certainly does. The price of Russia's $15 billion "loan" in December 2013 was Ukraine's membership in the CIS Customs Union, which became the Eurasian Economic Union two years later.
Under the new IMF agreement, Ukraine must adopt a 2019 budget with a deficit of only 2.3 percent of GDP, turn the Anti-Corruption Court into a reality, and raise domestic utility prices by 23.5 percent. In opposing the IMF agreement, Tymoshenko is not only opposing increases in utility prices; more important, she is putting herself and Batkivshchina in opposition to the budget and the long overdue launch of the Anti-Corruption Court.
After two democratic revolutions, Russian military aggression, and progress on European integration, Ukrainian politicians who think they can continue to fool voters will be in for a shock when election results are announced. The 2014 war ended the ability of Ukrainian politicians to play games with multi-vector foreign policies. Political candidates and their political parties will be judged by how their voting records and actions square with their claims to support Ukraine's movement toward the West.
Taras Kuzio is a non-resident fellow at the Center for Transatlantic Relations at Johns Hopkins-SAIS and professor at the National University of Kyiv Mohyla Academy. He is also author of "Putin's War Against Ukraine" and co-author of "The Sources of Russia's Great Power Politics: Ukraine and the Challenge to the European Order."