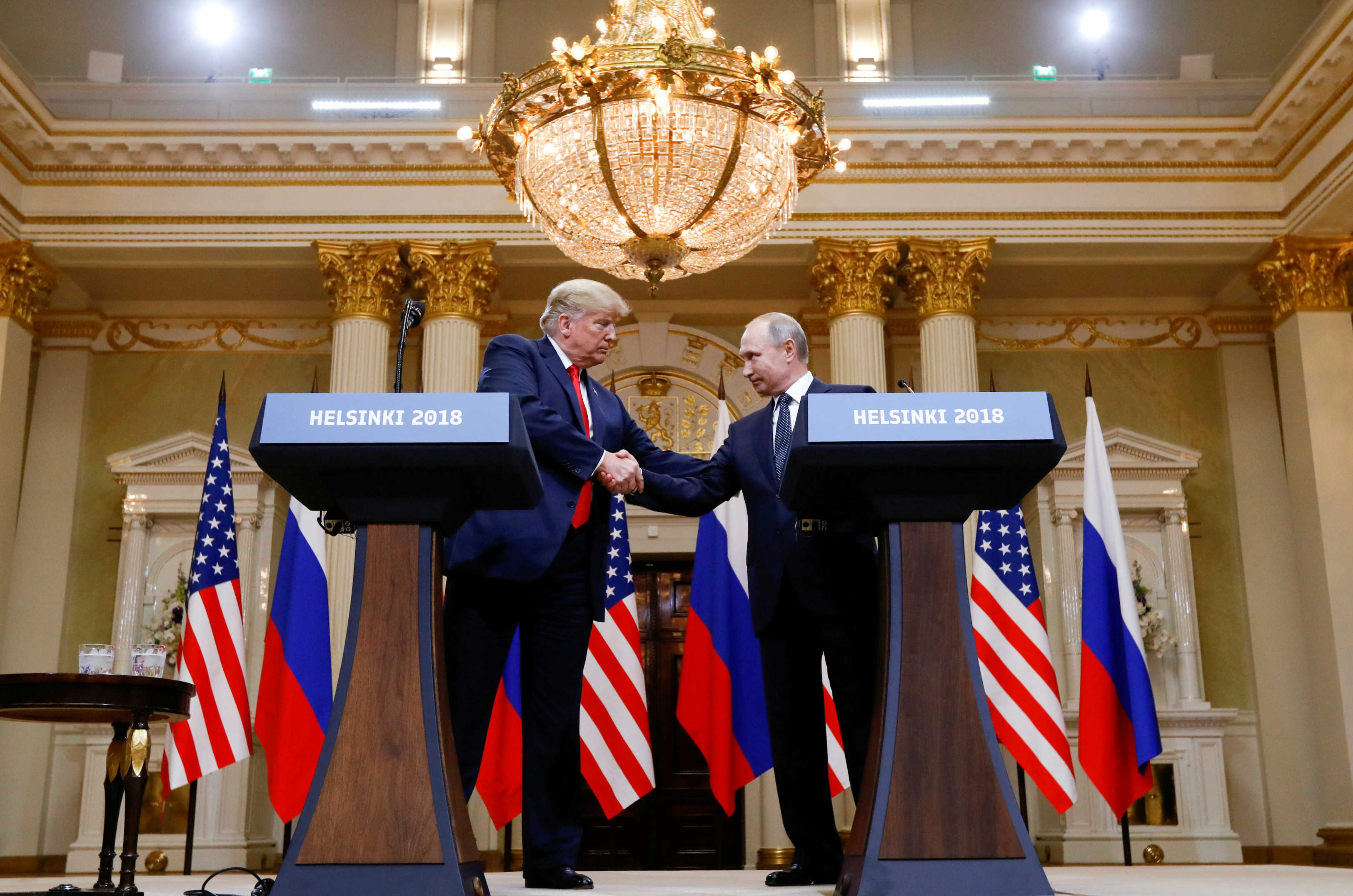 The US Congress has prepared numerous bills proposing new sanctions on Russia. Congress reacted sharply against President Donald Trump's desire to ease existing sanctions. On July 28, 2017, the Senate voted 98-2 for the Combating America's Adversaries Through Sanctions Act (CAATSA), which Trump quietly signed into law. CAATSA legislated already adopted sanctions on Russia, so that Trump could not cancel them by executive order. It tightened some sanctions and offered the administration various options to further tighten sanctions. Many members of Congress complain that the administration has done too little, calling for a tougher sanctions law. Trump's press conference with Putin in Helsinki on July 16 convinced most that a new Russia sanctions law is needed.
Congress is focused on primarily four bills. All of them deal with Russia alone. The latest and most extensive bill, Defending American Security from Kremlin Aggression Act of 2018, or DESKAA, is sponsored by six senators, three democrats, Robert Menendez, Benjamin Cardin, and Jean Shaheen, and three republicans, Lindsey Graham, Cory Gardner, and John McCain. It is likely to replace the DETER Act, the Act to Defend Elections from Threats by Establishing "Redlines," submitted by Senators Chris van Hollen and Marco Rubio last January. Republican Senators John Barrasso, Cory Gardner, and Steve Daines have presented an Energy Security Cooperation Act, which simply aims to sanction Nord Stream 2. In the House of Representatives, Democratic Whip Steny Hoyer has submitted the Act to Protect America from Russian Interference, which includes eighteen different bills, of which eight have bipartisan support. The three last were put forward after the Helsinki summit.
In terms of new economic sanctions, the bills focus on four sectors: sovereign debt, energy, Russian state financial institutions, and Nord Stream 2. At present, DESKAA appears the natural starting point for negotiations because of its important cosponsors, its promotion, wording, and timing. While no full text is yet available, it appears more cautious than the DETER Act. The bills contain many other demands involving cyber and the protection of the US voting system.
The most likely new sanctions are related to sovereign debt. DESKAA aims to prohibit and sanction "transactions relating to new sovereign debt of the Russian Federation." This would prohibit US persons from buying Russian sovereign bonds, while the formulation indicates that secondary trade would be allowed. Given that Russia's public debt is only 13 percent of GDP, this is not a draconian though quite important sanction.
The most controversial area is energy sanctions. DESKAA advocates sanctions "on transactions related to investment in energy projects supported by Russian state-owned or parastatal entities," which worries US energy companies. The DETER Act proposed prohibition against joint ventures with Russian state-owned energy companies, which would have forced US companies to walk away from such existing projects without compensation. It could have made the Caspian Pipeline Consortium impermissible for US oil flowing out of Kazakhstan, which would make little sense. US companies could be forced to leave joint ventures in unfriendly countries if shares were sold to sanctioned Russian companies. These problems can be resolved through grandfathering some projects and accepting joint ventures up to a certain level, but if the big Russian energy companies are designated, that would not suffice.
The DETER Act propagates the designation of a number of state financial institutions, but DESKAA has not brought that up as yet, focusing more on personal sanctions. Yet, state financial institutions that serve the Kremlin rather than the Russian people are likely to be subject to new sanctions, though that could be done under CAATSA.
The sanctioning of Nord Stream 2 and its subcontractors does not appear to enjoy the necessary political support. Many congressmen are uneasy about trying to dictate European energy policy with sanctions. This point appears neither in DESKAA nor in the DETER Act, while CAATSA left that possibility open to the administration.
DESKAA contains the important demand that the State Department Office of Sanctions Coordination is reinforced. A minor economic demand is an extension of the cap on Russian uranium imports. DESKAA also calls for more transparency, notably a "report on the net worth and assets of Vladimir Putin," because of the administration's failure to comply with CAATSA's demand to reveal the wealth of oligarchs close to the Kremlin. It demands that domestic title insurance companies report the beneficial owners of entities purchasing expensive real estate.
These new Russia sanction bills amount to a vote of no confidence in Trump, but DESKAA seems to be a sensible moderate tightening of the Russia sanctions that is likely to gain Congressional approval.
Anders Åslund is a senior fellow at the Atlantic Council and adjunct professor at Georgetown University.