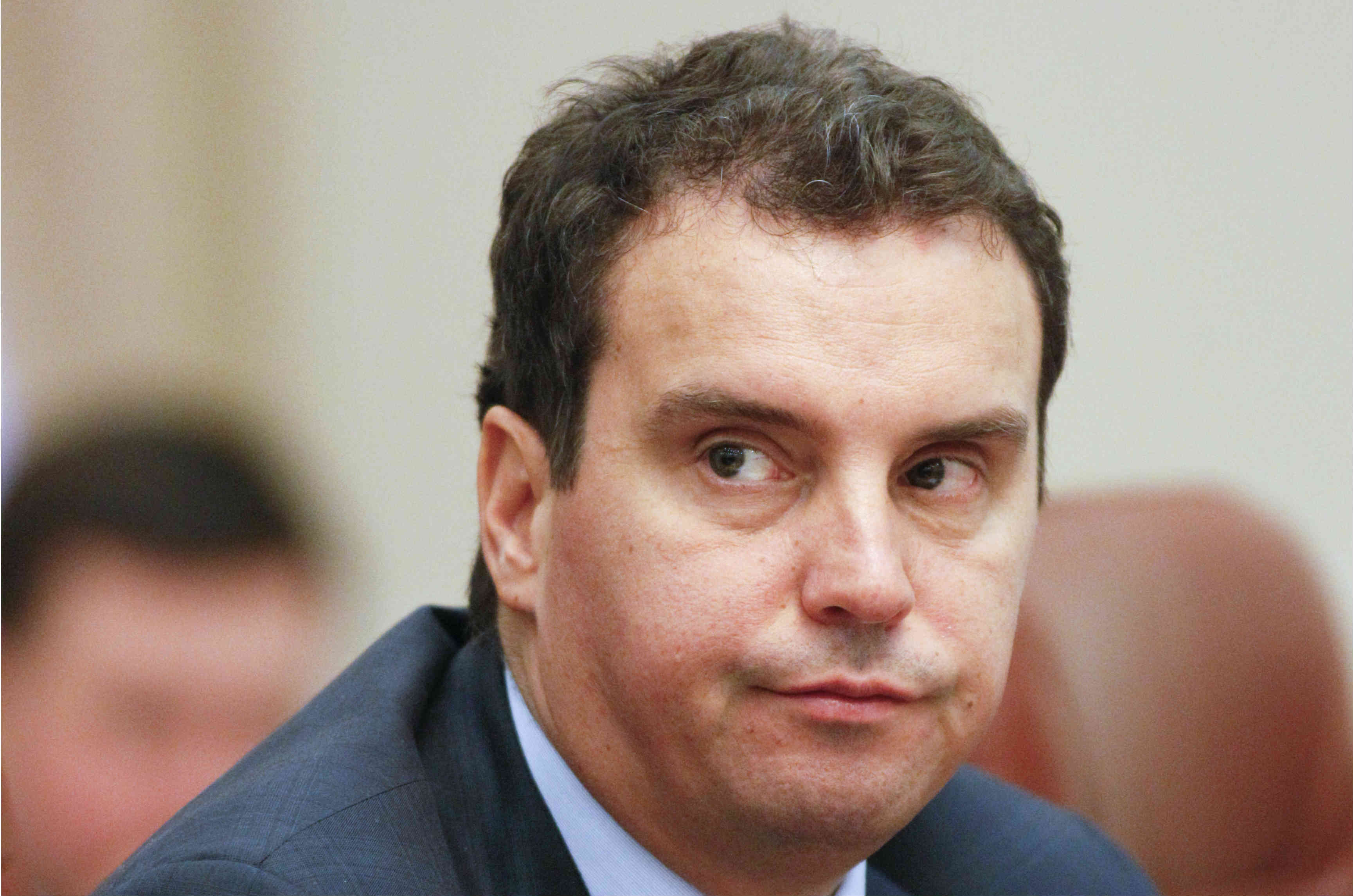 On February 3, Ukraine's Minister of Economic Development and Trade Aivaras Abromavicius announced his resignation at a press briefing with a big bang that may unleash a political crisis and shake the country's fragile finances.
Abromavicius, a 40-year-old investment banker of Lithuanian origin who has lived in Kyiv for many years as a fund manager, was one of the three foreigners recruited as a minister in December 2014. He has stood out as a strong reformer, taking pride in having introduced electronic state procurement on a large scale, carried out substantial deregulation, reformed his ministry, and improved management at state corporations. Together with Finance Minister Natalie Jaresko, he has been the top Ukrainian representative at international events.
He offered a candid statement about the reasons for his resignation: "My team and I have no desire to be a cover for open corruption or puppets for those who want to establish control over state funds in the old fashion." He continued: "These people have names. And one of these names I am going to mention. It is Igor Kononenko. As a representative of the political force that nominated me a minister, he has done a great deal recently to block the work of my team and me."

Kononenko is a big businessman and deputy faction leader of the Poroshenko Bloc in Ukraine's parliament. Journalists have identified him as the "gray cardinal" of his party. According to Abromavicius, Kononenko tried to install his own deputy minister in the Ministry of Economy with responsibility for Naftogaz and other state enterprises.
The minister's statement provoked an explosion of public reactions. Since investigative journalists have already revealed Kononenko's activities, no independent voice seems to question the accusations. Odesa Oblast Governor Mikheil Saakashvili called Abromavicius "courageous" and urged parliament to hold a public hearing with Abromavicius and Kononeko. Prime Minister Arseniy Yatsenyuk said that he respected ministers who "were forced to write declarations under political pressure" and he would fight and defend all ministers, without mentioning Abromavicius by name.
"Abromavicius' declaration changes the status from corridor conversations to official accusations," said Svitlana Zalishchuk, an MP from Poroshenko's Bloc and anticorruption activist.
Indeed, Ukraine's new independent National Anti-Corruption Bureau registered a criminal case against Kononenko on the basis of the minister's statement.
In effect, Abromavicius has turned the table on Kononenko, who publicly called for Abromavicius' resignation two days earlier. Commentator Ivan Primachenko called the situation the most significant crisis of President Petro Poroshenko's administration because Kononeko is seen as Poroshenko's right-hand man. Anticorruption activist Vitaliy Shabunin reckoned that Poroshenko's people had crossed the Rubicon by trying to oust Abromavicius. Nine prominent Western ambassadors issued a statement expressing their displeasure. They wrote, "We are deeply disappointed with the resignation of Minister of Economic Development and Trade Aivaras Abromavicius, who has delivered real reform results for Ukraine."
But Kononenko is not easily embarrassed. He responded to the furor by suggesting that he could step down tomorrow if his faction so decided. Next he proposed that one of his closest collaborators, Deputy Head of the Presidential Administration Vitaliy Kovalchuk, replace Abromavicius and become first deputy prime minister.
Poroshenko holds the key in this drama. He called in Abromavicius for a meeting that lasted for several hours. Then he made two statements: Abromavicius should stay in the government, and the National Anticorruption Bureau should investigate all of Abromavicius' claims. So far, Abromavicius has not commented.
Regardless of whether Abromavicius stays or goes, this domestic political crisis is likely to have major repercussions. Recently, Kononenko has been trying to oust the most reform-minded ministers and replace them with his own people. This scandal could stop his advance or even break the coalition in parliament. Ukrainian media report that the major parties are preparing for new parliamentary elections in September.
Can Poroshenko really keep Kononenko after this scandal? He has disappointed the Ukrainian public and Western funders by sticking with Prosecutor General Viktor Shokin, who has failed to arrest any major culprit not only of the current administration, but also of the Yanukovych regime.
The confidence of Western governments in the current Ukrainian administration is running low. Abromavicius is the fourth reform minister to have offered his resignation, leaving Jaresko as the single survivor. Ukraine is highly dependent on Western financial assistance, and its international reserves remain insufficient. The International Monetary Fund, the United States, and the European Union had been expected to provide a total of $4 billion in credits later this month, but none are likely to contribute unless the Ukrainian government shows real commitment to fight corruption.
Anders Åslund is a senior fellow at the Atlantic Council in Washington, DC, and author of "Ukraine: What Went Wrong and How to Fix It."