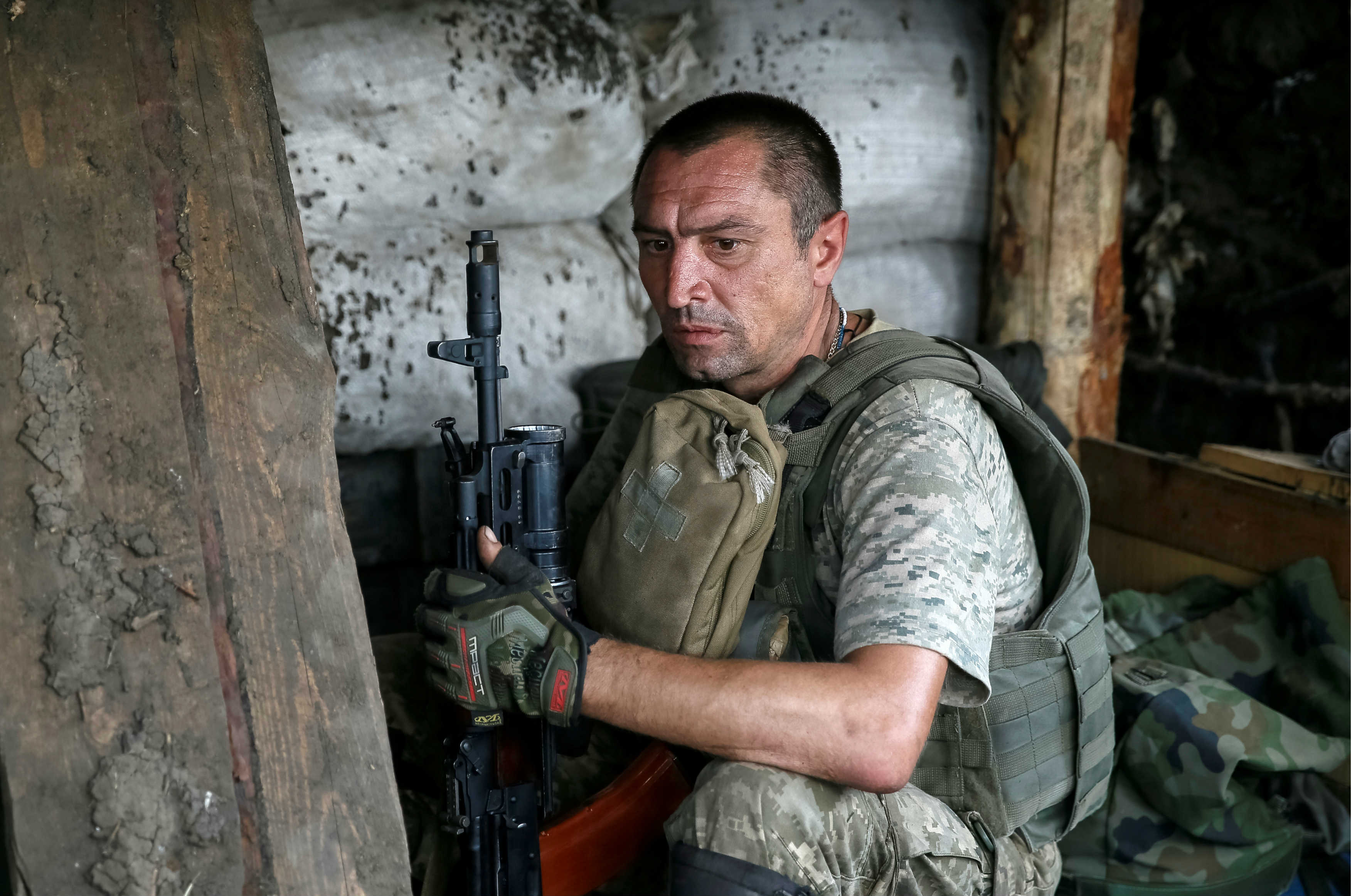 Russian President Vladimir Putin may be preparing a new offensive in Ukraine. Russia has prepared an excuse for a military incursion to connect Crimea with rebel-held areas of the Donbas in eastern Ukraine. Fighting along the corridor has already heated up; the Ukrainian military reports that on the night of August 8 more than 200 artillery and mortar rounds fell on Shyrokyne, on the Azov Sea coast east of Mariupol. Now, following Russian claims of thwarted terrorist attacks in Crimea that the United States cannot confirm, Putin is vowing revenge. "We obviously will not let such things slide by," he warned.
Putin met with his security council on August 11. According to a Kremlin spokesman, the group discussed "additional measures" for ensuring security. "Scenarios were carefully considered for anti-terrorist security measures at the land border, in the waters and in the airspace of Crimea."
Separatists and the government believe a fresh outbreak in hostilities is imminent. "The situation remains tense, and at any moment it could break out and escalate into full-fledged clashes," separatist leader Denis Pushilin worried. On the other side, the military spokesman for Ukraine's Presidential Administration said Ukrainian armed forces expect a new offensive at any time, possibly within the next week.
Russia is amassing troops on the administrative border of Crimea under the guise of war games, the annual Kavkaz exercises. Russia used war games in 2008 to amass troops on the border with Georgia before fighting broke out there. Ukrainian border guards spotted nine Russian MI-8 helicopters and two drones flying in the area. Crimean Tatars reported armed checkpoints being hastily erected on August 7, the same day that Russian authorities closed border crossings into the peninsula for several hours. In Kerch, Russia is amassing armored personnel carriers, military ambulances, fuel tankers, trucks, signals and engineering vehicles. In Sevastopol, a Nanuchka-class missile corvette is at anchor. In Dzhankoy, the troop level has been doubled, supposedly because a routine rotation of forces is taking place.
Ukraine is preparing for the worst. Residents in the Kherson region reported seeing Ukrainian heavy military hardware, including anti-tank rocket launchers, being deployed. A spokesman for the Ukraine's General Staff confirmed they had strengthened military units there.
Why now? The conflict in eastern Ukraine has reached a stalemate, even though fighting in the area has increased. July was the deadliest month in a year for the Ukrainian army, with at least forty-two soldiers killed and 181 wounded. Russia may believe it is overextended: it is supporting the rebels in Ukraine, fighting in Syria, and suffering through a recession that is aggravated by Ukraine-related sanctions. It would be in Russia's interest to bring a quick end to the fighting, even if Putin had to intervene militarily to do so. Until now, the Kremlin has maintained it has no troops fighting in the Donbas region. With Putin calling the supposed incursions into Crimea Ukrainian state-sponsored terrorism, however, he has an excuse to openly intervene in the fighting. The uptick in hostilities comes at a difficult time for the West: Kyiv's allies in the West are experiencing sanctions fatigue. Nevertheless, the United States and Europe must be prepared to increase the costs on Russia for further aggression.
James J. Coyle is Director of Global Education at Chapman University and a senior nonresident fellow at the Atlantic Council.