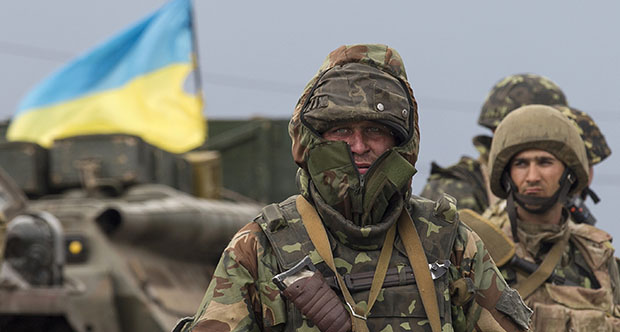 Ukraine has launched its most serious counter-attack yet on Russian-backed separatist militias at Slaviansk, a relatively minor city in eastern Ukraine. Slaviansk, by all evidence, serves as the main command center for the armed groups that have seized towns in Donetsk and Luhansk provinces.
The Ukrainian operation appears "well mounted with concern for the lives of civilians and unarmed pro-Russia forces," said Atlantic Council Senior Fellow Adrian Karatnycky. It "shows a restoration of coherence" on the part of Ukraine's interim government that may improve its chances of successfully holding the May 25 presidential election, including in eastern Ukraine, Karatnycky said. A successful election would bolster the government's legitimacy and its strength in confronting the Russian-backed secessionist campaign in eastern Ukraine

Slaviansk is effectively the forward military headquarters for that campaign. Its commander is a Russian army officer, known in most press coverage as Igor Strelkov, but named by the Ukrainian Security Service (and confirmed to reporters by his neighbors in Moscow) as Russian army Colonel Igor Girkin. Ukraine says Girkin is an intelligence officer who specializes in violent subversion. On Tuesday, the European Union sanctioned him, under the name Strelkov, as a staff officer of Russia's military intelligence agency, the GRU. (It also sanctioned GRU Director Igor Sergun "for the activity of GRU officers in eastern Ukraine.")
It is under Girkin's command that the militia in Slaviansk has been holding an eight-man observer team of the Organization for Security and Cooperation in Europe (OSCE) and this week displayed them to reporters as "prisoners of war."
Girkin last week told the Kremlin-loyalist Komsomolskaya Pravda that he is working to bring all of eastern Ukraine's pro-Russian militias under a single command. While these militias operate with similar camouflage uniforms and black balaclava masks, their members –no more than several hundred in all, says Karatnycky – come from disparate groups. According to Ukrainian officials and Russian and Ukrainian journalists, they include Russian intelligence officers and special operations troops based in Crimea, former Berkut (Ukrainian special operations police loyal to the ousted Ukrainian President Viktor Yanukovych), pro-Russian Ukrainians, and members of organized crime networks. They also include Russian Cossacks who have roles in Russia as police auxiliaries, Karatnycky says.
Girkin's influence appeared reflected in a report by Komsomolskaya Pravda that Denis Pushilin, the most prominent leader of the separatists in Donetsk city, the provincial capital, had met Girkin for talks on how to organize the movement's leadership. Girkin told the paper he chose Slaviansk as his base, but did not say why. The city is at the northern point of the militants' efforts to extend their uprising northward to Kharkiv, Ukraine's second-largest metropolis. And highway junctions at Slaviansk make it a transport center for the region.
A darker sign of Girkin's regional command is that people detained by the militias elsewhere in Donetsk province have then been driven to Slaviansk to have their fates determined in what now is a "dirty war" in the east. An anti-militia city councilor from further south in the province, was killed, his naked body left near a riverbank outside Slaviansk. A journalist from western Ukraine reports this week that he was detained in Donetsk city and taken to Slaviansk for questioning.
James Rupert is managing editor at The Atlantic Council.