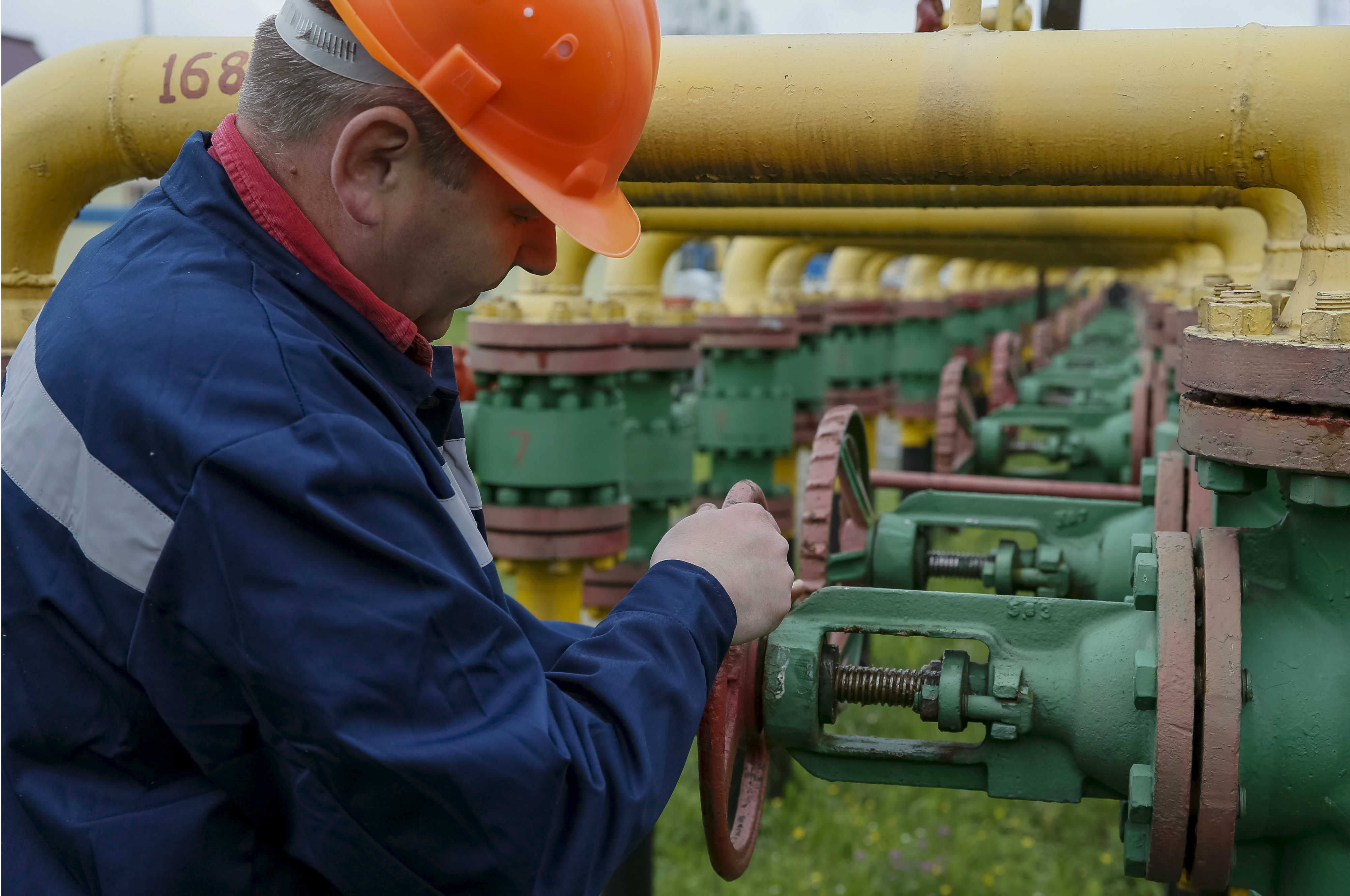 Proponents of Russia's Nord Stream II pipeline rely on at least seven arguments to explain their support for the politically motivated project. The trouble is, these justifications are based on incorrect assumptions or outright disinformation. We identified the seven myths and then used publicly available facts to set the record straight.
Myth 1. Ukraine's gas transit system is in poor condition and requires massive external investment.
Reality: Ukraine's gas transit system is in good technical condition and does not require massive external investment.
With its abrupt fluctuations of daily transit orders ("nominations") and the permanently insufficient incoming gas pressure in the Russian pipelines, Gazprom is testing the reliability of Ukraine's route on a daily basis. Naftogaz successfully fulfills all nominations made by Gazprom for transit across Ukraine in line with its contract obligations, and this is the best evidence of the system's good technical condition.
In March 2018, Gazprom attempted to create a gas crisis in Europe by purposely failing to provide prepaid gas to Naftogaz, while reducing pressure on the Russian side of the gas transmission system to 20 percent below the contractual norm—all in the middle of a severe cold spell in Europe. Under these manufactured circumstances, created by Russia to undermine Ukraine's system and promote Nord Stream II, the Ukrainian gas transit system has performed impeccably—Naftogaz fulfilled all of Gazprom's transit orders and supplied customers.
While the Ukrainian system is reliable and well maintained, it could benefit from some modernization to boost financial performance. The current estimates of maintenance and investment needs stand in the range of $100-300 million per year to ensure the system can transit up to 110 billion cubic meters (bcm) of gas. The annual operating cash flows of several billion dollars easily cover these needs. The best way to keep the Ukrainian system in good shape is to ensure it is sufficiently loaded and generates revenues.
Myth 2: The European gas market is a single pool, and Nord Stream II will enable seamless connections throughout Europe.
Reality: Nord Stream II's only onshore extension is directed southward, and will not provide Western Europe a replacement for declining gas deliveries from the Netherlands and Norway.
Nord Stream II would merely redirect flows from existing routes in Central and Eastern Europe. Importantly, it does not provide access to any new gas sources. The Nord Stream II pipeline will only be continued to the south through the European Gas Pipeline Link (EUGAL) and it will not generate meaningful additional capacity for Western Europe. Based on capacities pre-booked further down the line, Nord Stream II and EUGAL will deliver most of the gas to the Austrian hub in Baumgarten—where the gas from Russia now ends up having passed Ukraine and Slovakia.
Contrary to what proponents of Nord Stream II claim, the European gas market is still not a single pool; it is a number of fragmented regional markets. Gazprom often blocks interconnection between these separate markets through legacy contracts, infrastructure ownership, contractual limitations, and destination clauses. These coercive practices enable Gazprom to charge higher prices in Central and Eastern Europe than it does in Western Europe and to keep potential Western European competition away.
Following Russia's gas war of 2009, there has been some progress in connecting fragmented Central and Eastern Europe markets with the more liquid Western European market. However, Nord Stream II will undermine the access of these countries to non-Gazprom suppliers from the West, thus reversing most of the region's supply diversification efforts.
If Gazprom actually complied with the EU energy and competition law, Western suppliers could get instant access to all of the Central and Eastern Europe markets except the Baltic states through the Ukrainian gas transmission system.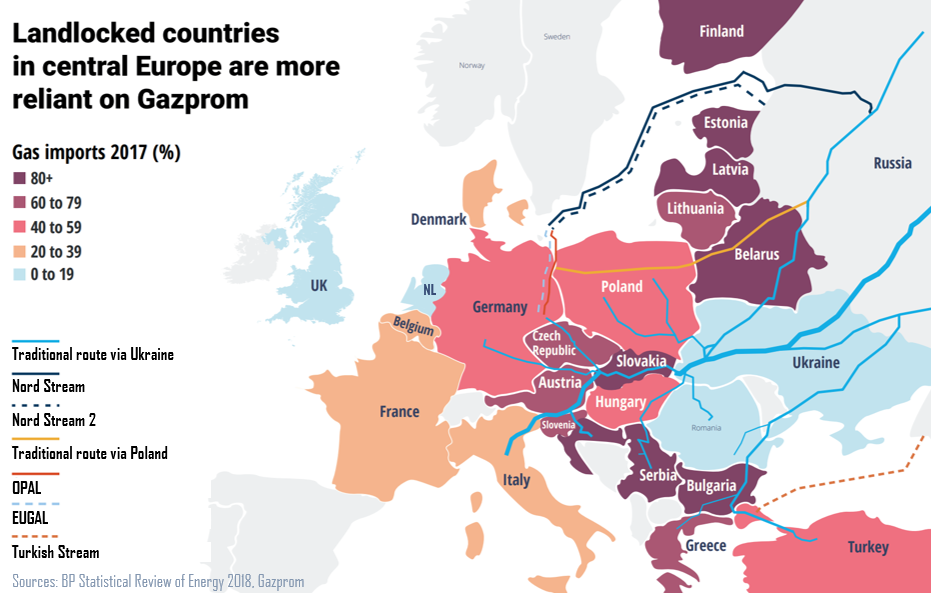 Myth 3. Nord Stream II will not deepen Europe's dependence on Russia. Both Ukraine's gas transit system and Nord Stream II can coexist.
Reality: Fully controlled by Russia, Nord Stream II will eliminate Ukraine's independent gas transit system. Both systems cannot coexist. Europe will become even more dependent on Russia.
If built, Nord Stream II will strip Ukraine of 55 bcm of transit flows, and Russia's Turkstream pipeline under the Black Sea will divert another 30-40 bcm. Gazprom will prioritize its own pipelines, filling them as much as possible. Whatever peak demand remains uncovered occasionally, it will hardly be enough to financially justify preserving the necessary capacity in the Ukrainian system. If the system is not used on a regular basis, it will have to be severely downsized.
Gazprom's recent record-high gas supplies to the European Union would not have been possible without the flexibility of the Ukrainian system. These pipelines are loaded near their maximum capacities, with stable and predictable flows. The chart below shows that the Nord Stream and Yamal pipelines are loaded near their maximum capacities, with stable and predictable flows. The Ukrainian gas transit system provides a more advanced service and flexibly covers all the residual demand from Europe, even when Gazprom has to shut down Nord Stream completely for maintenance and repairs.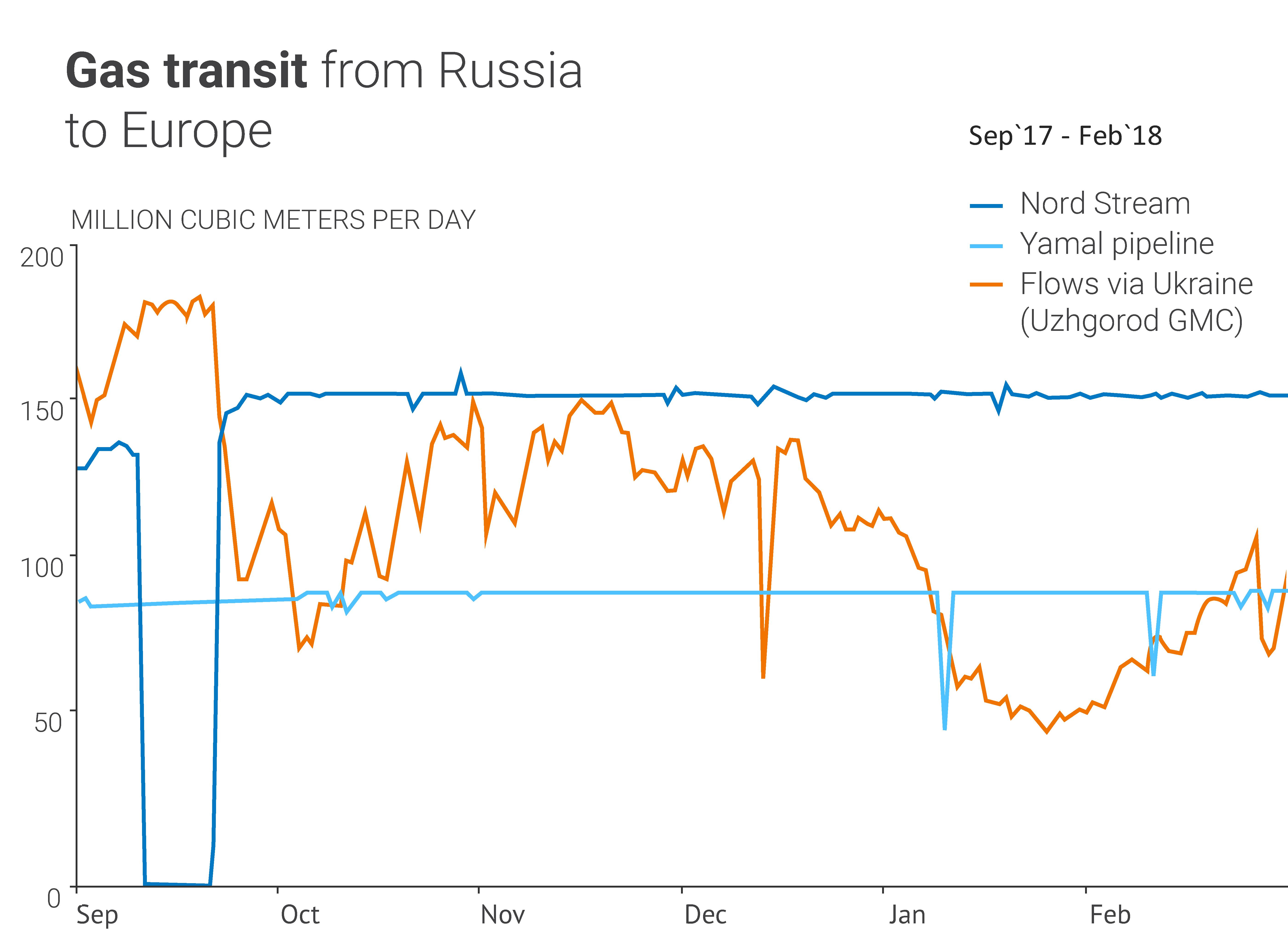 If Nord Stream II is launched, Gazprom and its European clients will lose the exceptional flexibility and spare capacity of the Ukrainian system and will likely have to invest more in storing gas to cover emergency supplies and peak demand, which means increased consumer costs.
Myth 4. Nord Stream II will provide superior interrupted service and is a reasonable replacement for Ukraine's system.
Reality: Ukraine's gas transmission system is a sophisticated network of interconnected pipelines with excess capacity and dozens of compressor stations to ensure reliability and flexibility of transit. The Nord Stream II infrastructure—two unlinked offshore pipelines with just two compressor stations—is not a reasonable replacement.
To strip the issue down to its core, advocates of Nord Stream II assume the European Union would be better off sacrificing 146 billion cubic meters (bcm) of capacity in Ukraine's network in exchange for two fragile, not interconnected offshore pipelines able to carry only 55 bcm.
Ukraine's system is a highly flexible and robust mesh of pipelines and compressors, backed by Europe's largest gas storage, which serves to balance swings in European gas demand.
Myth 5. Europe needs more pipeline capacity for Russian gas.
Reality: Europe already has a surplus transit capacity of 55 bcm of Russian gas and doesn't need Nord Stream II's additional capacity.
In 2017, the Ukrainian gas transit system moved 94 bcm, and there is nearly 55 bcm spare capacity. If Russia wishes to sell 55 bcm more of gas to the European Union, it can do so.
Nord Stream II costs billions to build and will inevitably cause environmental damage in the Baltic Sea, including to a number of Natura 2000 sites. Moreover, the project will merely replicate Ukraine's existing capacity in order to carry the same gas to the same clients, but through a longer route. The commercial logic of the project is dubious.
Myth 6. Nord Stream II will reduce gas prices in Germany.
Reality: Gas delivered via Nord Stream II will be priced at the market level or just marginally below competitors. Nord Stream II will not reduce gas prices in Germany.
There is no commercial reason for Gazprom to sell at a rate lower than its competitors. Nord Stream I does not do this. If Nord Stream II is built, Gazprom would further reinforce its dominance, and thus would have no commercial incentive to lower prices in Germany. Nord Stream II is likely, however, to result in price increases in other EU countries in Central, Eastern, and Southern Europe. That would make German companies more competitive compared to their EU counterparts; however, the European Union as a whole will become less competitive globally.
Myth 7. Nord Stream II is a commercial deal and has no geopolitical impact.
Reality: Nord Stream II is a threat to European security and an instrument of Russia's hybrid warfare against the West. It is not just a commercial deal between several companies and should be assessed in a wider context commensurate with the project's potential consequences.
Nord Stream II threatens European peace and stability. Should Nord Stream II be built, lacking any need for the Ukrainian gas transit system, Russia will lose an important incentive to avoid further escalation of its military aggression against Ukraine and its hybrid war with Europe and the United States. Therefore, the West must embrace decisive policies to prevent further destabilization of peace and order in Europe caused by the manipulation of energy resources and energy markets.
Aliona Osmolovska is Head of Corporate Communications at Naftogaz of Ukraine.