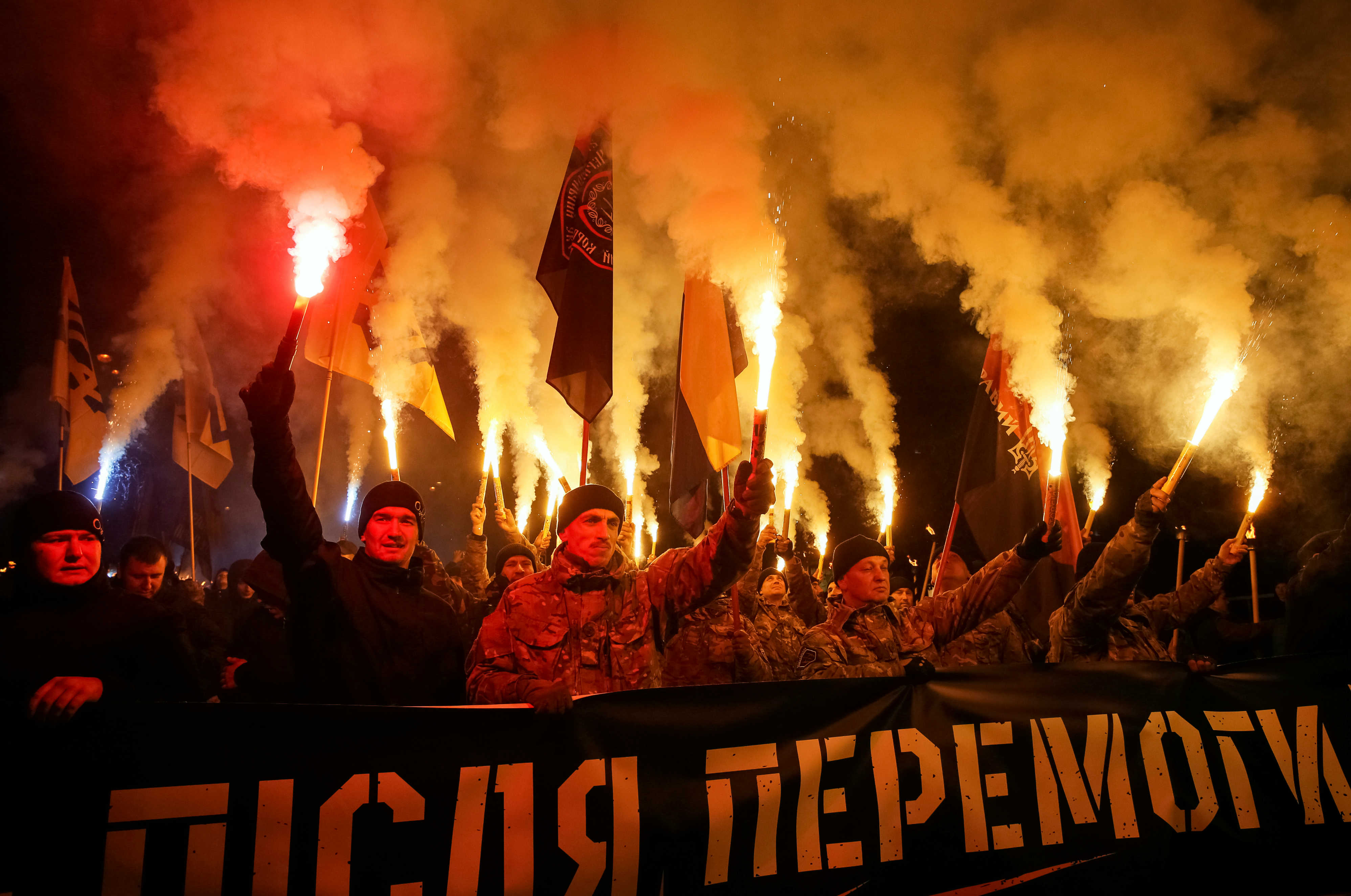 Ukrainian nationalism is growing quickly, but radical parties have never done well in elections. This may change in 2019, when Ukraine will hold both presidential and parliamentary elections, which are the first national elections after the Euromaidan revolution and the Russian military invasion in 2014.
While Ukraine has committed to joining Euro-Atlantic institutions and embarked upon structural reforms, the overall situation in Ukraine remains uncertain. Even now, next year's presidential and parliamentarian campaigns are already impacting decision making.
Given society's widespread distrust of most current political parties and their leaders and the ongoing conflict in eastern Ukraine, radicalism is growing quickly. At the beginning of the conflict, thousands of Ukrainian veterans served in volunteer battalions and other militias, such as Azov, Right Sector, and the Organization of Ukrainian Nationalists (OUN), which espoused far-right sentiments.
Before the 2014 Russian invasion, Ukrainian nationalism peaked during the 2012 parliamentary elections, when Svoboda ("Freedom"), a far-right party, took fifth place with 10.45 percent of the vote and entered parliament .
But Ukraine's nationalist parties have always been a flash in the pan, and never influential. Even at the height of violence in eastern Ukraine in 2014, Right Sector leader Dmytro Yarosh received only 0.9 percent in the presidential election.
But there's new reasons to be concerned. More Ukrainians are willing to go to the street, participate in armed violence, and believe the country is going in the wrong direction.
Pressure from the streets has become one of the most effective instruments in fighting the old system. We saw this with the Granite, Orange, and Euromaidan Revolutions. For the most part, these street revolutions were largely peaceful. However, the concern now is that the number of far-right organizations with real military experience is increasing while those who are willing to go to the streets is also on the rise.
While Ukraine's government wisely dispersed or incorporated most volunteer battalions into the National Guard or Ministry of Defense in 2015-2016, there are hundreds of veteran organizations whose members are willing to stand for parliament.
Another example is "Azov," the far-right organization that turned into a volunteer battalion in the spring of 2014. It started with few dozen volunteers who liberated Mariupol and took part in other key battles on the eastern front.
In 2015 Azov was incorporated into the National Guard, after which it became a full regiment with tanks and heavy artillery. At the same time, a lot of National Guard members preserved their close ties with the National Corps party. These close ties might prevent the National Guard from dispersing future National Corps rallies in downtown Kyiv in the future.
Since the Minsk II ceasefire agreement was signed in February 2015, nationalists headed by Azov organized a number of rallies in Kyiv protesting the treaty. Azov considers it a "betrayal of the national interests" and "capitulation to the Kremlin. " After these protests, parliament postponed its voting on the Minsk II bill.
Ukraine's growing nationalism and societal radicalization is dangerous and useful for some. It can be used to disperse peaceful protesters or for securing election results. Since the activities of the National Police are regulated by laws, nationalists could be hired for doing "dirty work." For example, they can be hired as "titishkas," who can do any job in any crowd.
Given the thousands of veterans who are struggling to find a job and rebuild their lives, such activity could be a good source of income.
Patriotic sentiments are very high, and society regards the army as the third most trustworthy institution today.
Next year's elections will be heavily influenced by different nationalist organizations, since most lack resources to run independent campaigns and many veterans struggle to support their families.
In the meantime, growing radicalism could pave the way for other scenarios, including taking power by force. Oligarchs and businessmen may be tempted to exploit such strong patriotic feelings and strengthen nationalist parties. 2019 may be the year that Ukraine's nationalist parties meet Ukraine's five percent threshold and gain a voice in the parliament for the foreseeable future.
Mykola Vorobiov is an Austrian Marshall Fellow at Johns Hopkins University's Center for Transatlantic Relations.