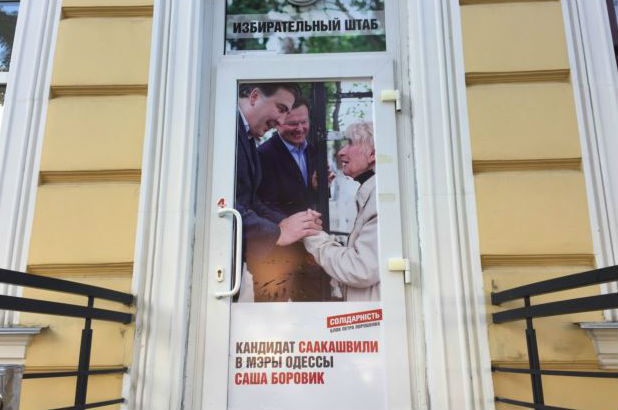 Odesa Mayor Gennadiy Trukhanov trounced Solidarity Party's Sasha Borovik by 53-26 percent in Ukraine's local elections October 25. Observers reported carousel voting, multiple voting lists, exit poll workers agitating for candidates, and a suspiciously slow vote count.
The race for Odesa mayor was a proxy war between Oblast Governor Mikheil Saakashvili and oligarch Ihor Kolomoyskyi, who has deep business interests in the city. Saakashvili initially campaigned for Borovik, while Kolomoyskyi backed Trukhanov.

Borovik, a political newcomer, was born in Ukraine to the son of a KGB officer. He graduated from Harvard and then worked for Microsoft. He attended KGB school and then immigrated to Czechoslovakia during Soviet times. Along the way, he obtained German citizenship and received Ukrainian citizenship again in March. Borovik almost became First Deputy Minister of Economic Development and Trade until a background check revealed major discrepancies in his official resume. At that point, Prime Minister Arseniy Yatsenyuk refused to appoint him. Borovik eventually found his way to Odesa to advise Saakashvili.
At the start of the campaign, Saakashvili's team struck a deal with Trukhanov to peacefully coexist as long as Trukhanov didn't steal the election. But Trukhanov's team stole the race outright in the first round, catching the Georgian team flat footed. "War has begun," a Saakashvili ally told me the day after the election.
In response, Saakashvili's team tried to get the courts to cancel the results or order a recount. Saakashvili gave passionate speeches about the need to punish election fraud and denounced Trukhanov as a "bandit." Trukhanov and Borovik's supporters held counterdemonstrations outside the courts. To Saakashvili's credit, he was unwilling to bribe the judges to win a verdict on a clear case of election fraud. Trukhanov, with the unlimited resources of Kolomoyskyi behind him, is allegedly accustomed to paying bribes to win favorable court decisions, and likely remained true to form. Still though, Saakashvili had a chance to win. Trukhanov put pressure on the judges, and no doubt Odesa's top criminal authority Aleksandr "the Angel" Angert—a business partner of Trukhanov's—offered additional threats. In the end, the judges ruled against Saakashvili. They simply feared Trukhanov more than Saakashvili.
This moment may be Saakashvili's Waterloo. If the governor can't control a provincial court decision on a case of election fraud, how can he deal with the big boys in Kyiv? Saakashvili is already angling for a bigger job in Kyiv, but this defeat may demonstrate that the emperor has no clothes. "This election is bad for us, it's worse for Odesa, but it's ten times worse for Misha," as one Georgian friend of Saakashvili told me, and he's right. The reality is that during Saakashvili's five months as governor, no real changes or reforms have taken place in Odesa and this has not gone unnoticed by locals.
One has to wonder if the Odesa election drama was scripted by Bankova Street—the Ukrainian White House. In March when Poroshenko fired Kolomoyskyi as Dnipropetrovsk oblast governor, he made at least five public concessions to the oligarch. Rumors circulated that a private deal had been made with Kolomoyskyi: his ally Trukhanov would stay on as Odesa mayor to guarantee everyone's financial interests. A new Odesa oblast governor would be appointed (at the time Poroshenko planned to appoint Alexiy Goncharenko but due to Western objections at his thin qualifications, Saakashvili emerged as the compromise) and would need to talk tough about reforms. However, since the real power in Odesa has always been in the city and not the oblast, having a flexible mayor would ensure that business as usual would continue. The agreement had the added benefit of keeping the peace in Odesa at a time when Russia was working to destabilize the region.
In spite of his talk of fraud and court challenges, Ukrainian media reported that Borovik attended Trukhanov's abrupt swearing-in ceremony at the city council to be sworn as a city deputy himself. His presence eliminates his moral right to contest the election. Thus it would appear that Borovik's part in the game was to help ensure Trukhanov's reelection.
Giving the stunning events and deep intrigue in the Odesa election, Bankova Street should get an Oscar for best screenplay and Borovik an Oscar for best supporting actor.
Brian Mefford is a Nonresident Senior Fellow at the Atlantic Council's Dinu Patriciu Eurasia Center. He is a business and political consultant who is based in Kyiv, Ukraine. This article has been adapted from Brian Mefford's blog.