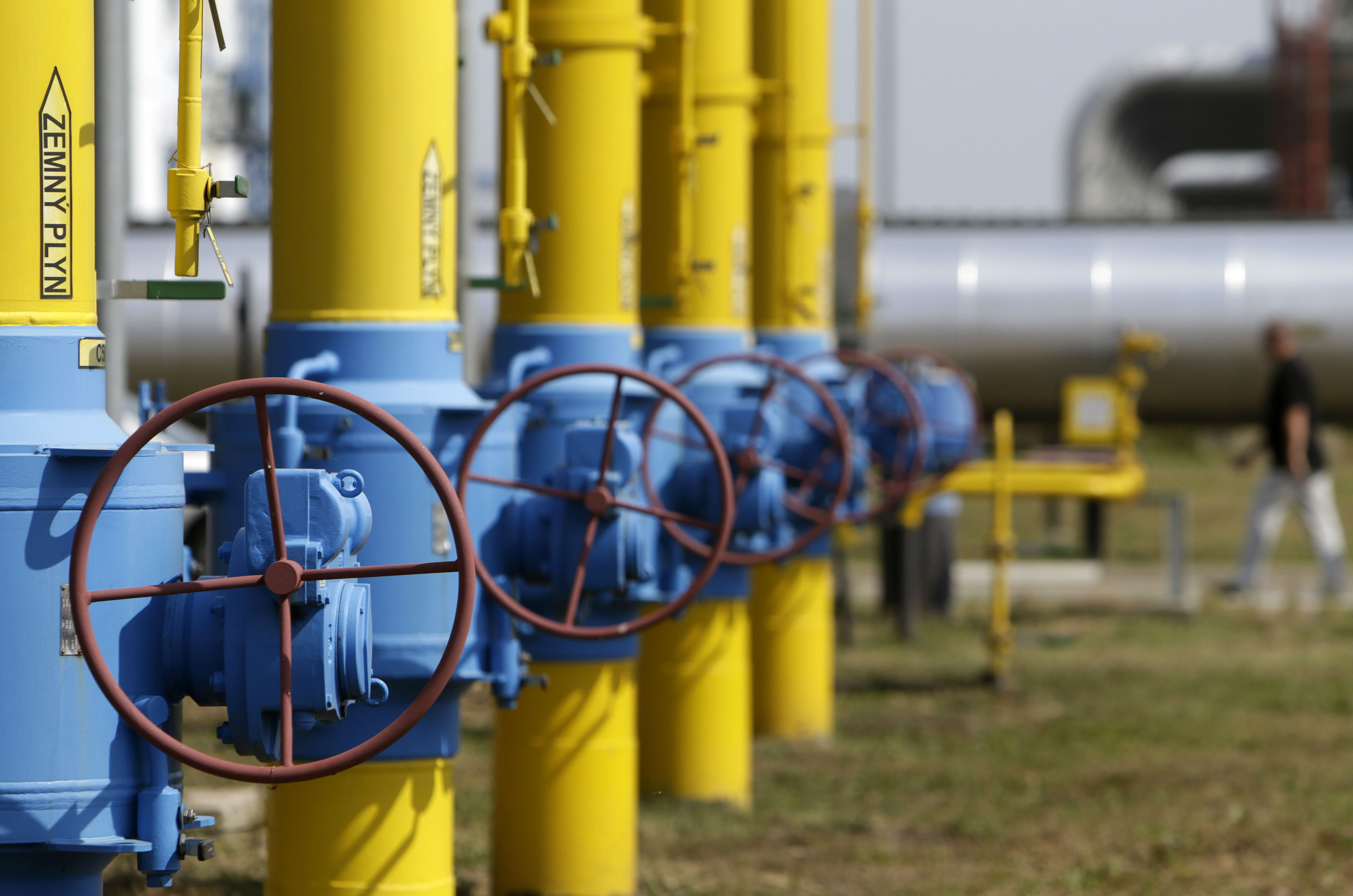 The West has focused on Ukraine's two existential crises: the war in the east and Ukraine's troubled economy. It's understandable, but now is the time for Ukraine to press hard on energy reform because Russia uses energy to exert influence over Ukraine and the energy sector has been a black hole of corruption in the country.
Gas imports from Russia to the European Union almost doubled over the last ten years. The EU wasn't really concerned about this dependence until after the Russia-Ukraine gas wars in 2006 and 2009, when the stream of gas to Europe stopped abruptly in the winter. Concern intensified when Russia annexed Crimea in 2013, and the EU subsequently established the European Energy Union to develop a single energy security policy. Its strategic framework declared an intent to diversify energy sources by looking for new suppliers and avenues to import energy.

In 2013, Russia was responsible for 34 percent of the EU's crude oil imports, roughly 39 percent of its natural gas imports, and 28 percent of its coal imports. But this high level of dependency cannot continue indefinitely; the EU's success in the development of renewable energy and the enhancement of energy efficiency have been bad signs for Russia's energy exports.
Plus, Russia is experiencing other economic problems. Its economy has been badly hit by the drop in oil prices, and the US-EU sanctions only exacerbate the situation. As a result, foreign investment has fallen, gold and foreign currency reserves have decreased, and Russia's access to foreign credits and technologies, which are necessary for the development of new methods of energy extraction, has become complicated.
Russia may know that Europe's high level of dependency cannot continue indefinitely, but that doesn't stop it from searching for new routes to increase its dependency. Though South Stream failed, Turkish Stream—a proposed natural gas pipeline from Russia to Turkey—could become a reality if Russia offers low prices. In September 2015, Gazprom and Shell started negotiations on building a Baltic LNG terminal and announced that it will double North Stream's capacities and participate in an asset swap with, giving Gazprom better access to German markets and gas in the North Sea. The EU will likely try to cancel some of these agreements, but the point is that the EU's energy policy is not united, in spite of its new policy, and the future of Russian and EU energy relations is still up for grabs. Russia's attempts to increase Europe's dependency are serious. And they're not good for Ukraine. If these projects succeed, they will reduce Ukraine's role as a gas transmitter, thereby decreasing the EU's interest in Ukraine and making it easier for Russia to manipulate Ukraine.
At the moment, the EU has a strong interest in Ukraine. European countries need Ukraine to maintain a secure energy supply and remain peaceful: after all, most of the EU's energy supplies from Russia are transmitted though Ukraine. In the case of coal and oil, it's possible to find alternative supply routes that bypass Ukraine, but about 60 billion cubic meters of natural gas has to be transmitted through Ukraine. If energy supplies to Ukraine suddenly stop, or out-and-out warfare begins, the EU will have serious problems.
Still, if the EU goes forward with its aggressive new energy security policy, it will decrease its dependence on Russian supplies and Ukrainian transmission capabilities in less than ten years—which means Ukraine, and not just Russia, will become less important to the EU.
Sanctions and the other economic factors currently hurting the Russian economy will not last forever. To take advantage of Russia's weakened condition, Ukraine should utilize Western support as quickly as possible. These last few years of European energy dependence should be used by Ukraine to conduct strong reforms and decrease its energy dependence on Russia.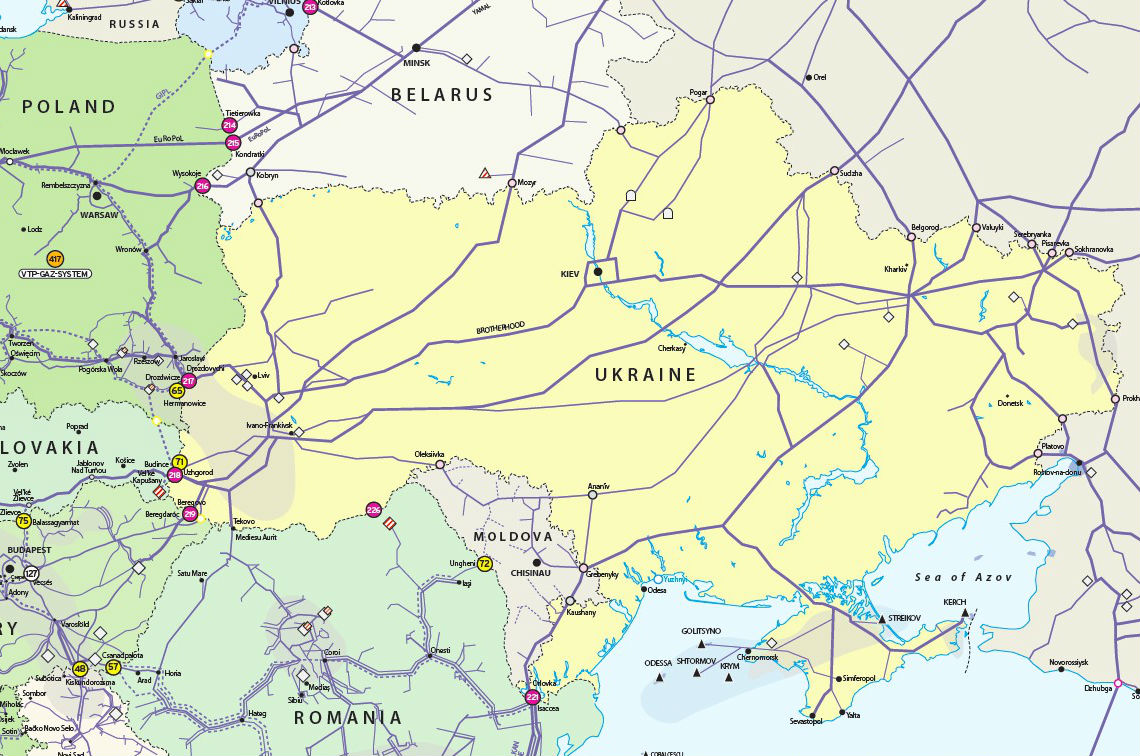 Pipeline system transmitting gas from Russia to Europe. Credit: European Network of Transmission System Operators for Gas
So what should be done? In 2013, Ukraine's total energy consumption was about 160 million tonnes of fuel equivalent, and the country was absolutely dependent on Russian energy. About 30 percent of total gas consumed was extracted inside the country; the rest was imported from Russia. A majority of crude oil and oil products were imported from Russia and Belarus. Coal was the only source extracted inside the country in large enough quantities to supply the nation. Ukraine is energy intensive, with huge energy losses: the potential for improved energy efficiency has been estimated at about of 40 percent of current energy consumption.
Ukraine's total share of renewables is extremely low—2.7 percent in 2013—and decreased further after Crimea was annexed. But it doesn't have to be this way; the country's total technologically feasible potential for renewables amounts to almost 100 million tonnes of fuel equivalent. The most likely renewable energy source in Ukraine is biomass, and its usage must be supported more strongly.
Ukraine can not only become energy independent, it can become a net energy exporter in the not-too-distant future given its virgin oil and gas fields if its energy efficiency increases.
But the picture isn't entirely rosy. Gas extracting rent rates are still high, and inland gas extraction has been decreasing, with foreign energy investors leaving the country. Some reforms in Ukraine's energy sector have begun—a new law regulating the natural gas market has been adopted, programs to improve energy efficiency have been put in place, and the usage of renewables for households and enterprises has become a bit easier. But more work needs to be done to make energy markets more transparent and to meet requirements of the EU's Third Energy Package (which means more EU assistance for the energy sector).
Ukraine's government must understand that the energy battle, like the battle over the economy, is no less important than the war in the east.
Andrian Prokip is a 2015-2016 Fulbright Scholar at the Kennan Institute, associate fellow at the Ukrainian think tank DiXi Group, and a member of the Younger Generation Leaders Network on Euro-Atlantic Security.