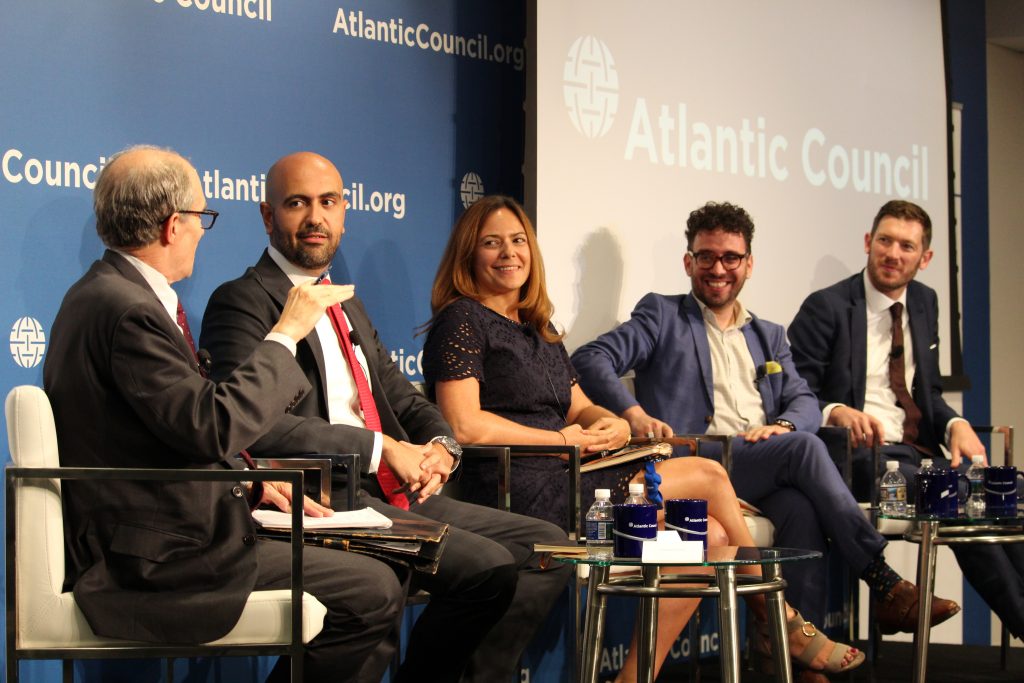 On September 19th, the Atlantic Council's Global Business & Economics Program's Economic Sanctions Initiative hosted an event alongside Kharon to discuss key sanctions risks and trends. Ambassador Daniel Fried, the Weiser Family distinguished fellow at the Atlantic Council, offered brief opening remarks to introduce the event's topic and presenters.
The first presenter, Mark Nakhla, executive vice president of research at Kharon, kicked things off by explaining that as sanctions have evolved, so have the adaptation and evasion tactics of illicit organizations. The introduction of digital currencies, especially cryptocurrencies, present a new challenge and require modification to previous regulations and compliance standards. Nakhla explained the most prevalent types of crypto-usage by rouge actors, networks, and fronts today, including the risks of transacting with a non-sanctioned entity that down the line is controlled by a sanctioned actor.
David Mortlock, a nonresident senior fellow at the Council's Global Energy Center and a partner at Willkie Farr & Gallagher LLP, followed Nakhla by explaining the difference between sanctions evasion vs. sanctions avoidance. Sanctions evasion, a short-term problem, is a question of actors using complex financing mechanisms to hide the ultimate beneficiary of a transaction. Sanction avoidance is a long-term problem that sees entities engaging in legal activity, which makes it harder for the US government to target.
Nakhla, alongside Samantha Sultoon, a visiting senior fellow at the Council's Global Business & Economics Program and the Scowcroft Center for Strategy and Security, explained the impacts and challenges for the private sector as the issuance of sanctions increases. Sanctions often fall to the private sector for implementation – and they are only as effective as they are implemented and enforced. Sultoon explained the increasing onus and expectations on the private sector to magnify US policy through sanctions compliance in 3 parts; increasing pace of action, secondary sanctions, and heightened expectations by the US government for complying entities.
Finally, Joshua Shrager, a senior vice President at Kharon, and Ambassador Fried outlined some key sanctions trends. Echoing his colleagues, Shrager reiterates that sanctions are "a tool of national security that depends entirely on the cooperation of the private sector." The private sector faces especially burdensome challenges with regard to OFAC's 50% rule. Despite the complexities of compliance, entities are required to adhere to the 50% rule, which places a tremendous amount of pressure on the private sector to understand and identify companies with ties to sanctioned entities. To close out the presentations, Ambassador Fried introduced three additional emerging sanctions trends; sloppy use of sanctions, Congress's increasing role in sanctions policy, and long-term degradation of US sanctions due to overuse of the sanctions tool.
If you missed the event and would like to watch the webcast, click here