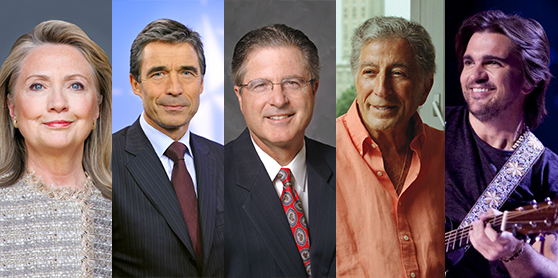 The Atlantic Council on May 1 presented its top global leadership awards to former US Secretary of State Hillary Rodham Clinton, NATO Secretary General Anders Fogh Rasmussen, Chevron Chairman and CEO John S. Watson, legendary performer and humanitarian Tony Bennett, and musician and social activist Juanes.
2013 Honorees

The evening also celebrated the launch of the Atlantic Council's Adrienne Arsht Latin America Center and featured a special duet by Tony Bennett and Juanes.
Read more about the Arsht Center
Each year at this event, the Atlantic Council recognizes leaders who represent the pillars of the transatlantic relationship: political, business, humanitarian, and artistic achievements. Past participants and honorees include Presidents George H.W. Bush and Bill Clinton, Vice President Joe Biden, Admirals Michael Mullen and James Stavridis, business leaders Muhtar Kent of Coca-Cola and Paul Polman of Unilever, humanitarians Bono of U2 and HRH Prince Henry of Wales, and artist Plácido Domingo. The dinner is one of the most visible and exciting black-tie evenings of the year in Washington, DC, bringing together nearly 900 guests from more than sixty countries, including current and former heads of state, ambassadors, members of Congress, members of the administration, Supreme Court justices, military commanders, and global business leaders.