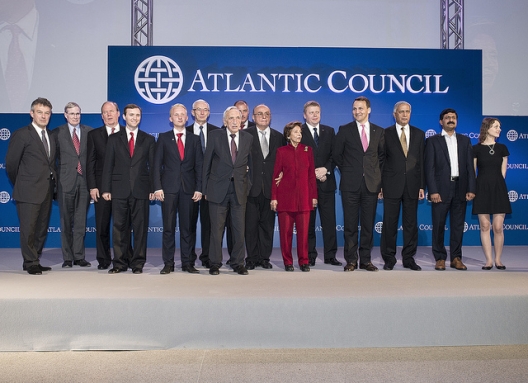 In 2013, the Atlantic Council recognized four exceptional individuals and organizations for their remarkable contributions to the fight for freedom and democracy around the world.
Recognizing Poland's unique role in spreading the message of Solidarity and Freedom around the world, the Atlantic Council hosts its annual Freedom Awards Dinner in conjunction with the Wroclaw Global Forum.
In June 2013, the Atlantic Council honored H.E. Tadeusz Mazowiecki, former prime minister of Poland, for enacting landmark democratic reforms that transformed not only Poland, but also initiated a wave of change across the region. His dedication to the transformation of his country's political system at such a crucial moment for the entire region has had an enduring impact on Poland's modern history and continues to inspire leaders across the world today.
The European Humanities University was presented an award for its unwavering commitment to democracy in Belarus by providing Belarusian students with a free and democratic environment to pursue their education. The EHU's award was accepted by Rector Anatoli Mikhailov, along with two current students of the University, to highlight the organization's incredible impact on the country's future leaders.
The Council also saluted Malala Yousafzai the young Pakistani activist whose courage to speak out against corruption and inequality, despite her own life being put at risk, is an inspiration to activists worldwide. The global response that her story has solicited is a testament to the critical role that activists have in fostering free and just societies worldwide. Malala accepted her award via video message and her father, Mr. Ziauddin Yousafzai, represented her at the Freedom Awards Dinner.
2013 also marked the advent of the Council's inaugural Diplomat for Freedom Award presented posthumously to Mark Palmer, former US Ambassador to Hungary. His role in catalyzing the diplomatic breakthrough between the United States and Russia that ushered in a new era of democratization across Eastern Europe proved how diplomacy can be an active tool to animate the values of democracy and freedom.
Wroclaw, Poland is also the home of the Atlantic Council's Wroclaw Global Forum.
Previous Awardees
2012:
Władysław Bartoszewski, Chairman, International Auschwitz Council
The National Endowment for Democracy, Represented by NED President Carl Gershman
Emma Bonino, Vice President of the Italian Senate and Trustee of the Arab Democracy Foundation
Moncef Marzouki, President of Tunisia on behalf of the people of Tunisia (award presented in absentia)
2011:­
John McCain, US Senator
Radosław Sikorski, Foreign Minister of Poland, on behalf of the Polish people
Vladimir Filat, Prime Minister of Moldova, on behalf of the Moldovan people
Adam Michnik and Helena Łuczywo, Gazeta Wyborcza
Belarus Free Theater, the Human Rights Center "Viasna," and the Belarusian Association of Journalists, on behalf of the Belarusian people
Esraa Abdel Fattah, on behalf of Egypt's young generation
Ron Asmus, former US Deputy Assistant Secretary of State for European Affairs (posthumous award)
2010:
Jerzy Buzek, President of the European Parliament
Aleksander Kwaśniewski, former President of Poland
Javier Solana, former NATO Secretary General and EU High Representative
The Ladies in White/Las Damas de Blanco

2009:
Hillary Clinton, US Secretary of State, on behalf of the American people
Guido Westerwelle, Vice-Chancellor of Germany, on behalf of the German people
Lech Wałęsa, former President of Poland, on behalf of the Polish people
Václav Havel, former President of Czechoslovakia, on behalf of the Czech and Slovak people
James Stavridis, Supreme Allied Commander Europe, on behalf of the allied troops of NATO
Klaus Wowereit, Mayor of Berlin, on behalf of the people of Berlin