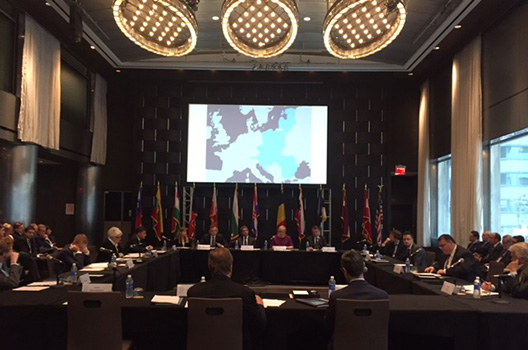 At the initiative of Croatian President Kolinda Grabar-Kitarović, the Atlantic Council co-hosted an informal high-level Adriatic-Baltic-Black Sea Leaders' Meeting in New York on Sept. 29, 2015, on the sidelines of the UN General Assembly session.

The meeting of the leaders of twelve European Union member states, which span across the area between the Adriatic Sea, the Black Sea, and the Baltic Sea – Austria, Bulgaria, Croatia, Czech Republic, Estonia, Hungary, Latvia, Lithuania, Poland, Romania, Slovakia, Slovenia – explored the enormous potential to enhance cooperation in infrastructure integration to the benefit of the entire EU and the wider transatlantic community.
Europe is at an inflection point and the vision of a Europe whole, free, and at peace is under pressure from within and outside its frontiers. Reinforcing European integration and tying Central and Eastern Europe closer to the rest of the EU is therefore of critical importance.
The EU's resilience is also at stake and this portends serious implications for the transatlantic community. Economic growth and energy security are the backbones of that resilience, but both are weak spots in the chain mail of Europe.
The assembled leaders discussed challenges in creating the missing energy, transportation, and digital links. A joint report, issued last November by the Atlantic Council and Central Europe Energy Partners entitled "Completing Europe – From the North-South Corridor to Energy, Transportation and Telecommunications Union", presents these challenges in detail. As an integrated set of energy, transportation, and digital links spanning from the Baltic to the Adriatic and Black Seas, the North-South Corridor is critical to the creation of a single European market, a cornerstone to the vision of a united Europe.
The meeting in New York concluded that the momentum behind a comprehensive Adriatic-Baltic-Black Sea area integration, both within and across the broader European space, has to be reinvigorated. The Atlantic Council remains committed to supporting this process and stands ready to provide assistance to the Adriatic-Baltic-Black Sea Leaders' informal platform in the future to facilitate intergovernmental coordination and cooperation along the corridor, and to engage the business sector on both sides of the Atlantic to attract investment.
The meeting was attended by:
H.E. Kolinda Grabar-Kitarović, President, Republic of Croatia (Chair)
H.E. Rosen Plevneliev, President, Republic of Bulgaria
H.E. Klaus Iohannis, President, Romania
H.E. Andrzej Duda, President, Republic of Poland
H.E. Miroslav Lajčak, Deputy Prime Minister and Minister of Foreign and European Affairs, Slovak Republic
H.E. Linas Linkevičius, Minister of Foreign Affairs, Republic of Lithuania
H.E. Lubomír Zaorálek, Minister of Foreign Affairs, Czech Republic
H.E. Marina Kaljurand, Minister of Foreign Affairs, Republic of Estonia
H.E. Péter Szijjártó, Minister of Foreign Affairs and Trade, Hungary
H.E. Jan Kickert, Permanent Representative, Permanent Mission of Austria to the United Nations
H.E. Andrej Logar, Permanent Representative, Permanent Mission of Slovenia to the United Nations
Mr. Amos Hochstein, Special Envoy and Coordinator for International Energy Affairs, US Department of State
Mr. Frederick Kempe, President and CEO, Atlantic Council
Mr. Damon Wilson, Executive Vice President, Atlantic Council