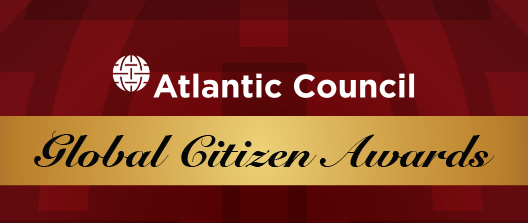 More than 350 distinguished guests joined the Atlantic Council at the Edison Ballroom in New York City on September 26 for the the fourth annual Global Citizen Awards, where the Atlantic Council honored President of the Republic of Poland Bronisław Komorowski, Her Majesty Queen Rania Al Abdullah, and world-renowned conductor Seiji Ozawa.
General Brent Scowcroft, interim chairman of the Atlantic Council, kicked off the evening with a warm welcome to guests. He emphasized the most important quality of a global citizen in his remarks, saying they make a positive impact on the world. General Scowcroft introduced the President and CEO of the Council Fred Kempe who commented that the concept of global citizenship takes on a special meaning in times of great change and turmoil. He also reiterated the Council's mission: "We are convinced that common cause of transatlantic community is a precondition for facing world's greatest challenges."
Dr. Zbigniew Brzezinski introduced the first honoree of the evening, President Bronisław Komorowski, who has played a vital role in Poland's remarkable evolution. In his introduction, Dr. Brzezinski reiterated Mr. Kempe's remarks, proclaiming "The future of the West depends on greater political and economic cohesion between America and Europe." Turning to President Komorowski, Dr. Brzezinski applauded him for reaching out to Poland's eastern neighbors. He described the president as a man who knows how to mediate, conciliate, and inspire trust.
President Komorowski accepted his award stressing the importance of freedom to the Polish people. He explained that Poland is making an effort to play an important role in NATO and the EU while "staying true to our principles." Two decades after the fall of Communism, Poland stands as a shining example of democracy.
After dinner, Dr. Henry Kissinger took the stage to introduce Her Majesty Queen Rania Al Abdullah of Jordan, who was recognized for her humanitarian work. Jordan is under pressure from all sides, and according to Dr. Kissinger, "conducts itself with dignity and farsightedness… that we can all respect." Queen Rania dedicated her Atlantic Council Global Citizen Award to the people of Jordan, saying, "For it is them from whom I've learned most about how to be a global citizen." She noted her people's humanity and benevolence towards the Syrian refugees and called on the international community to address the rapidly escalating humanitarian crisis in Syria and its destabilizing spillover effects into the region.
"With over half a million refugees in Jordan, and more arriving every day, we desperately need help," Queen Rania said in her acceptance speech at the Atlantic Council Global Citizen Awards in New York City. "Governments have been generous. But the UN agencies and civil society groups on the ground are at a breaking point trying to meet growing demand. We urgently need the global community to dig deeper, help the most vulnerable, and show them what it means to belong to a global family," she said.
There are an estimated 525,000 refugees from Syria currently in Jordan, with another 500,000 in other parts of the region, and more than half of registered refugees are children, according to the United Nations.
US Senator Chris Murphy (D-CT) followed Queen Rania, taking the opportunity to stress that though the United States has been hesitant to involve itself in the Syrian conflict, the country will not enter a period of prolonged isolationism. Instead, Senator Murphy urged that the United States will continue to engage with the international community, especially those countries in Europe who are caught between Eastern and Western spheres of influence.
Dinner co-chair Victor L.L. Chu introduced Maestro Seiji Ozawa, the final honoree of the evening. Ozawa is not only one of the world's most accomplished maestros, he is a true advocate for the arts and arts education. Addressing guests via video, Ozawa said, "My spirit is with you." Ozawa's daughter Seira made brief remarks as she accepted the award for her father, and cello virtuoso Owen Young performed in tribute to his mentor.
Fred Kempe closed the evening with thanks all around for the continued support of the Council family that allows events like the Global Citizen Awards to honor such remarkable individuals. Now in its fourth year, the Global Citizen Awards dinner recognizes visionary leaders who embody the Council's mission to renew the transatlantic community for global challenges.
Previous honorees include Nobel Peace Prize laureates Henry Kissinger and Aung San Suu Kyi; IMF Managing Director Christine Lagarde; US Secretary of State John Kerry; Lebanese Prime Minister Rafik Hariri (posthumously); musician and producer Quincy Jones; and World Economic Forum Founder Klaus Schwab.
Press Releases
Media Mentions