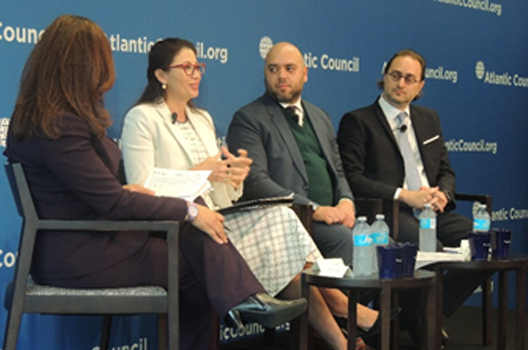 On Wednesday, April 19, the Brent Scowcroft Center on International Security and the Global Energy Center co-hosted a conversation on energy innovation and entrepreneurship in the Middle East featuring Dr. Julia Nesheiwat, presidential deputy envoy for hostage affairs at the US Department of State; HE Majid Al-Suwaidi, consul general of the United Arab Emirates in New York; and Mr. Salah Tabbara, general manager of ALBina Industrial Construction Company and moderated by Ms. Mirette Mabrouk, deputy director and director of research and programs of the Council's Rafik Hariri Center for the Middle East.
Dr. Nesheiwat presented a global perspective, detailing the proliferation of clean energy as well as the decreased cost to deploy these systems. She noted that renewable energy sources accounted for 55% of new energy developed in 2016, and at 23% lower cost than in 2015. In 2016 solar power cost 17% less to produce, onshore wind cost 18% less, and offshore wind cost 28% less – making these industries even more competitive with fossil fuels. She also discussed the importance of economic diversity to protect the state against market shock in the oil and liquid natural gas markets during supply fluctuations and under threats from violent extremism, this holding especially true for the Gulf states.
HE Al-Suwaidi zeroed in on the UAE, discussing innovative programs like Masdar City, partnerships with Pacific Island states, and the mandate for 27% of the Emirates' energy demand to be supplied by renewable technologies. He explained that the UAE has known from early on that oil and natural gas are finite resources. Diversifying into aviation, finance, and tourism have proven lucrative for the Emirates, and a strong sense of environmental stewardship has steered innovation away from fossil fuels. The country's current green growth strategy is pushing for meaningful sustainability in both economic and environmental sectors. Al-Suwaidi also explained how the UAE's Masdar initiative has invigorated innovation research and development, from partnerships with MIT to bring students from around the globe to participate in innovation competitions, to the Masdar City project, which he described as a "living lab" for new technologies to be field-tested.

Mr. Tabbara provided perspective on the playing field in Lebanon, explaining the difficulties in separating politics from the push for renewable energy and asserting a desire for better legal frameworks, rather than government subsidies, to increase private sector opportunities. He explained the challenges facing the energy infrastructure in Lebanon following the influx of Syrian refugees beginning in 2011, exacerbated by the political gridlock and sectarianism. Tabbara also noted Lebanon's steps to combat this issue, including harboring two ships dedicated to electricity production to address the energy deficit, and the 2009 call for 12% of the national energy demand to be met by renewable energy sources.