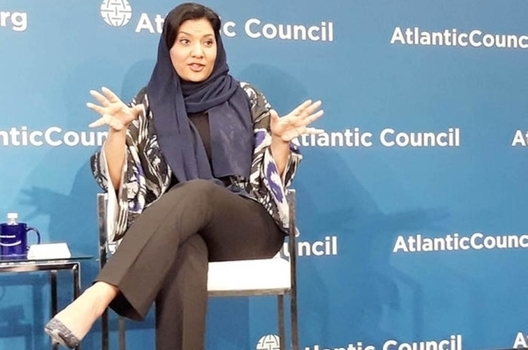 On Wednesday, February 28, the Scowcroft Center for Strategy and Security's Middle East Security Initiative hosted a discussion on Saudi Arabia's reform agenda with HRH Princess Reema bint Bandar Al-Saud, vice-president for planning and development of the Saudi General Sports Authority. The conversation focused on Saudi Vision 2030 and socioeconomic transformation underway in the Kingdom. Ambassador Frederic C. Hof, director of the Rafik Hariri Center for the Middle East at the Atlantic Council, introduced the discussion and Bina Hussein, associate director of the Atlantic Council's Global Energy Center, moderated the conversation.

HRH Princess Reema and Ms. Hussein addressed several pertinent topics, including challenges the Vision 2030 agenda faces, including domestic opposition it has received, and how international interlocutors can play a constructive role in supporting key elements.
HRH Princess Reema described the extensive reforms Saudi Arabia has implemented before and since the launch of Vision 2030. For example, Saudi Arabia's recently announced Red Sea mega-city project was the culmination of a bevy of foundational deals that included an agreement for major investment in the project by Softbank Group Corp. and hiring former Siemens AG CEO Klaus Kleinfeld to lead the project. Princess Reema noted that the government has vastly expanded its private sector partnerships to develop talent domestically and increase government efficiency. Her own organization, the General Sports Authority, hired Deloitte and McKinsey to help the organization figure out how to more effectively develop the sports community, while creating a parallel program to capture the knowledge from these organizations and develop local expertise. Partnerships like these, she noted, have impacted how her organization works and how employees think, with the statistic "Social Return on Investment" (SROI) becoming the General Sports Authority's most important measure of success.
HRH Princess Reema explained that the goals of her work "are all about social integration for community, more meritocracy, and equality." She focuses on societal development through initiatives meant to impact sectors including entertainment, culture, community, and sports. While she may not oversee other critical reform projects such as those related to domestic violence and guardianship, Princess Reema believes her work will have positive second-order effects on those areas too. Further, Princess Reema described how the government has worked to get buy-in from the clerical establishment on social reforms, in order to balance change with respect for cultural norms. She concluded the conversation by noting that only the Saudi people can decide what is the right pace for reform, and that the international community should be supportive of but deferential to Saudi decision-makers.