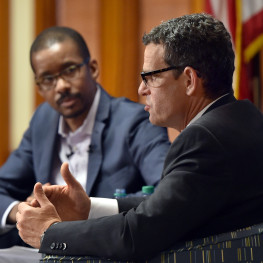 On September 11, the Atlantic Council's Economic Sanctions Initiative and the Institute of International Economic Law (IIEL) at Georgetown Law hosted David S. Cohen, Former Deputy Director of the Central Intelligence Agency (CIA), to discuss Russia, Venezuela and North Korea sanctions in an interview with IIEL Faculty Director Chris Brummer.
Described by several members of the Obama administration as a "financial Batman", Mr. Cohen also served as Under Secretary of the Treasury for Terrorism and Financial Intelligence. The interview covered a wide range of topics, with a focus on the current US administration and its approach to sanctions, the multilateral importance of sanctions, and country-specific discussions on North Korea, Russia, and Iran.
Key takeaways from the discussion were:
Financial sanctions have increasingly become a central tool of foreign policy. This trend looks set to continue in coming years.
Multilateralism is vitally important for sanctions to succeed.
When sanctions measures are so prescriptive, it becomes difficult to use sanctions in a flexible way; current sanctions "lock-in" punishment.
In general, businesses operating in the international environment find it hard to navigate the more complicated sanctions that exist today.
North Korea have been subject to sanctions for years, the U.S. needs to have a qualitatively different approach to the country.
If the current administration wants to tank the Iran deal, it doesn't take away from the fact that the rest of the world will not back away from the Joint Comprehensive Plan of Action (JCPOA).