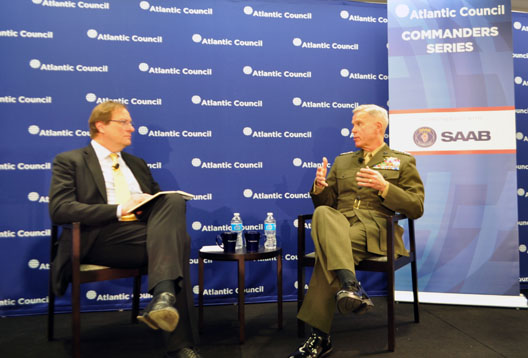 In an era of divergent threats and decreased budgets, the US military is pressed to formulate an overarching strategy that maximizes the limited resources available. The US Marine Corps, the nation's smallest military branch, will have to confront these challenges with a smaller end-strength level around 175,000 and twenty-one Marine infantry combat battalions. Commandant of the Marine Corps, General James F. Amos, addressed these challenges and discussed potential developments that lie ahead in a Commanders Series event hosted by the Atlantic Council's Brent Scowcroft Center on International Security.

In his remarks, Gen. Amos described both the United States and the world facing a strategic inflection point in history.
"For us as Americans, after twelve years of war we are drawing down our forces in Afghanistan, resetting our military, and strategically repositioning and reposturing to the Pacific," he said.
This is all being done in a world filled with increased competition for scarce resources, natural disasters, social unrest, cyber attacks, and proliferation of military hardware—an environment that has become the "new normal."Gen. Amos also noted that as trust in US engagement abroad cannot be surged at a time of crisis, it is essential to enhance and strengthen cooperation with allies, while at the same time building new partnerships.
Further, Gen. Amos outlined how the current fiscal realities will influence the operability of the Marine Corps, describing the new, smaller force under his command as a "moderate risk" force. He explained that the force reduction will greatly influence the Marine Corps' combat power build-up capability and limit the elasticity of the force structure in case of a large contingency operation. In order to face these fiscal constraints, Gen. Amos noted that the Marine Corps, with other military branches, will need to increasingly prioritize its engagements. Regarding future developments, Gen. Amos predicted that the focus of military deployments will be increasingly on naval forces, as these leave a small footprint requiring limited presence on the ground and can be deployed quickly and flexibly.
The discussion with Gen. Amos was hosted as part of the Commanders Series, which is sponsored by SAAB Americas and is the preeminent platform for military leaders to discuss strategic issues with an audience drawn from the broader Washington policy community. Recent Commanders Series events included US Army Chief of Staff Gen. Raymond T. Odierno and Afghanistan's RC-Southwest Commander MajGen John A. Toolan.