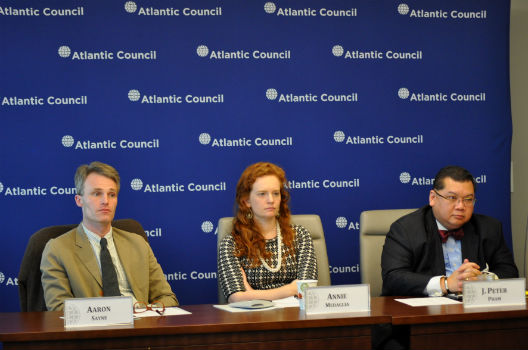 On Monday, January 11, the Atlantic Council's Global Energy Center and Africa Center launched a new issue brief, "Nigeria's Oil Revenue Crunch," authored by Aaron Sayne and Arica Center Senior Fellow Aubrey Hruby, in a roundtable discussion at the Atlantic Council.

The study examines the impact of falling oil prices and increased competition on Nigeria's economy and stability. And both factors are related: the study finds that Nigeria's stability depends upon the government's ability to achieve sustainable economic growth, create robust investor confidence, and deliver critical services to a rapidly expanding population.
Global Energy Center Deputy Director Annie Medaglia welcomed attendees to the roundtable. Sayne gave an overview of Nigeria's economic situation in light of rapidly declining oil prices (Brent crude is now trading around $30 a barrel, the lowest price in more than a decade and considerably down from the $100 or higher that oil commanded between 2011 and 2014), noting opportunities he saw for meaningful and timely reform.
Africa Center Director J. Peter Pham discussed the implications for stability of constrained government revenues, noting that Boko Haram continues to pose a security threat to the country's northeast and the sustainability of efforts to prevent renewed unrest in the Niger Delta is in question. He also spoke about the impact of the federal government's diminished financial resources on its ongoing participation in joint ventures with international oil companies, given its inability to make capital contributions, affecting the development of both upstream and downstream oil sectors.
Both the oil and non-oil sectors need serious reforms to pave the way for sustainable economic growth, and Sayne expressed his hope that Nigeria's policymakers—in cooperation with their international partners in the United States and Europe—can look to innovative solutions to tackle some of the obstacles to long-term growth. Pham emphasized the opportunity presented by the depressed oil prices to fundamentally alter for the better the political economy of Nigeria's government planning and finances.