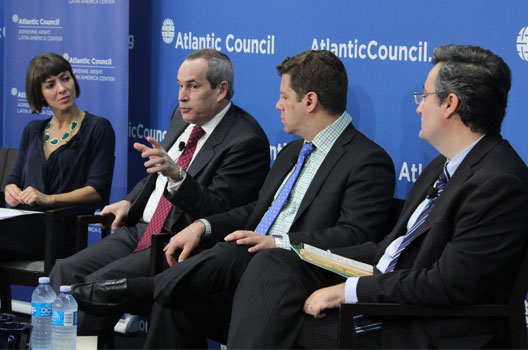 As Brazil experiences a period of transition, with president Dilma Roussef facing impeachment and Michel Timer leading an interim government, its energy sector's faces a turning point. For the past 50 years, state-owned oil giant Petrobras has dominated Brazil's energy industry. In the recent past, however, scandals involving top officials in Petrobras and in the country's largest construction firms have shaken the entire industry. Petrobras is now undergoing a profound transformation, reducing its investment and potentially cutting back its role in oil exploration. The result could mean more private investment that could jumpstart the sector and have positive implications for the country's waning economy.

The Atlantic Council's Adrienne Arsht Latin America Center and Global Energy Center hosted a public discussion, where energy experts tackled the key trends facing Brazil's oil and gas sector moving forward. The panel brought together Décio Oddone, Director of Prumo Logística and Former Chief Executive Officer of Petrobras Energía S.A. and Juliano Basile, Washington Correspondent for Brazil's leading financial newspaper, Valor Econômico. Jason Fargo, Latin America team leader at Energy Intelligence, also participated in the panel. Adrienne Arsht Latin America Center Associate Director Andrea Murta moderated the conversation.
The event also launched the latest Atlantic Council publication, Oil and Gas in Brazil: A New Silver Lining?, written by Décio Oddone, which provides an overview of the recent changes to the energy industry in Brazil, including those to Petrobras, highlights the main opportunities in the sector, and advances key recommendations for the Brazilian government as well as for private sector stakeholders.
After opening remarks from Jason Marczak, Director of the Adrienne Arsht Latin America Center Economic Growth Initiative, Murta started the discussion by asking Oddone to explain why he was so optimistic about Brazil's energy sector. Oddone and the rest of the panel described that Brazil is currently learning "hard lessons" that will drive changes in Petrobras and in the country's energy policies. Fargo contributed an international perspective on Brazil's oil and gas sector, mentioning positive signs that the structural changes taking place will be long-lasting. Basile shed light on how the political changes in Brazil will affect the country's energy policy, asserting that politicians and government officials now recognize the need for increased openness, competition, and foreign investment. Though the country faces unprecedented challenges, our panelists are hopeful that its leaders will be able to exploit the country's important energy potential.