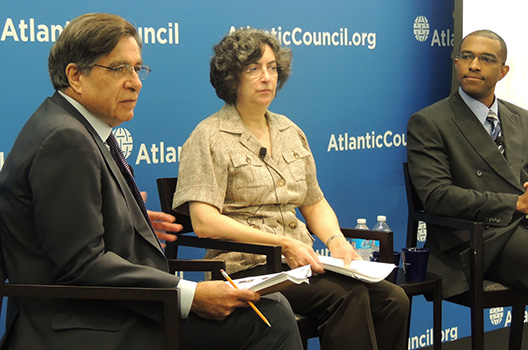 There is a growing consensus that there is urgent need for a number of countries in the Middle East and North Africa (MENA) to undertake subsidy reforms, mainly because of the costly and distortive nature of energy subsidies. On Thursday, July 10, 2014, in partnership with the International Monetary Fund (IMF), the Atlantic Council's Rafik Hariri Center for the Middle East hosted Daniela Gressani, deputy director of the Middle East and South Asia department at the IMF, with Justin Dargin, an energy and Middle East scholar at the Oxford Institute for Energy Studies, and Malek Kabariti, the former Jordanian minister of energy and mineral resources. The panel discussed energy subsidies and challenges of subsidy reform in the region. Hariri Center Senior Fellow Mohsin Khan moderated the discussion.

Gressani began by outlining the distortive impact subsidies have had on MENA economies. She explained that mounting fiscal pressures that subsidies cause have pushed governments to tackle subsidy reforms and work toward initiating a discussion of such reforms. Gressani also reflected on common factors among countries that have successfully implemented subsidy reforms: raising public awareness about reforms, ensuring that social safety nets are put in place to protect the most vulnerable segments of the population, and introducing automatic adjustment mechanisms in prices to account for inflationary pressures.
Dargin agreed with Gressani that energy subsidies have had damaging economic effects in MENA, and argued that the era of energy subsidization in MENA has passed. He identified three factors that have led to the realization that energy subsidies are unsustainable: crippling energy deficits, higher carbon rates and climate change pressures, and budgetary restraints.
Kabariti drew on Jordan's reform experience to suggest that subsidies are distortionary, as they tend to benefit the rich rather than the poor. He admitted that resistance from the private sector can be a major obstacle to implementing reforms, but argued that reforming subsidies and matching energy prices to international standards can help relieve budgetary pressures. Kabariti, like Gressani, argued that governments must take steps to prepare the population before subsidies are removed (e.g. through dialogue or supplementing price increases with cash transfers).
Overall, the discussion focused on offering mitigating strategies to all income groups, focusing on the middle class and wealthier groups, which are expected to oppose reforms the most.