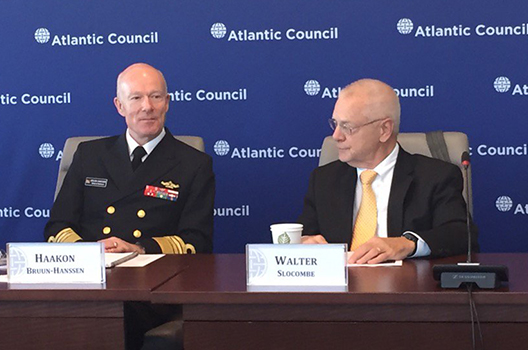 On October 18, the Transatlantic Security Initiative hosted a private roundtable discussion on "Shoring Up Security in the High North". The session featured a keynote address by Admiral Haakon Bruun-Hanssen, Chief of Defense of Norway, and a moderated discussion led by Walter B. Slocombe, Secretary of the Board of the Atlantic Council.

Admiral Bruun-Hanssen outlined the key aspects of the government's proposed long-term plan for the Norwegian Armed Forces, which seeks to boost defense spending and capabilities. Participants also shared their insights on the threat environment in the High North, NATO's role in promoting security in the region, and potential opportunities for US-Norwegian defense cooperation.
Before assuming his current position in 2013, Bruun-Hanssen served as Commander of the Norwegian Joint Headquarters, where he was responsible for all Norwegian military operations and the HQ's connection to NATO. Throughout his decorated military career, Bruun-Hansen has also served as Chief of the Royal Norwegian Navy and Chief of Naval Staff.