What you should know
Quarantine + reopening plans
Countries across the region are taking measures to avoid crowds during the holiday season.
International travel restrictions
Venezuela announced it will no longer permit flights to and from Panama because of Panama's increasing COVID-19 cases. Venezuela will still allow flights to Mexico, Turkey, and Bolivia.
On December 15, Peru resumed flights between Lima and Europe. Passengers will be permitted to fly to Amsterdam, Madrid, Barcelona, Paris, and London.
Economies in focus
Economic Impact
Economic Aid
Resilience, recovery + renewal
New Episode: How Green is Green? The Growth of Sustainable Investment Products
As companies look to build resilience and recovery in the aftermath of the pandemic, the focus on Environmental Social and Governance (ESG) has accelerated on a global scale. How is the growth of green investment products taking shape?
In the newest episode of Baker McKenzie's Resilience, Recovery and Renewal podcast series, experts will take a closer look at the state of sustainable finance and what is working around the globe.
Guests: Paul Stanley (Senior Manager, Corporate Sustainability, HSBC) and from Baker McKenzie Adam Farlow (Head of ESG Debt and Equity), Caitlin McErlane (Partner) and Andrew Sagor (Head of Responsible Investment)
Subscribe to the 3R podcast series: Apple Podcasts | Spotify | Google Podcasts
Health + innovation
In Focus: US President-elect Joe Biden and Latin America
By the numbers
Cases by country: Brazil (6,985,555) # 3 worldwide, Argentina (1,510,203) #10 worldwide, Colombia (1,444,646) #11 worldwide, Mexico (1,267,2020) #13 worldwide, Peru (987,675) #16 worldwide, Chile (576,731) #24 worldwide, Ecuador (202,356) #41 worldwide, Panama (196,987) #43 worldwide, Dominican Republic (156,585) #50 worldwide, Costa Rica (154,096) #51 worldwide, Source: worldometers.info
Prevalence rate (total cases per million people): Aruba (47,479) #14 worldwide, Panama (45,330) #16 worldwide, Argentina (33,397) #32 worldwide, Brazil (32,757) #33 worldwide, Costa Rica (30,124) #39 worldwide, Chile (30,052) #40 worldwide, Peru (29,766) #43 worldwide, Colombia (28,254) #45 worldwide, Saint Martin (20,557) #61 worldwide, The Bahamas (19,491) #65 worldwide, Source: worldometers.info
Deaths per capita (deaths per million people): Peru (1,110) #3 worldwide, Argentina (908) #14 worldwide, Mexico (888) #16 worldwide, Brazil (858) #19 worldwide, Chile (832) #20 worldwide, Panama (785) #21 worldwide, Ecuador (782) #22 worldwide, Colombia (770) #24 worldwide, Belize (526) #39 worldwide, Aruba (430) #41 worldwide, Source: worldometers.info
​​
Quick take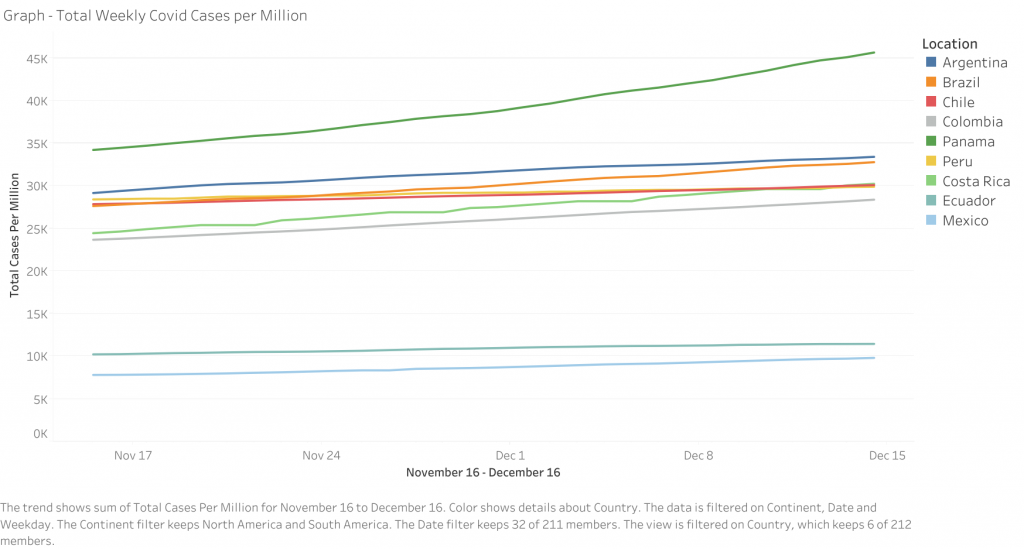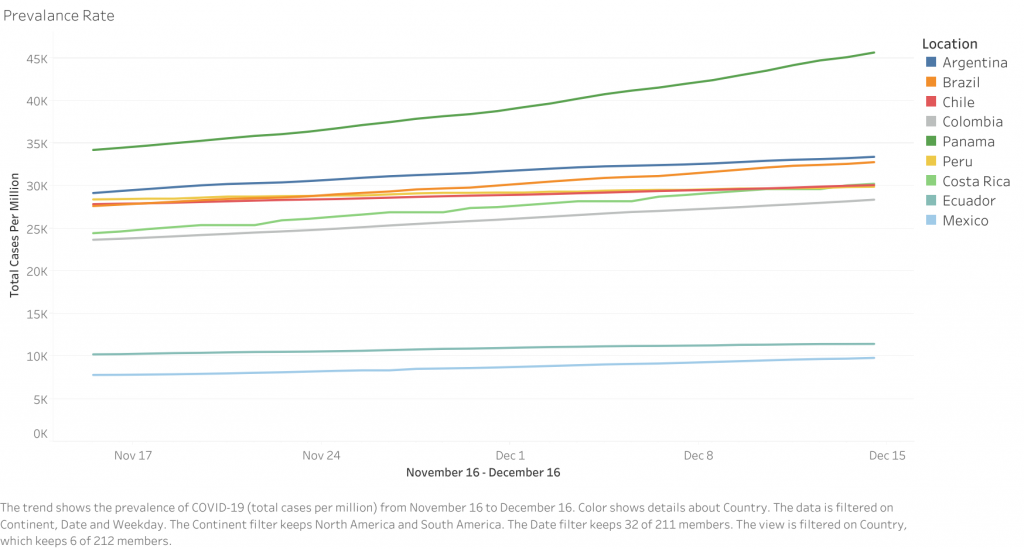 Sponsored By