What you should know
Congratulations have poured in for President-elect Joe Biden from across the region, except from Brazil's Jair Bolsonaro and Mexico's Andrés Manuel López Obrador.
47 million: That's the number of jobs lost across the region in the second quarter of 2020, according to the UN Economic Commission for Latin America and the Caribbean's new report.
COVID-19 vaccine? The Pan American Health Organization says that an approved vaccine could be available for distribution and administration during the first half of 2021.
261 days ago: On February 26, the first COVID-19 case was documented in Latin America (Brazil). Here are this week's latest figures.
Quarantine + reopening plans
As COVID-19 becomes part of normal life, countries are shifting their focus to phased reopening.
International travel restrictions
Paraguayan authorities announced that from November 15 onwards, mandatory quarantine for international travelers will be eliminated. However, a negative PCR test, taken within 72 hours before flying, will continue to be a mandatory requirement for travelers.
On November 7, Trinidad and Tobago Prime Minister Keith Rowley announced that travelers must have a negative PCR test within two days prior to arrival and will be placed in quarantine facilities for a week.
On November 5, Colombia's Ministry of Health announced that a negative PCR test will no longer be required for passengers entering the country.
Economies in focus
Economic Impact
Economic Relief
On November 8, Latin American development bank CAF signed off on Mexico's accession as a full member. Mexico will have greater access to financial resources, technical cooperation, and a permanent seat on the Board of Directors.
El Salvador's Ministry of Finance transferred $75 million of its $250 million Inter-American Development Bank (IDB) loan to municipal governments. A legislative decree mandates that 30 percent of all COVID-19 emergency funds must be transferred to El Salvador's municipalities.
The IDB approved a $22 million loan to strengthen Guyana's public health response to the COVID-19 pandemic.
Resilience, recovery + renewal
Today's environment demands that organizations move quickly while thinking deeply. Baker McKenzie's Beyond COVID-19 Resource Center tracks up-to-the-minute alerts as well as big picture analysis across a variety of countries, industries, and legal and business issues. Here are the latest updates from the region:
Health + innovation
Country Focus
Bolivia: On November 8, Luis Arce was sworn in as President of Bolivia. A day after, former president Evo Morales returned to the country, crossing the border from Argentina.
Argentina: Protests against the administration of President Fernández broke out in Buenos Aires, Cordoba, Rosario, Mar del Plata, Mendoza, and San Carlos de Bariloche on November 8.
Peru: Peru's Congress voted to impeach President Martin Vizcarra over accusations of corruption and his handling of the pandemic. Vizcarra denied the corruption allegations as "baseless" and "fraud".105 of Peru's 230 lawmakers voted to remove him. Congress President Manuel Merino was sworn in as President of Peru on November 10, following Peru's line of succession established in its constitution.
By the numbers
Cases by country: Brazil (5,730,361) #3 worldwide, Argentina (1,262,476) #7 worldwide, Colombia (1,156,675) #9 worldwide, Mexico (978,531) #11 worldwide, Peru (925,431) #12 worldwide, Chile (524,804) #17 worldwide, Ecador (176,630) #36 worldwide, Bolivia (142,644) #40 worldwide, Panama (141,302) #41 worldwide, Dominican Republic (131,265) #44 worldwide, Source: worldometers.info
Prevalance rate (total cases per million people): Aruba (43,224) #5 worldwide, Panama (32,565) #15 worldwide, Peru (27,928) #21 worldwide, Argentina (27,8410) #22 worldwide, Chile (27,368) #23 worldwide, Brazil (26,890) #24 worldwide, Costa Rica (23,434) #28 worldwide, Colombia (22,645) #31 worldwide, Bahamas (17,770) #43 worldwide, Saint Martin (15,033) #52 worldwide, Source: worldometers.info
Deaths per captia (deaths per million people): Peru (1,056) #3 worldwide, Brazil (765) #6 worldwide, Chile (763) #7 worldwide, Argentina (754) #8 worldwide, Bolivia (751) #9 worldwide, Mexico (741) #11 worldwide, Ecuador (728) #13 worldwide, Panama (649) #16 worldwide, Colombia (649) #17 worldwide, Aruba (3930 #30 worldwide, Source: worldometers.info
Quick take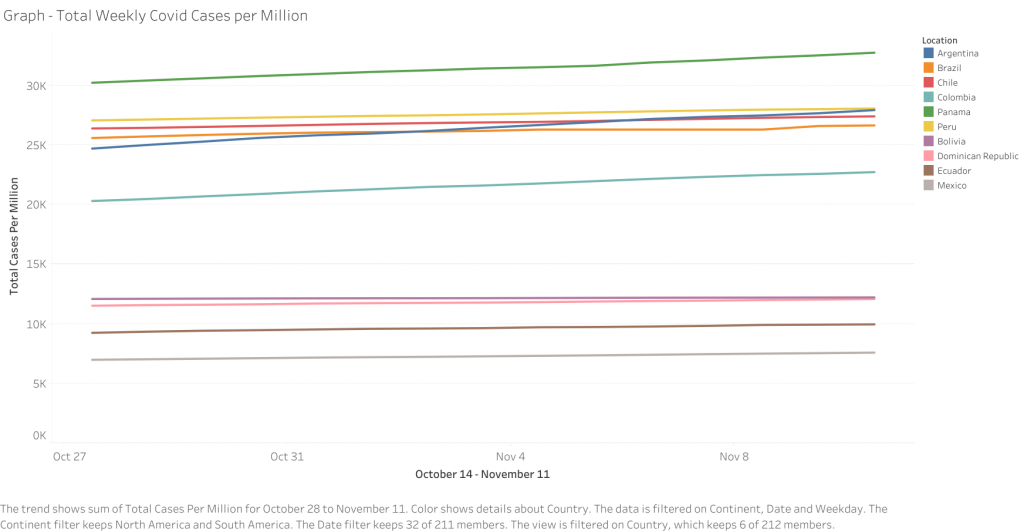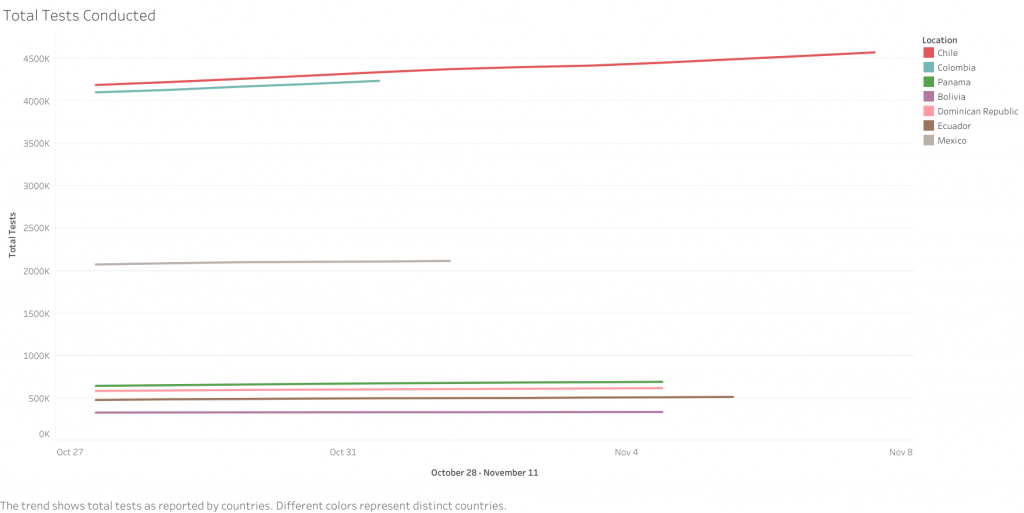 Sponsored By