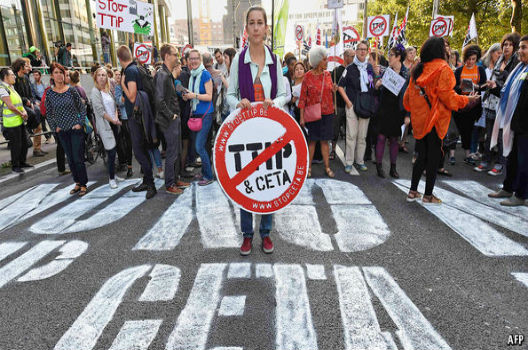 THIS WEEK'S KEY TAKE-AWAYS
Belgian region of Wallonia holding tight in CETA dispute
"Normandy Four" meeting sets path for Minsk implementation
EU Council Summit discusses Russia and migration

BRUSSELS IN BRIEF

EU-Canada trade deal crisis, down to the wire
The Belgian region of Wallonia remains opposed to CETA, the EU-Canada free trade deal, despite ongoing talks with EU officials and considerable pressure from EU leaders . Council President Donald Tusk warned that the deal could be the EU's "last free trade agreement" and that the bloc's "credibility is at stake." Wallonia, which opposes the trade deal based on general economic and environmental issues, remained firm in its stance and brushed off a deadline set for today by EU officials. Regional assembly president Paul Magnette held talks today with Canada's International Trade Minister Chrystia Freeland; however, Freeland reportedly said she will be going home "empty handed". If the two sides cannot compromise by Monday evening, Canadian Prime Minister Justin Trudeau is expected to cancel a trip to Brussels that had been planned for October 27, and which was to include an official CETA signing ceremony.
Read more:
The Economist: Wallonia is adamantly blocking the EU's trade deal with Canada
BBC: Belgium-Canada Ceta trade dispute bedevils EU summit
Politico: Canadian minister says EU trade talks have failed
Ukraine ceasefire inches forward at summit amid tensions with Russia
Following an October 19 meeting in Berlin hosted by German Chancellor Angela Merkel between Russian President Vladimir Putin, French President Francois Hollande, and Ukrainian President Petro Poroshenko, all parties agreed to draw up a timetable for implementing a ceasefire in eastern Ukraine. Merkel said that the talks "didn't achieve miracles" and called talks with Putin "difficult," given rising tensions over Russia's recent involvement in Syria. Russian actions have also prompted a group of MEPs to urge European Council President Donald Tusk to propose strong sanctions against Russian leadership. Still, many analysts characterized the meeting as a "modest success," although they emphasized that negotiations will be complicated and the Kremlin's commitment to realizing a peace deal is unclear.

Read More:

European Council Summit condemns Russia and talks border control
While their fall summit was overshadowed by attempts to salvage CETA, EU leaders discussed Russia and migration issues. Following the discussion, Council President Donald Tusk hinted at the possibility of more sanctions on Russia, announcing that the EU will "consider all available options." European leaders also stressed the importance of ending illegal migration to the EU via the Mediterranean, calling for more cooperation with African nations. They also pushed for revised Schengen rules that would enable more controls and security checks along the EU's external borders. Leaders at the summit largely avoided the topic of Brexit, which was only briefly discussed in the early hours of Friday morning.
Read More:
Click here to read the full edition of EUSource.