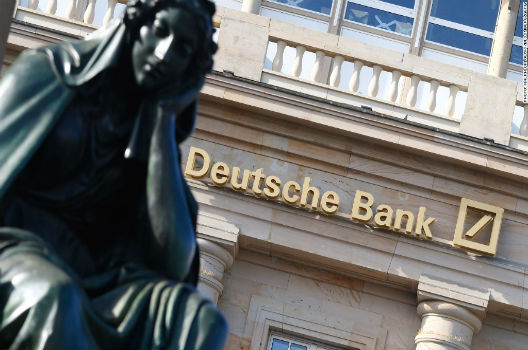 THIS WEEK'S KEY TAKE-AWAYS
Deutsche Bank sinks lower in investors' confidence
CETA set for signing while TTIP trails behind
Fox speech heavy on confusion, light on Brexit details

BRUSSELS IN BRIEF

EU ministers give up on TTIP for now, but CETA may keep it alive
EU officials conceded on September 26 that negotiations on the long-awaited US-EU TTIP trade deal will not conclude before the end of the year. As the US presidential election nears, many had hoped to conclude TTIP in some form before the end of President Obama's term. The announcement comes just as CETA, the Canadian counterpart to TTIP, surges forward on the path to ratification in the EU following EU trade ministers giving the green light last week. With the American deal now in limbo, some see the success of CETA as a small sign of hope for continued negotiations. CETA is expected to be formally adopted by trade ministers on October 18 before ratification in all 28 member states begins.

Read more:
Politico: Europe nears trade deal with Canada, keeps TTIP on life support
Reuters: Germany's Gabriel gets green light to supprt EU-Canada trade deal
Deutsche Bank bailout prospects uncertain as crisis looms
Rumors swirled this week over whether Germany is drawing up plans to bail out Deutsche Bank as it faces a potentially crippling US 14 billion legal fine and steep declines in share prices and investor confidence. Chancellor Angela Merkel's team denies any plans for state aid while the bank denies asking for any help. Media reports, however, have cast the denials as face-saving stunts. Investors, including several prominent hedge funds, appeared to believe the story as they began to abandon Deutsche Bank in droves by September 29, showing little confidence in the bank's ability to recover without a bailout.

Read More:

Fox shows more style than substance in Brexit strategy speech
In a September 27 speech to the World Trade Organization, UK Trade Minister Liam Fox left many puzzled by vague assurances that there would be "no legal vacuum" under the multilateral trade framework while his country exits the EU. Until the UK officially leaves, all the country's schedules with the WTO are tied to the EU's. Fox said Britain would "continue to uphold these commitments" post Brexit, essentially maintaining the status quo and contradicting earlier reports that Fox intended to use the speech to support leaving the EU customs union. A week before the Conservative Party conference, Fox's ambiguity at the WTO also suggests divisions among Prime Minister Theresa May's government over its Brexit stance.
Read More:
Click here to read the full edition of EUSource.