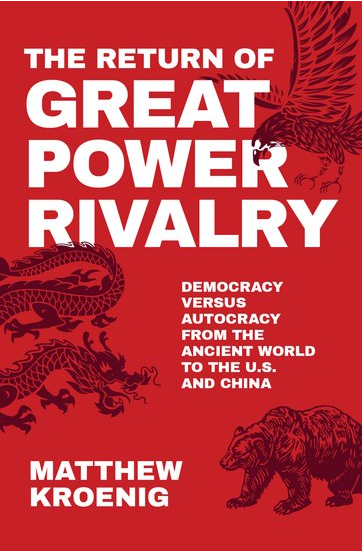 The National Security Strategy of the United States declares the return of great power rivalry with Russia and China to be the foremost threat to US security and economic well-being. Further, many analysts predict that America's autocratic rivals will have at least some success in disrupting and, in the longer term, possibly even displacing US global leadership. The coronavirus pandemic adds new uncertainty to the global landscape, with the potential to reshape geopolitical power and the future of world order.
Dr. Matthew Kroenig, deputy director of the Scowcroft Center for Strategy and Security at the Atlantic Council, is joined by State Department Spokesperson Morgan Ortagus and PBS NewsHour foreign affairs correspondent Nick Schifrin for a conversation about the current state of great power competition and where that competition is headed. The panel also addresses points in Kroenig's new book, The Return of Great Power Rivalry, which argues democracies contain certain built-in advantages, and contends that the US is better positioned to maintain a global leadership role than either Russia or China.
This event will be held virtually. To receive the Zoom link, please complete the registration form.
Speakers
Elbridge Colby
Principal
The Marathon Initiative

Matthew Kroenig
Director, Global Strategy Initiative, and Deputy Director, Scowcroft Center for Strategy and Security
Atlantic Council

Morgan Ortagus
Spokesperson
US State Department

Nick Schifrin
Foreign Affairs Correspondent
PBS NewsHour
Instructions for Joining Zoom Event and Q&A
To join the event, please use the following link:
https://atlanticcouncil.zoom.us/j/271934148

If you would prefer to join via phone, please use one of the following numbers if you are in the US:
US: +1 312 626 6799 or +1 646 876 9923 or +1 346 248 7799 or +1 408 638 0968 or +1 669 900 6833 or +1 253 215 8782 or +1 301 715 8592
Webinar ID: 271 934 148

If you are outside the US and would prefer to join via phone, please find international call-in numbers at the following link: https://atlanticcouncil.zoom.us/u/aiaKkfa22

For Q&A:

1) Hover over main screen to open a rectangular box.

2) Click "Participants" in that box.

3) On the right side, a new box will open. A button will appear allowing the participant to digitally raise their hand.

4) The moderator will call on participants who raise their hand, and participants will be un-muted in order to ask a question.
About the author