Event Summary
On March 5, 2020, days before Presidents Donald Trump and Jair Bolsonaro met in Miami, the Atlantic Council's Adrienne Arsht Latin America Center, in partnership with the Brazilian Trade and Investment Promotion Agency (Apex-Brasil), launched at a public discussion the bi-country report, "US-Brazil Trade and FDI: Enhancing the Bilateral Economic Relationship," authored on the US side by Ken Hyatt, senior advisor at Albright Stonebridge Group, and Lisa Schineller, Managing Director of Latin American Sovereign Ratings for S&P Global Ratings, and on the Brazil side by Abrão Neto, Executive Vice President of AmCham Brasil and nonresident senior fellow at the Adrienne Arsht Latin America Center, and Daniel Godinho, Director of Corporate Strategies for WEG Brasil and nonresident senior fellow at the Adrienne Arsht Latin America Center, with Roberta Braga, associate director and Brazil lead at the Adrienne Arsht Latin America Center.
The report, the product of over a year of consultations with government and private sector representatives in both countries, put forward both practical short-term and long-term recommendations for deepening the bilateral economic relationship.
The launch event brought together key leaders for a conversation on what can be accomplished yet this year as the two countries work toward a potential free trade agreement in the longer term. It comprised keynote addresses by Sergio Segovia, president of the Brazilian Trade and Investment Promotion Agency (Apex-Brasil), Joe Semsar, acting undersecretary of commerce for international trade at the International Trade Administration in the US Department of Commerce, and Ambassador Nestor Forster, appointed ambassador of Brazil to the United States, as well as two panel conversations led by Braga, one with current and former policy-makers and one from the private sector perspective.
Jason Marczak, director of the Adrienne Arsht Latin America Center, kicked off the event, highlighting the unique potential currently between the United States and Brazil to harness economic opportunity. Sergio Segovia then emphasized the particular benefits of a US-Brazil trade agreement, including the establishment of trade standards and increased legal certainty. For Segovia and Apex-Brasil, the recommendations put forward in the report "will support governmental efforts to deepen collaboration and explore next steps for US-Brazil trade and investment. We believe that the recommendations made at the end of the study are valid and have a great potential for implementation."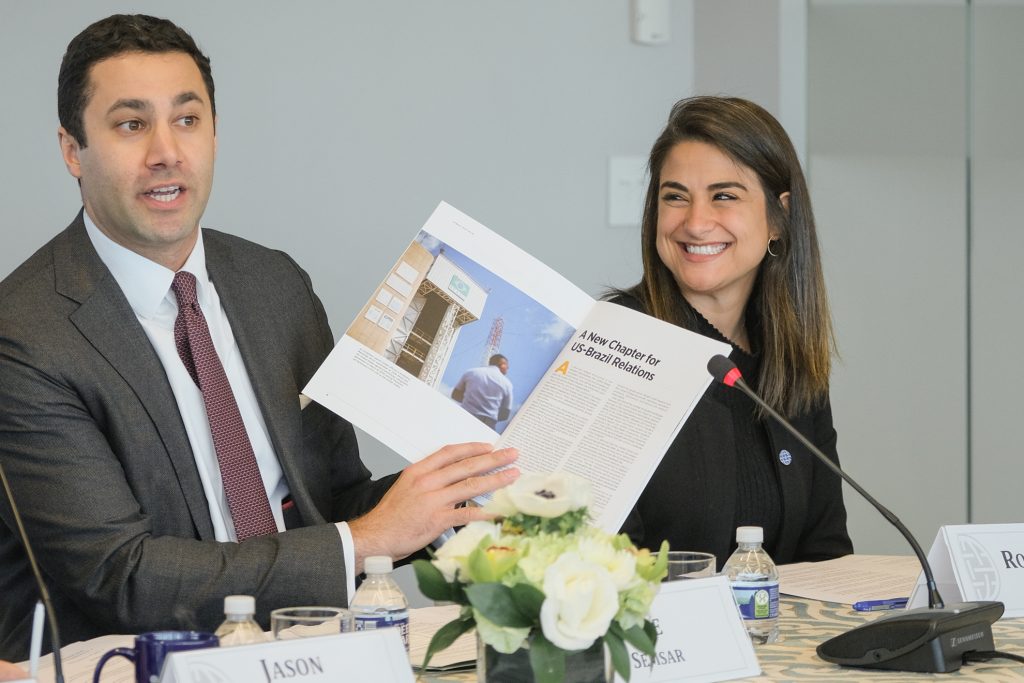 Providing the US perspective, Joseph Semsar emphasized that "there is big momentum behind this bilateral relationship and we look forward to leveraging this report as a focusing document to move that relationship forward." He highlighted the importance of building upon existing bilateral commitments, including the Americas Cresce program, which aims to facilitate infrastructure project financing. For Undersecretary Semsar, consistent engagements and collaboration will impact growth, and he committed to helping prioritize Brazil as a core partner of the United States.
Ambassador Nestor Forster reiterated the unique moment in the US-Brazil bilateral relationship. He mentioned US support of Brazil's accession to the Organization for Economic Cooperation and Development (OECD) as an example of the relationship's development, declaring it "paramount to reforms in Brazil." Suggesting other areas for US-Brazil collaboration, the ambassador mentioned the Technological Safeguards Agreement, which Brazil ratified days later, and the pilot program for Global Entry, among others. He noted the importance of recommendations such as a chapter-specific trade agreement for "increasing the size of the pie" for all, adding that "we should use the suggestions from this study as the paving of a road that might eventually lead us to a larger, more encompassing agreement."
The US-Brazil relationship is of bi-partisan importance in opening doors for new US investment opportunities. In a fireside conversation with Marczak, Congressman Darin LaHood (R-IL), co-chair of the US-Brazil Congressional Caucus, shared the importance of trade with Brazil for his district, which relies heavily on agricultural exports. He stressed the importance of Brazil's domestic reforms in cultivating increased US-Brazil ties, specifically tax reform, pension reform, and increased anti-corruption efforts, all of which would create tremendous potential for a trade agreement.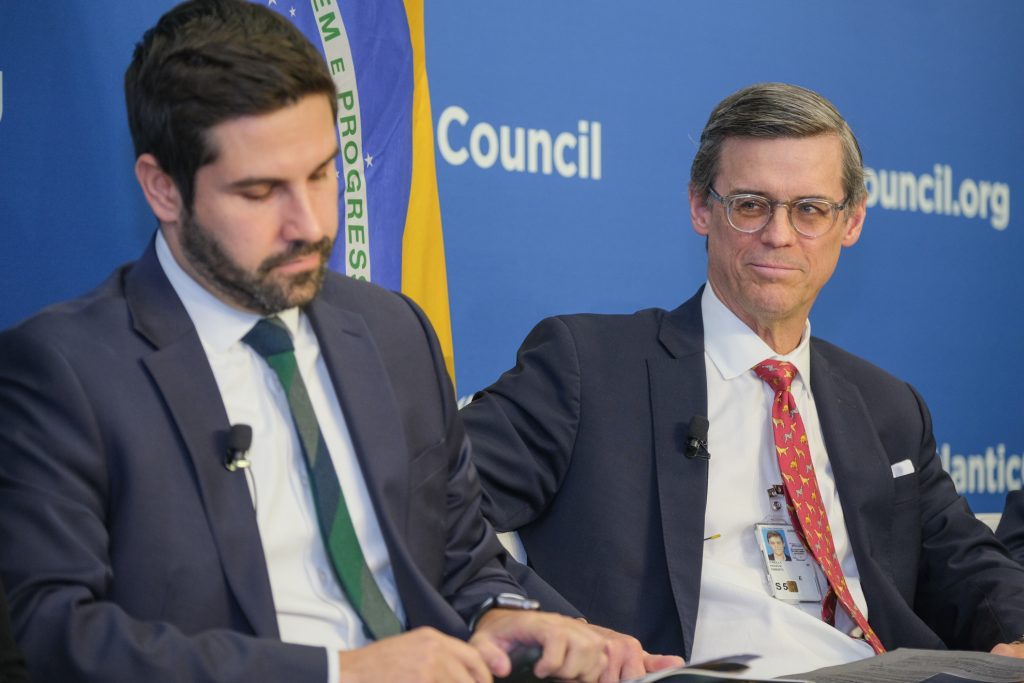 Sitting down for a deep dive with current and former policymakers from both countries, including two of the four report authors, Braga led a conversation on what practical recommendations the two countries can implement yet this year, with a focus on a chapter-specific agreement among other opportunities. Maria Cameron, deputy director at the Office of Latin America and the Caribbean at the International Trade Administration in the US Department of Commerce, emphasized the power of the bilateral relationship to strengthen both economies. She prioritized removing barriers to trade and encouraged US-Brazil collaboration to streamline cooperative regulation. Neto focused on the missed opportunities if trade is not strengthened, commenting on the loss of influence and competitiveness that the US would face, considering other trade deals in the works and other countries working in the region.
As a member of Mercosur, Brazil could not negotiate a trade agreement unilaterally. Ambassador Pedro Miguel da Costa e Silva, secretary of Bilateral and Regional Negotiations of the Americas within Brazil's Ministry of Foreign Affairs, emphasized the government's open market approach by clarifying that Brazil is "in a hurry, we want to catch up, so as long as everybody [in Mercosur] is moving in the same direction, we move together. But if somebody needs time, we will have to find solutions. This will not impede Brazil from continuing this agenda. I do not want anyone to think that we are going back to the past." As examples of Brazil's commitment to opening its economy, the ambassador listed trade negotiations underway, including Canada, Korea, and Lebanon.
Regarding tangible goals for 2020, Ken Hyatt focused on both preexisting and new projects. For him, concluding the Mutual Recognition Agreement of Trusted Traders would have economic value, as goods ship more quickly, and would also bring security benefits, as customs officers can focus on other cargo. He also pushed for finalizing the adoption of electronic phytosanitary certificates, which would reduce the paperwork required in agricultural trade, thus expediting cargo through customs.
Kevin O'Reilly, deputy assistant secretary for Western Hemisphere Affairs at the US Department of State, asserted that bilateral collaboration in improving regulatory policies would not only help the US and Brazil establish clearly defined priorities and principles that would encourage investments, but would also provide a model for other countries seeking to make regulatory reforms.
For DAS O'Reilly, previous negotiations are "excellent places to start that conversation [with new countries]." In addition, Cameron suggested, "looking at the USMCA and identifying the sticking points […] and using that as the starting point for an agenda." Ambassador da Costa e Silva added that Brazil has negotiated various types of trade agreements and would "have no problem working with a USMCA model of agreement." Mentioning Brazil's request for OECD accession as another example of Brazil's desire for reform and improvements, the ambassador emphasized the importance of US support, saying the reforms are "part of a process in which we count on the United States to be a partner to achieve something that our private sector has been asking of us for a long time."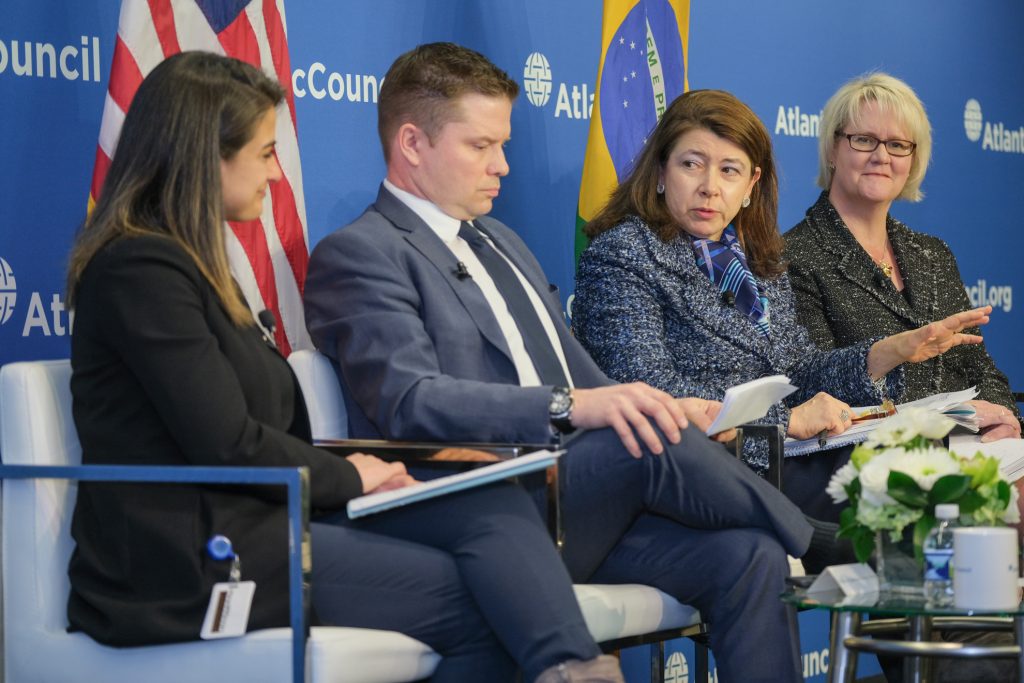 On the private sector perspective, Steven Bipes, vice president of global strategy and analysis at the Advanced Medical Technology Association, spoke on the core benefits for his sector, identifying the medical device manufacturing industry as very supportive of a multi-chapter agreement. Like Neto, Bipes emphasized the importance of a comprehensive trade agreement, but acknowledges the complexity of negotiations.
For Schineller, as mentioned by Rep. Lahood, the tax reform is an important and necessary reform in Brazil. She believes the current legislative momentum behind Brazilian tax reform would help both the country's OECD application and further align Brazil with the United States, making a trade agreement more viable.
On other domestic reforms, while intellectual property laws and increased privatization have taken priority in Brazil, Bipes believes that good regulatory practices are more important for long-term convergence of practices and sustainability of the bilateral relationship. For him, ensuring that good regulatory practices are in place will streamline the economy and help find a natural equilibrium between public and private economies.
Lisa Schroeter, Global Director of Trade and Investment Policy at Dow Chemical Company, echoed this point, using the digital economy as an example of potential growth, provided that the proper regulations are in place and that there is collaboration with the public sector and with manufacturers. She pointed out that regulatory guidelines would "create a standard to help Latin American countries, often smaller ministries, ensure strong health and human safety provisions while being economically competitive."
Discussing private sector collaboration with governments, Schroeter pushed for the launch of treaty negotiations, and completion of the Trusted Trader deal, as Hyatt had also proposed. Schineller commented that Brazil's OECD accession could benefit most from this public-private collaboration, highlighting efforts currently underway. "In terms of helping improve transparency in public sector accounts and increased institutional dialogue between the government and the Federal Court of Accounts, this kind of institutional strengthening is key."
In conclusion, Bipes emphasized the urgency of the issue for the private sector, noting that governments should not "let perfect be enemy of the good. Don't try to resolve all old business before getting to new business. Take the eleven USMCA chapters, mark them up, and sign a deal by June."
Further reading