This new issue brief argues that the United States should craft a realistic Turkey policy, given the current state of tensions over regional policy and the entrenchment of authoritarianism and illiberalism in Turkey. The piece contends that the trajectory of the relationship between the United States and Turkey suggests a need for the United States to focus on "transactionalism," wherein the majority of bilateral talks are simply aimed at managing a troubled but important relationship, rather than waiting for tensions over US actions in Syria to subside.
Aaron Stein explores the current state of US-Turkish relations, examining tensions over Syria and the US partnership with the Democratic Union Party (PYD); US-Turkish military-to-military ties; key challenges for the Turkish military; and political-military tensions with different NATO and European Union members. The issue brief also explores the root causes of US-Turkish tensions and provides policy options to help manage relations.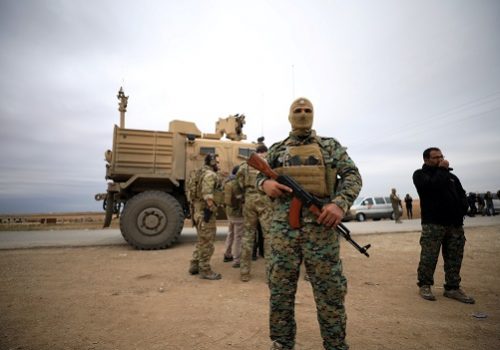 Fri, Nov 16, 2018
Turkey was once the main sponsor of the Syrian opposition's effort to topple Bashar al Assad. However, beginning in late 2016, Turkish policy has shifted following the Russian defeat of Turkish backed proxies in Aleppo. This change in policy sparked a reassessment of Turkish strategy away from the overthrow of the regime and towards close cooperation with Russia and competition with the United States.
MENASource by Aaron Stein
Wed, Apr 3, 2019
Atlantic Council NATO Engages 2019 "Conversation: Turkey's Role in NATO and Regional Security Challenges" Speaker: Mevlüt Çavuşoğlu, Minister of Foreign Affairs, Republic of Turkey Moderator: Margaret Brennan, Moderator, "Face the Nation," CBS News Location: Washington, D.C. Time: 9:30 a.m. EDT Date: Wednesday, April 3, 2019
Transcript by Atlantic Council
Wed, Apr 18, 2018
This new issue brief by Atlantic Council Senior Fellow Dr. Aaron Stein explores the challenges facing the United States and Europe as Turkish politicians use foreign policy as a tool for populist political gain. To better understand the relationship between Turkish policy-making and public opinion, the Atlantic Council's Rafik Hariri Center worked with Metropoll, a […]
Issue Brief by Aaron Stein