Wroclaw Global Forum
Shaping the Policy and Business Agenda for a New Europe
June 2-4, 2016 in Wroclaw, Poland

The Wrocław Global Forum is the leading transatlantic conference in Poland, bringing together outstanding policy and business entrepreneurs for discussions focused on the core transatlantic values of democracy, prosperity, and security. The Forum highlights Central Europe's successful economic and political transition, its strong ties with Germany and other leading European countries, and its growing influence within the transatlantic partnership and on the global stage. Convening more than 400 leaders from government, the corporate world, media, and civil society, the Forum is a key distributor of ideas and influence both regionally and around the world.
The Wrocław Global Forum is organized by the Atlantic Council, the Polish Institute of International Affairs, and the city of Wrocław. More than twenty-two ministers and heads of state have presented their views at WGF, along with numerous CEOs. Past speakers at the Forum have included: Polish President Bronisław Komorowski; US Senators John McCain and Christopher Murphy; Deputy Prime Minister and Minister of Defense of Poland Tomasz Siemoniak; former Polish Foreign Minister Radosław Sikorski; US Deputy Secretary of State Thomas R. Nides; SACEUR Admiral James Stavridis; former Polish President Lech Wałęsa; former US National Security Advisors Stephen J. Hadley and General James Jones; EU Commissioner for Trade Karel de Gucht; Airbus Group CEO Thomas Enders; and others. The extensive press coverage and social media impact of the Forum ensure a strong regional and global audience for the issues discussed in Wrocław.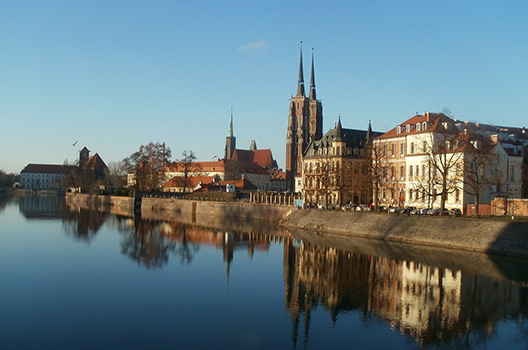 Apart from distinguished keynote addresses, the Forum provides a platform for business executives and policymakers to share their perspectives on key issues at specialized side events, café conversations, and leadership sessions. Business is one of the strong pillars of the transatlantic partnership and is central to the Forum. In 2015, for the first time, we held Business Leadership Dialogues on topics such as energy, IT and innovation, and defense.
The Wrocław Global Forum agenda always reflects the most pressing issues facing Central Europe and the US-European partnership. In the wake of the Eurozone crisis, with conflict in Ukraine and the Middle East, political polarization on both sides of the Atlantic, and increasing focus on the dynamic economies of Asia, the 2015 Forum addressed:
The Russian Challenge and the Future of the Eastern Partnership
The Transatlantic Trade and Investment Partnership: Progress and Challenges
Energy Union? Coping with Global Markets, Energy Security, and Sustainability
Defense Requirements and Industry in the Post-Crimea Security Environment
Innovation and Technology in a Competitive Global Economy
Addressing Critical Vulnerabilities: Moving Toward the 2016 NATO Summit in Warsaw