CORONAVIRUS ALERT 3/16/2020
The Atlantic Council's Coronavirus Alert is a regular summary of policy, economic, and business events around the emergency. To stay updated, sign up to the Coronavirus Alert here.
Summary: 
Europe became the epicenter of the coronavirus, with Italy recording the highest number of deaths so far. Far-reaching economic stimulus measures failed to reassure investors, as Germany shut its borders, schools closed in New York, and airlines faced the prospect of bankruptcy amid worldwide travel disruption.
Statistics: 
There are now approaching 170,000 cases worldwide in almost 150 countries and territories; more than 6,500 people have died.
QUOTE: "This hits the heart of the economy, and it hits the economy on all sides," said Diane Swonk, chief economist at Grant Thornton, The New York Times reported. "It's not just that we're slowing down things. We're actually hitting the pause button, and there is no precedent, there is no mold for that."
HEALTH AND SCIENCE:
QUOTE: "We are looking at a new war no one has seen before. We have never fought a virus like this with this potential consequence," said New York Gov. Andrew M. Cuomo, The Washington Post reported. "[I]t is only a matter of time before ICU beds are full."
FINANCE AND ECONOMICS:
QUOTE: "We're facing the loss of credibility of the central bank from a market perspective," said Michael O'Rourke, chief market strategist, Jonestrading in Stamford, Connecticut, Reuters reported. "When the investor community loses faith in the Fed, that's when the market gets very dangerous."
BUSINESS AND TRAVEL:
QUOTE: "The current market turmoil tells me a new era is breaking, so question everything," writes Andy Kessler in The Wall Street Journal.
RESOURCES
From the Atlantic Council

Mon, Mar 16, 2020
How many shocks can a political system absorb and still remain in power?
IranSource by Barbara Slavin

Sat, Mar 14, 2020
If NATO could bend Article 5 to combat a non-state terrorist actor striking the United States, why not also to combat COVID-19. Given current transatlantic divisions, there is far greater need now than after 9/11 for a symbolic gesture of unity.
Inflection Points by Frederick Kempe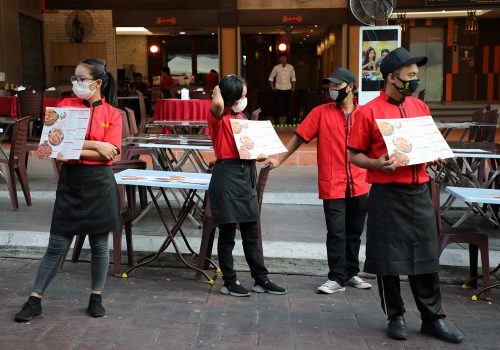 Fri, Mar 13, 2020
The serious health impacts of COVID-19 seem to be felt by older people above age sixty. However, as the novel coronavirus—now officially a pandemic according to the World Health Organization—spreads through societies and markets, youth, who account for roughly a quarter of the world's population, are disproportionately at economic risk.
New Atlanticist by Nicole Goldin, PhD