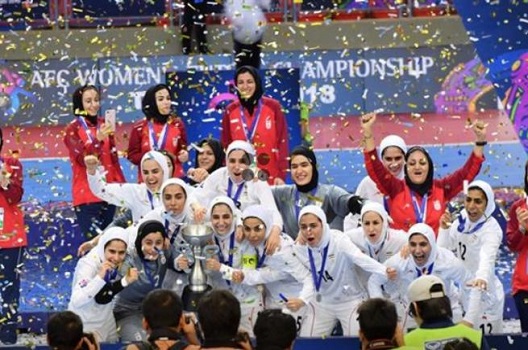 Iranian women have excelled in the sport of "futsal," a variation of soccer played on a smaller, hard court. The Iranian team in May 2018 reconfirmed its top position in Asian futsal, winning the championship match 5-2 over Japan with a dazzling five goals in the second half.
Success in the sport has brought pride to Iranian women and shown that it is possible to empower women within an Islamic framework. It has also underlined controversy over the government's treatment of women athletes and fans, in particular the continued ban on women attending sports events in stadiums where men are also present.

The Asian Futsal win follows other victories for Iranian women athletes. Kimia Alizadeh, a taekwondo black belt, won a bronze medal at the 2016 Olympics in Rio de Janeiro. Zahra Nemati, a paraplegic archer, won a gold medal at the London Paralympics four years earlier. Najmeh Khedmadi and Elaheh Ahmadi have excelled in international shooting competitions.
Their success has shown that women's athletics can be compatible with Islamic values and undercut arguments against their participation by conservatives. Their view, according to Gertud Pfister , is that "the bodies of Muslim women in sport are experienced and mediated through different ideological interpretations of Islam, within the particular political arrangements of specific countries and in ways that are penetrated to various extents by patriarchal relations of power and control."
Women's sports has been a focus of political rivalry in Iran since the 1990s. Then President Akhbar Hashemi Rafsanjani's daughter, Faezeh Hashemi, became a champion of women's athletics as head of the Islamic Women's Sports Federation. She increased access for women to swimming pools, tennis courts and golf driving ranges. She established bike paths for women in Tehran's parks, despite that fact that conservatives seem particularly disturbed by the idea of women riding bicycles. She also paved the way for women to participate in international competition at the highest levels.
Hashemi, who served in parliament from 1996-2000 and at one point toyed with the idea of running for president, was also the vice president of Iran's National Olympic Committee. She became a target of hardliners who saw her promotion of women's sports as detrimental to Islamic morals and values. She became a common cartoon icon and was shown riding a bicycle around the city while wearing a black chador. The cartoons aimed to demonstrate the contradiction of Islamic values and women's sports; Hashemi saw the two as compatible.
Her father supported her agenda and several reformist clerics issued fatwas confirming the legitimacy of women's spots. In a recent interview, Hashemi asserted that Islam actually promotes athletics for all people. She cited a Hadith (one of the traditions about the words and deeds of the Prophet Mohammed) that promotes teaching children, regardless of their gender, to swim, ride horses and shoot.
Women's rights activists in Iran have promoted women's engagement in sports by adopting an Islamic discourse. They have briefed members of parliament and organized working group sessions to explain and defend the compatibility of many practices pertaining to women's rights with Islamic values. In a conversation with this author, Zanan magazine's chief editor, Shahla Sherkat, a veteran women's rights advocate, referred to reformist interpretations of the Quran and Hadith to enhance women's rights.
The trend of advocating a modern lifestyle through Islamic reasoning was launched in the mid-1990s by the philosopher Abdolkarim Soroush and is known in Iran as Now Andishi-ye Dini (Reformist Religious Thought). This trend sought to bridge the gap between religious and secular intellectuals by adopting a pragmatic and flexible approach towards religious doctrines on issues of democracy, freedom and human rights.
This trend is also found in other Muslim majority countries where women face barriers to attending sports competitions and participating in athletics. Pfister notes that "Islamic sports scientists emphasize that health and fitness are important for men and women alike and should be sustained by sporting activities. They legitimize their point of view with various Hadith and emphasize that Mohammed advocated a healthy lifestyle, recommending physical activities such as running, horseback riding, swimming and archery."
The women's sports debate rekindled recent protests over women's attendance in stadiums. Women demonstrated against the ban on their presence in stadiums in February 2018 when they were barred from attending a soccer match between the Esteghlal and Persepolis teams. The Iranian government has long barred women from attending male soccer matches, based at least in part on the theory that women should not hear male fans swear and curse. Iranian women are allowed to attend female football matches from which men are barred.
Women have gone to all sorts of lengths to get into stadiums, even dressing as men and putting on fake beards to gain admittance.
Former President Mahmoud Ahmadinejad briefly lifted the ban in 2006 and ordered the head of the country's sports organization to provide separate areas for women to sit in stadiums. Hardliners pushed back, however. Current president Hassan Rouhani has called multiple times for removing the ban but to no avail.
Typically, when reformists are in power, women are given more space to exert influence in a variety of sectors and levels of society. Their position becomes more established and more difficult to contain. This is a trend that bears watching in Iran as educated women become increasingly outspoken in demanding rights for themselves and for society at large.
Tahereh Hadian-Jazy is seeking her PhD and writes on women's rights in Iran and the Middle East. She holds a masters degree in modern Middle Eastern studies from Oxford University.