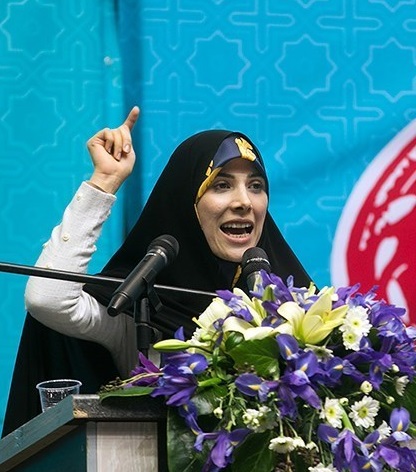 Iran's parliament is on track to more than double the number of women members, with potential benefits for reducing gender inequality in the male-dominated Islamic Republic.
So far, 14 women have made it to the Majlis, and analysts are estimating that there could be as many as 22 – out of a total membership of 290 — after run-off elections this spring for seats in which no candidate got a majority. This compares with only 9 women in the outgoing parliament of whom 8 were members of the conservative camp.
President Hassan Rouhani and Shahindokht Molaverdi, his vice president for Women and Family Affairs, encouraged women to run in this year's elections. Soheila Jelodarzadeh, a veteran parliament member who won re-election, asked women to nominate themselves to change their lives and those of their families for the better.
Pro-Rouhani media urged women to run using slogans such as "Don't miss this golden opportunity" and "Let's send 50 women to the Majlis."
From a total of 12,123 people who registered as candidates, 1,234 were women, a low number but still three times higher than in the previous elections. Of those who registered, 6,200 people including 586 women, were approved to run by the Guardian Council, a vetting body.
Many believe that the campaigns prior to the elections played a significant role in encouraging women to register.
The last time Iran's Majlis saw a larger number of female members was shortly after the 1979 Islamic Revolution, and even then, the total was only 14.
Some similarities are noticeable among the incoming female members of Iran's tenth Majlis. Many come from families that have been involved in politics, almost all are highly educated — which is very common among middle and upper middle-class Iranian women these days – and several are PhD candidates. The women are also generally married and come from traditional religious families.
Sakineh Almasi, 37, a MP-elect from Jam, in southern Iran, is a social worker with several years of government experience. A Phd candidate and an avid athlete whose sports include basketball, body-building and shooting, she identifies as a moderate and has refuted members of the press and pundits who have introduced her as a reformist candidate. In an interview she said she is neither a reformist nor a conservative.
Zahra Saeedi-Mobarakeh, elected from Esfehan province's city of Mobarakeh, is a 32-year-old engineer who has been serving in the government for several years. She won 20,463 votes in her district, becoming the clear winner in the first round, beating her male rival by 6,000 votes. Turnout in Mobarakeh was high and 72 percent of eligible citizens voted, 10 points more than the average nationwide. Saeedi is a Quran enthusiast and activist who has worked for the Red Crescent but not made much of a mark there. She is considered a reformist although she left that unclear in her campaign posters.
Hamideh Zarabadi, 35 and from a clerical family, is an electrical engineer from Ghazvin. Zarabadi was nominated by the reformists after an earlier group of candidates was disqualified.
Hajar Chenarani, who identified as an independent, is from Neyshabur in Khorasan province in eastern Iran. A 37-year-old sociologist with a master's degree who has been active in Rouhani's government, Chenarani is married with three children and got high marks of 80 percent for "transparency" from the voters.
Nahid Tajeddin is a reformist from Esfehan who is a Phd candidate in genetic sciences and has mostly worked in academia as a university lecturer. Almost immediately after her win, Tajeddin issued a statement in which she thanked her supporters and paid tribute to her "martyr father and brother who paved the way" for her political passion, and vowed to help her female constituents overcome their hurdles. In Iran, the word "martyr" generally refers to those who died fighting n the 1980-88 Iran-Iraq war.
Minoo Khaleghi, also from Esfehan, is another reformist member of the Majlis who is 30 years old and has been an active reformist over the past few years. She is a Phd candidate in law.
Parvaneh Salahshouri, 51, elected from Tehran, has already generated major buzz after being interviewed by the Italian newspaper Corriere della Sera. Salahshouri, who criticized Iran's state-run media for discouraging people from voting before the elections, was on a 30-member reformist-centrist list of candidates led by reformist leader Mohammad Reza Aref. Salahshouri, a doctor of sociology who is originally from Masjed-soleiman in southern Iran, spoke optimistically of improved rights for Iranian women and even concurred with the interviewer that wearing hijab might be a choice in the future, rather than an obligation.
After the interview was published and widely noticed, Salahshouri was harshly criticized by conservatives for her comments on the hijab. She then claimed that the interview had been edited and did not accurately represent her views. Salahshouri's husband, a university lecturer, also ran as a reformist, but did not make the cut.
Fatemeh Hosseini, 30, another Phd candidate, is the youngest incoming female Majlis member and also a reformist elected from Tehran. Hosseini is the daughter of Safdar Hosseini, a minister in the government of former president Mohammad Khatami.
In Iran's previous parliaments, including the outgoing one, the low number of women was a major issue. Even more concerning was the fact that most of the women in the Majlis were opponents women's rights. The fact that a majority of the new women members are reformists is promising for improved gender equality in Iran and should help reverse legislation such as a bill passed by the current parliament that reduced work hours for women. While ostensibly meant to help women juggle family and work responsibilities, the law discouraged employers from hiring women.
In an interview, Elaheh Koulaei, a prominent reformist and a member of the sixth Majles, told Iran's Aftab News that the presence of more reformist female parliament members increases the chances of having more women appointed to managerial posts in the government.
Whether or not the women of Iran's tenth Majlis will be effective in gaining further freedoms and fewer restrictions for women remains to be seen, but many Iranian women seem to agree with Samira, a 42-year-old high school teacher in western Iran. She told this reporter in a phone interview about the election results, "We'll take it. Iranian women will take this. We're hopeful. We must be."
Mehrnaz Samimi is a journalist and simultaneous interpreter based in Washington, DC. On Twitter: @MehrnazSamimi