Ronaldo's visit to Iran was a temporary reprieve from the realities on the ground
From regularly playing in the world's biggest matches in cities like Madrid for Real Madrid and Manchester for Manchester United, Portuguese soccer star Cristiano Ronaldo found himself playing in an unfamiliar venue: Tehran.
On September 19, Saudi league Al Nassr—which signed Ronaldo in December 2022 for an estimated $220 million contract—won 2-0 against Iranian club Persepolis in the Asian Football Confederation (AFC) Champions League. The match was played inside an empty Azadi Stadium due to a ban by the AFC regarding an offensive social media post by Persepolis. In 2021, the Iranian club cited Nader Shah of Persia's invasion of India in the eighteenth century to encourage their team prior to a match against Indian club Goa.
Although the stadium Ronaldo played in was quiet and empty, nothing about Ronaldo's first trip to Iran was silent.
Upon arrival to the capital, Tehran, on September 18, large crowds of fans chased Al Nassr's bus to try and get a glimpse of Ronaldo. If these chaotic scenes were not enough evidence of his popularity, the bus driver reportedly gained 150,000 followers on social media just a few hours after Ronaldo's arrival. Furthermore, the soccer star's Instagram page was filled with comments from Iranians who used circumvention tools to access the blocked photo-sharing application.
When the bus finally arrived at the hotel, the scenes were even more spectacular, as fans were seen climbing hills where the hotel was located to see Ronaldo. Social media jokingly claimed that his fans took over the Espinas International Hotel, where Al Nassr was staying at, by chanting his name for hours in the lobby. These scenes were so massive that Al Nassr was forced to cancel their practice due to the huge crowds. The hotel later unveiled in their lobby a wax statue of the soccer star in his memory.
However, the timing of the match is what stood out the most, as it took place two days after the one-year anniversary of twenty-two-year-old Mahsa Jina Amini's death in custody. Her murder prompted ongoing anti-establishment protests against the Islamic Republic.
The significance of Ronaldo's visit
As recent as a few months ago, a match between a Saudi and Iranian soccer club would have had to be played in a neutral site. This was because Saudi Arabia had severed diplomatic ties with Iran in 2016 after hardliners stormed the Saudi embassy in Tehran and the consulate in Mashhad over the execution of Saudi Shia cleric Nimr al-Nimr. After seven years, Iran and Saudi Arabia agreed to resume diplomatic ties in a deal brokered by China in March. In early September, the countries exchanged ambassadors, cementing the restoration of relations.
All of this paved the way for the country's soccer federations to agree to resume games against each other in their respective nations. While Ronaldo's first visit to Iran was historic for many reasons, the Al Nassr versus Persepolis match was the first played between these two countries in a non-neutral site since ties ended.
Apart from the large crowds gathering to see Ronaldo, his historic visit to Tehran contained many wholesome storylines that depicted the joyful mood his visit elicited, as visits from high-profile soccer players are rare.
Upon arrival, Persepolis greeted Ronaldo and gifted him a traditional Persian rug. The soccer champion was also greeted by large banners across the city that had his face plastered on them. Ronaldo used his time to meet with a disabled painter who used her foot to create paintings of him. One video of a crying young fan went viral, prompting Al Nassr to fulfill the young boy's dream to meet with Ronaldo and get his signed jersey.
Nevertheless, while Ronaldo's visit may have brought joy to many Iranians, the timing was sensitive, given the ongoing anniversary protests. It's worth noting that professional Iranian soccer player, Amir Nasr-Azadani of the Tractor team, and former player, Voria Ghafouri of the Iranian national team, better known as Team Melli, were both arrested in November 2022 for supporting these demonstrations. Amidst such controversies, FIFA President Gianni Infantino made headlines on September 20 when he met with Iranian President Ebrahim Raisi in New York on the sidelines of the annual United Nations General Assembly. Infantino even praised "progress [Iran had] made" despite women continuing to be mostly banned from attending soccer stadiums and the announcement of parliament passing a "chastity and hijab bill" that would, among other things, hand up to ten-year sentences to women "violating" mandatory hijab rules.
Who is coming next to the region?
Fans from across the Middle East and Asia who grew up idolizing soccer stars like Cristiano Ronaldo could have only dreamt of seeing their heroes visit their cities. Thanks to the Saudi Pro League and the Asian Champions League Cup, these fans now have a chance to witness some of soccer's biggest names in the flesh. However, like Iran, Saudi Arabia is also experiencing a fraught time regarding human rights concerns from the international community. Similarly, Riyadh faces accusations of sportswashing by signing soccer greats as part of their recent transformation of the Saudi Pro League.
Ronaldo is just one of many soccer stars who play for Saudi Arabia and are scheduled to play in Iran. Karim Benzema, the French Ballon d'Or winner who plays for Saudi's Al-Ittihad, and Neymar da Silva Santos Júnior (better known by his first name Neymar), the all-time leading men's Brazilian goal scorer who plays for Saudi's Al Hilal, will feature in Iran in October. In addition to Iran, these soccer stars are going to other countries they have never played in before, with Benzema heading to Iraq and Neymar to India. These players are expected to receive massive receptions in all countries, as their populations have historically only seen these prominent stars play in Europe.
From Europe's most prominent venues to major cities in the Middle East and Asia, the newest stars of the Saudi Pro League will continue to bring joy and excitement to countless young and old fans. While soccer has the power to inspire fans from all over the world, for some—but particularly those in Iran—it serves as a temporary reprieve from the harsh realities faced on the ground.
Hezha Barzani is an assistant director with the Atlantic Council's empowerME initiative. Follow him on X: @HezhaFB.
Further reading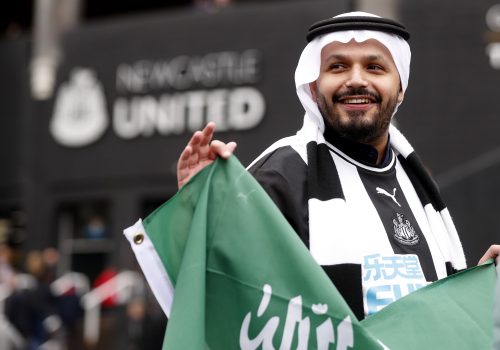 Mon, Apr 4, 2022
MENASource By Hezha Barzani
With a lucrative and rapidly growing European soccer market, it's safe to say that Gulf nations will continue to invest in the beautiful game and reap benefits economically and socially.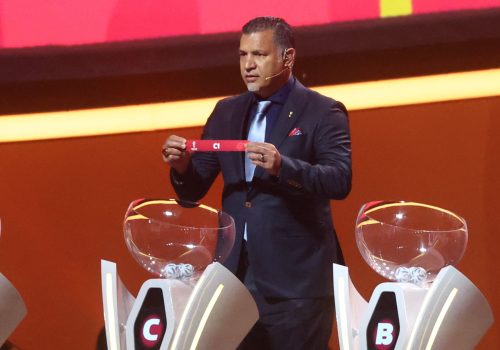 Wed, Jan 11, 2023
IranSource By Arash Azizi
Iranians know who their national heroes are.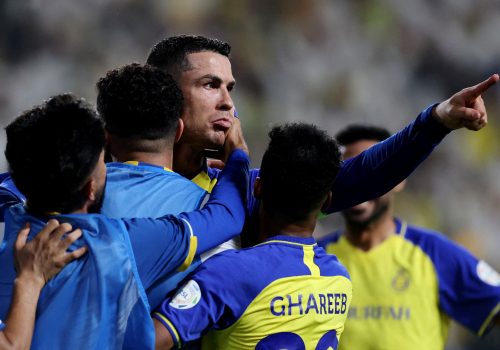 Wed, Jun 14, 2023
MENASource By Hezha Barzani
Saudi Arabia is levying its soccer investments both at home and abroad as its main push to make a bigger splash in the international sports world; but it's not stopping at soccer.