How the Saudi Pro League transformed from being unknown to inescapable
Cristiano Ronaldo, Lionel Messi, Karim Benzema, Sergio Ramos, N'Golo Kanté, and many more of international soccer's biggest stars are either now playing or have mulled over the possibility of joining the Saudi Pro League (SPL)—Saudi Arabia's domestic soccer league.
Those players are soccer legends, playing at giant European clubs and winning multiple team and individual accolades. They've gone from competing in World Cup and Champions League finals to now playing in, or seriously considering playing in, Saudi Arabia. How did the SPL go from a virtually unknown entity to one of the hottest soccer topics in the world?
Outside its homegrown SPL, Saudi Arabia entered the international soccer scene when its Public Investment Fund (PIF) purchased Newcastle United in 2021 for 300 million pounds (over $405 million). At the time of their purchase in the middle of the 2021-2022 season, Newcastle was ranked second to last in the English Premier League (EPL). After having spent around 250 million pounds (nearly $310 million) on new players, Newcastle's Saudi owners have completely changed the trajectory of the English club in one season, with the team finishing fourth in the EPL this season, a remarkable achievement that secures them a spot in Europe's top competition next year: the Champions League. 
But that's not all for the PIF's big soccer investments. At a June 5 announcement, the PIF unveiled its Sports Clubs Investment and Privatization Project, which includes transforming four Saudi clubs—Al Ittihad, Al Ahli, Al Nassr, and Al Hilal—into companies, each of which is 75 percent owned by the PIF and 25 percent owned by different respective nonprofit foundations.
The transformation of these clubs into companies signals the beginning of a broader privatization project, as SPL clubs were formerly under the control of the Saudi Ministry of Sports, with the SPL teams heavily relying on the ministry for financial support. According to a tweet by the PIF, this privatization process would allow soccer and other sports to grow through the attraction of new investments and sponsorships, including from the private sector. 
Why is Saudi Arabia spending billions of dollars on sports investments? Some believe that it has to do with the kingdom wanting to diversify its economy and increase tourism, aligned with Saudi Arabia's Vision 2030; others believe that Saudi Arabia is "sportswashing"—using these investments to boost its reputation in the Western world. It could be argued that both of these reasons are true, since investing in soccer—the most popular sport in the world—makes financial sense, with the added bonus of offering countries the opportunity to improve their global image.
Grabbing headlines
The SPL's first significant move was the ground-breaking signing of Ronaldo, one of the greatest soccer players of all time, in December 2022 to Al Nassr for the "biggest salary" in soccer history worth close to 200 million euros (nearly $250 million) a year. Not only did this move surprise the world, but it also set a precedent for future enormous contracts, like Benzema's three-year, $643 million deal with Al Ittihad and Messi's rumored one-billion-dollar deal over two years to play for Al Hilal. Although he ultimately decided to join US Major League Soccer team Inter Miami, Messi has well-known ties to Saudi Arabia in his role as a tourism ambassador, a role under which he visits the kingdom frequently. 
Since the SPL is not under the rule of the Union of European Football Associations, there are no spending rules, meaning there is no limit on the salaries that Saudi clubs can offer players. The absence of those rules gives SPL clubs an unbelievable advantage in securing talent from Europe, mainly because the PIF's privatization plan provides the mechanisms for large companies, like Saudi Aramco, to invest in the league.
While the SPL is making international headlines with its big-name signings, these headlines haven't shied away from calling out Saudi Arabia on its controversial human-rights record. "Sportswashing" often tops articles discussing Saudi Arabia's, Russia's, and China's soccer and other sports ventures. Numerous prominent human-rights organizations, like Human Rights Watch, have been shedding light on the "sportswashing," most recently highlighting FIFA's controversial decision to award Saudi Arabia's state tourism authority sponsorship of the 2023 Women's World Cup despite its history on women's rights.   
Concerns with the Saudi Pro League
The SPL business model relies on big-name signings to increase the overall value and competition of the league, with an ambitious goal for the SPL to be among the top ten leagues in the world, according to Saudi state news agency SPA. With that being said, this lofty goal for the SPL to become a top-ten league is nowhere near an easy task. For reference, the SPL is currently ranked the fifty-eighth highest-quality league in the world, according to the Twenty-First Group. 
Although the SPL is attracting some of soccer's greatest names, these players are no longer in their prime, with the SPL being perceived by some as a "retirement league." The real challenge will be if the SPL can attract young talents, such as Kylian Mbappé and Erling Haaland, to leave Europe and play in Saudi Arabia during their prime years. This drastic change would be extremely unlikely, as Europe solidly remains the international soccer hub, with the world's major competitions taking place on that continent.
While the reputation of being known as a "retirement league" will be hard to shake for the SPL, the impact of securing aging talent can be seen in Ronaldo's impact. When Ronaldo joined Al Nassr, the Saudi club had 864,000 followers on Instagram; Al Nassr currently has fifteen million followers on Instagram. While there are doubts about securing high-level youth talent to play in Saudi Arabia, what is clear is that signing aging legends like Ronaldo and Benzema still has significant upsides by securing millions of new fans—who then will travel to watch these legends play, growing the Saudi tourism industry—and increasing merchandise and TV revenue, among other benefits.
Looking to the future
Saudi Arabia is levying its soccer investments both at home and abroad as its main push to make a bigger splash in the international sports world; but it's not stopping at soccer. One of its major investments, which uses a similar business model to the SPL by securing top-level talent with insane contracts, is the LIV Golf league—another initiative backed by Saudi's PIF (which has already invested two billion dollars). LIV Golf is attracting renowned golfers like Phil Mickelson, who is reportedly being paid two hundred million dollars to participate in the series. On June 6, a major announcement was made as the Professional Golfers' Association Tour, the leading US professional golf organizer, agreed to merge with LIV Golf, ending a year-long litigation battle that heavily impacted the sport.
Moreover, Saudi Arabia has offered to pay for new sports stadiums in both Greece and Egypt in an effort to join the two nations' 2030 World Cup bid. The kingdom is already hosting the 2029 Asian Winter Games and has showcased an interest in potentially hosting the 2036 Olympics.
When looking to the future, it'll be important to keep an eye on Saudi Arabia's Gulf neighbors—specifically Qatar and the United Arab Emirates (UAE)—who have also invested considerably in international soccer and the sports industry. Seeing the large expansion of Saudi's soccer investments could cause Qatar and UAE to also ramp up their domestic soccer leagues and increase other sports-related expenditures.
All of this is a sign that Saudi Arabia is disrupting the international soccer world, which has traditionally been controlled by Europe and the West. While these bold investments into soccer and other sports are for economic and social purposes, they also convey Saudi Arabia's ability and willingness to disrupt other sectors and fields as it attempts to grow its international power.
—Hezha Barzani is a program assistant with the Atlantic Council's empowerME initiative. Follow him on Twitter @HezhaFB.
Further reading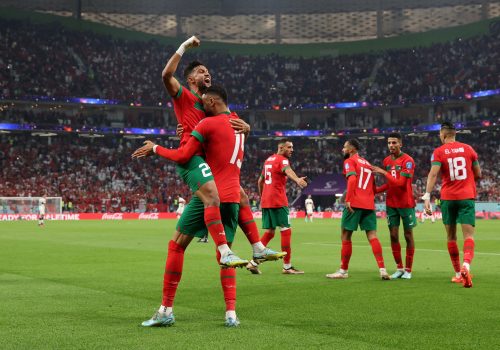 Wed, Feb 8, 2023
AfricaSource By Deneyse A. Kirkpatrick
Morocco's magical run at the 2022 World Cup, where it became the first African nation to reach the semifinal, was celebrated across the continent. What brought Morocco to that moment was not just talent, but also the Pan-African movement that opened doors for African nations' inclusion in global institutions like the Fédération Internationale De Football […]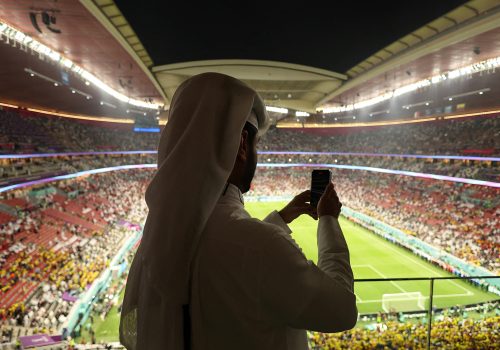 Mon, Nov 21, 2022
New Atlanticist By Atlantic Council experts
Our experts are tracking the World Cup with an eye to all the geopolitics at play. Follow along.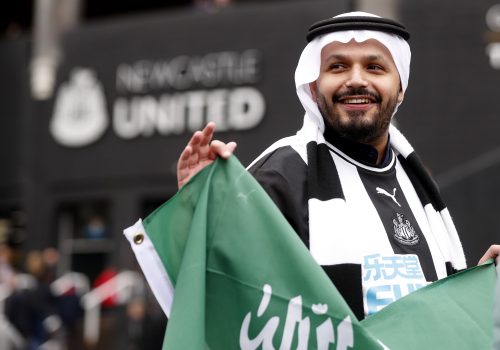 Mon, Apr 4, 2022
MENASource By Hezha Barzani
With a lucrative and rapidly growing European soccer market, it's safe to say that Gulf nations will continue to invest in the beautiful game and reap benefits economically and socially.