At risk of separating, can Israel and the US renew their vows?
President Joe Biden is rolling out the red carpet for his Israeli counterpart, Isaac Herzog, who arrives in the United States on July 18. Herzog's packed agenda includes quality facetime with Biden, Vice President Kamala Harris, and Secretary of State Antony Blinken, as well as an address before a special joint meeting of Congress celebrating Israel's seventy-fifth anniversary. US and Israeli principals will be working overtime to dispel impressions that their two countries are experiencing irreconcilable differences.
The interface between Washington and Jerusalem has evolved over many decades into a virtual gold standard of international partnership. These bonds have been "defined," President Biden said, on June 27, "by a genuine friendship… a shared interest and shared democratic values." That view is shared doubtlessly by the overwhelming 87 percent of Israelis who recently imparted to Pew Research Center pollsters that they hold "favorable" views of America. These sentiments, nurtured by large constituencies in both countries, have been the lifeblood of their bilateral ties.
But the template of US-Israel relations is coming under extraordinary siege. The values component of the equation is being tested by, among other factors, the far-reaching plans of Prime Minister Benjamin Netanyahu's government to circumscribe the purview of Israel's judicial system, a move which is misaligned with the worldview of the Biden administration. After Vice President Harris purposefully hailed—at a belated Israeli Independence Day celebration in Washington on June 7—the "strong institutions, checks and balances, and… independent judiciary" of both democracies, Israeli Foreign Minister Eli Cohen retorted that "she wouldn't be able to name one clause [of the reform] that bothers her." A senior official in Netanyahu's orbit has accused the Biden administration of providing partial financing for the widespread demonstrations—which continue to rage—opposing the legislative overhaul.
It's becoming more problematic also to speak about the tight commonality of American and Israeli interests. The United States reportedly resumed negotiations with Iran over a new nuclear deal, which Netanyahu has stated emphatically will not be considered binding on Israel. Additionally, the announced construction of thousands of Israeli housing units in the West Bank has earned condemnation from the administration, which does not "want to see actions taken that are going to make a two-state solution that much more difficult to achieve."
Commenting on that precise state of affairs with the Palestinians, Secretary of State Blinken confessed to informing his Israeli interlocutors that "if there's a fire burning in their backyard, it's going to be a lot tougher, if not impossible, to actually both deepen the existing [normalization] agreements as well as to expand them to include potentially Saudi Arabia," thus undermining a policy objective about which the United States and Israel are both ostensibly passionate.
These developments come at a time when the nexus of personal connections—the proverbial secret ingredient—which nourishes the health of this relationship is under notable stress. Netanyahu has refrained pointedly from appearing at major gatherings of American Jewish organizations in Israel, his home turf, for fear of being heckled loudly by audiences that are sympathetic to his detractors. His ministers have encountered heated protests when addressing Jewish audiences in New York, a historically hospitable venue for Israeli leaders, while others of their government colleagues are not even welcome in the United States and were tellingly absent from the guest list for the annual Fourth of July event hosted by the US Embassy in Israel.
In this context, Biden's protracted delay in dispatching an invitation for Netanyahu—whom he has known for over forty years—to visit the Oval Office is not merely conspicuous. It channels the zeitgeist of an era in which Democrats, who control the White House and the US Senate, are apparently feeling greater sympathy for Palestinians than Israelis for the first time in decades. Now, with his latest pivot toward China—which 60 percent of Republicans view as an enemy—Netanyahu risks promoting alienation from Israel among both parties.
This estrangement provides the backdrop for the certainty of New York Times columnist Thomas Friedman that Biden—who has been known to confide in Friedman—will convey to Herzog that "when the interests and values of a US government and an Israeli government diverge this much, a reassessment of the relationship is inevitable." Whether Friedman's prediction is correct or not, the prevalent discourse is alone sufficient to impact negatively on Israel's regional standing and security.
Israel and the United States have some tough decisions to make if they harbor any hopes of refreshing the trifecta—shared values, shared interests, and broad-based support—which has kept them famously on the same page. The way back to a more durable US-Israel collaboration will require neutralizing the corrosive effects of narrow political agendas, which are pulling like-minded allies apart and impairing vital strategic coordination. In showering affection upon Herzog—Israel's formal head of state—Biden is making a concerted effort to suggest that, despite his reservations about some of the "most extreme members of cabinets that I've seen," the fundamentals of America's covenant with Israel will prove capable of enduring beyond this current crisis.
Shalom Lipner is a nonresident senior fellow for Middle East Programs at the Atlantic Council. From 1990 to 2016, he served seven consecutive premiers at the Prime Minister's Office in Jerusalem. Follow him on Twitter @ShalomLipner.
Further reading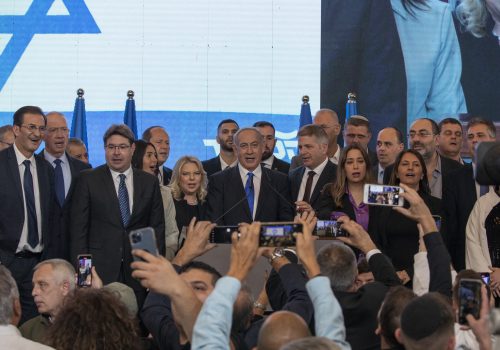 Wed, Nov 2, 2022
MENASource By Shalom Lipner
Whichever scenario materializes, it's not impossible that Israelis could yet find themselves summoned to vote in a sixth election before 2023 is up.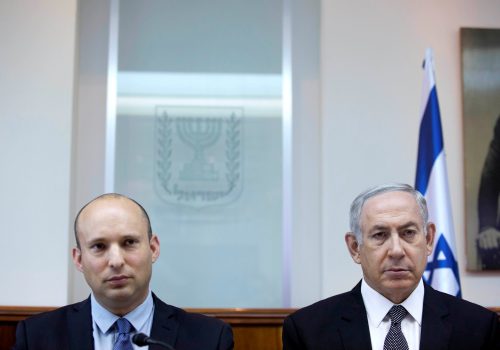 Thu, Jun 9, 2022
MENASource By Amichai Stein
Yes, Israel might go, once again, to an early election, the fifth since 2019.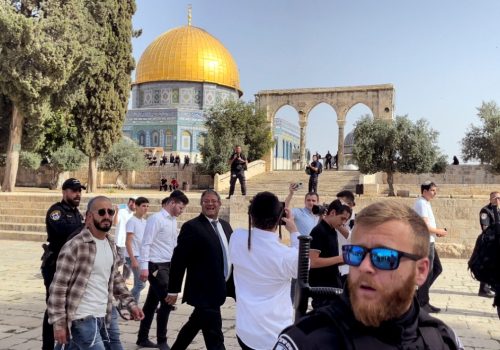 Mon, Jan 30, 2023
MENASource By Ksenia Svetlova
Will PM Benjamin Netanyahu find the desired equilibrium between the radical politics of his coalition partner and diplomacy with Arab capitals?