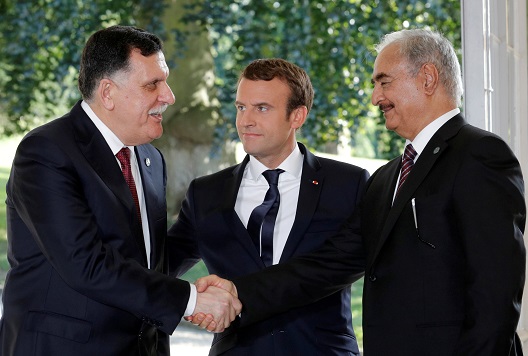 In a major development in Libya's ongoing conflict, head of the internationally recognized Libyan government Fayez al-Serraj and strongman Khalifa Haftar met in Paris this week, hosted by French President Emmanuel Macron, to discuss a way out of the country's current crisis. The meeting between Serraj and Haftar is the second in three months and follows talks in Abu Dhabi in May. Similar to the meeting hosted by the Emiratis, the points discussed in Paris are unlikely to produce much progress on the ground towards a peaceful transition. While Serraj and Haftar both formally agreed to a joint declaration aimed at reaching a political solution in Libya, the meeting left many questions unanswered regarding a political path out of the ongoing conflict. While the United States has indicated that it does not want to take up the mantle of leadership in Libya, it should not cede such a role to France or any other actor with proxy interests in Libya. Such a decision would embolden spoilers and further imperil the prospects for ending the conflict.

The meeting in Paris had two major consequences. The first of which was to legitimize Haftar on the global stage. While Haftar's participation in talks in Abu Dhabi lent him some international legitimation, the invitation by a major European power was particularly significant in boosting Haftar's standing as a key player in any Libyan peace deal. The second consequence was to elevate France's role as a pivotal mediating player in Libya. While France recognizes the UN-backed government of Serraj and supports the Libyan Political Agreement (LPA), Paris has actively supported Haftar's forces in eastern Libya. The meeting in Paris takes ownership of the process away from Abu Dhabi and Cairo, which organized the Serraj-Haftar meeting in May, and Rome, which has cautioned against blind support for Haftar but has so far been unable to assert sufficient leadership to push the two sides to negotiate. While the new UN Special Envoy to Libya, Ghassan Salame, also attended the meeting, the optics of Macron brokering a handshake between Serraj and Haftar indicated Paris was the force behind the initiative.
The joint statement agreed to by both sides called for a ceasefire, expressed support for a political process, pledged to work with the United Nations in compliance with the LPA, and committed to holding presidential and parliamentary elections as soon as possible. However, these principles are unlikely to be fulfilled. France's stepped-up involvement in Libya's conflict will have significant effects on the ground. Haftar and his forces, which finally seized full control of the eastern city of Benghazi this month, will no doubt feel empowered to continue his push to militarily take over the country due to language in the statement that counterterrorism operations are exempt from the ceasefire.
From Haftar's perspective, his operation to take control of the country is one that is counterterror in nature. In an interview with France24 following the Paris talks, he criticized Serraj's lack of control in Tripoli and asserted that members of his Presidential Council hand over ties with terror organizations. Haftar's operation to "liberate" Libya is therefore unlikely to be viewed by the strongman as falling within the boundaries of this ceasefire.
Serraj's lack of control on the ground in Tripoli further indicates that the political process discussed in Paris is unlikely to take place. In hosting Serraj and Haftar, Paris presented the conflict in Libya as a binary matter; in reality, Serraj lacks authority to convince all parties on the ground to accept a possible political agreement with Haftar. Indeed, following the Abu Dhabi meeting in May, factions in the west unhappy with Serraj's effectual capitulation to Haftar launched an attack on the strongman's forces, resulting in considerable bloodshed in the south. In France24 interview, Haftar went as far to say that Serraj "needs to prove himself," reflecting his self-perceived legitimacy as a major player in Libya's conflict. Any solution requires all parties and Libyan interlocutors involved in the conflict to come together and negotiate in good faith. Yet Serraj will not be able to push forward any political process or electoral roadmap without the agreement of these actors, and a rhetorical agreement in Paris will not simply translate to a peace agreement on the ground in Libya.
Further evidence of Serraj's weak position was exemplified by his request to Italy to support his government in addressing the migrant crisis stemming from Libya's shores. Following the Paris meeting, he expressly authorized Italian ships and military forces to enter Libyan territorial waters to combat smugglers. Nevertheless, as soon as he returned to Tripoli, he bowed under pressure from opposing forces and denied having made such an authorization. He went as far as to proclaim Libya's sovereignty a red line that no outside actors should cross. The comical nature of these developments is self-evident. Rome had expressed outrage at Serraj's acceptance of the French mediation, which was unbeknownst to his Italian supporters. Yet this incident demonstrated that Rome has no real power or influence over Serraj and his government, while other external actors continue to play a major role in driving developments in the country.
Macron reportedly proposed that Serraj and Haftar meet again in three months to follow up on the points in the joint declaration. Given the uncertainty surrounding the agreement, it is unclear what benefit such a timeline provides. It is likely aimed at buying Haftar time to continue to arm his forces and advance towards Tripoli, as well as further advance his legitimacy in the international arena. Between the meetings in Abu Dhabi and Paris, Haftar notably made a number of significant gains, including taking Benghazi. Alternatively, it is possible that little will change in the next three months, which is not a sufficient timeline to prepare for national elections or make more than preliminary process on reforming the LPA. A more beneficial approach would involve regular follow-up meetings over the next few months, organized by UN Envoy Salame, that include all of the parties to Libya's conflict rather than just Serraj and Haftar, in order to convince those parties of the merits of a political process and solution.
In order to avoid a worsening of the Libyan crisis—which will likely occur if Haftar's military campaign continues—it is imperative that the United States work with the United Nations to gain as much Libyan buy-in to a political solution as possible. The United States is the only actor with sufficient influence to sideline spoilers and empower the UN-led process. A decision to leave the Libyan problem to others—such as France—to deal with will only produce further chaos. The last three years have exposed the proxy interests that have exacerbated the Libyan conflict. While France's diplomatic efforts to bring Serraj and Haftar together are laudable, the self-interests of Paris and other actors involved in Libya cannot be ignored. Rather, they continue to demonstrate the necessity, albeit currently lacking, of US leadership.
Karim Mezran is a resident senior fellow with the Council's Rafik Hariri Center for the Middle East.
Elissa Miller is an assistant director at the Rafik Hariri Center for the Middle East.