I was part of the Israeli National Security Council. Climate change has been an important security challenge for years.
As the global climate continues to warm—with implications that touch every facet of governance—more and more countries are taking the national security challenges associated with climate change seriously. Israel has been doing so for several years.
In 2019, I began working on climate change issues and was then appointed as the first-ever director of climate change policy at the Israeli National Security Council (NSC). The creation of the role was a significant step in recognizing climate change as a matter of national security, and our inter-agency team worked hard to address its various implications.
The decision to establish a climate change department at the NSC was long overdue. It was the outcome of intensive work and internal discussions in parallel with extensive analysis and research, which highlighted the various opportunities and risks that climate change poses to Israel's national security. The department was eventually established following the recommendation of an NSC task force.
Naturally, the Israeli government decided to treat climate change as a national security issue because of its impact on different aspects of Israel's security. For example, climate change could lead to more severe and frequent natural disasters—such as floods and wildfires—which could destabilize national infrastructure and lead to the mass displacement of people in the region. In addition, climate change could significantly intensify existing conflicts, such as those over water resources – something that is especially scarce in the Middle East – and could create new economic, social, and political tensions on issues such as food scarcity.
The NSC's role in addressing climate change implications was critical, as it had the mandate to coordinate and integrate policy across government agencies and ensure that policies are aligned with national security priorities. As I started my new role at the NSC, I decided to convene an inter-agency team, bringing together representatives from various ministries, including the Ministry of Environmental Protection, Ministry of Defense, and the Ministry of Foreign Affairs. The NSC also facilitated broader consultations, engaging representatives from various NGOs, academia, and the private sector, to ensure a comprehensive approach to the challenges that could arise. One of our goals was to reach a consensus among the various aforementioned stakeholders. This included thoroughly reviewing existing work plans and strategies and identifying areas that required further action.
The newly established department has also played a critical role in assessing the impact of climate change on Israel's national security. This includes monitoring the latest findings on climate change by worldwide experts and international organizations, assessing opportunities and risks for Israel, and developing strategies to assist in the mitigation and adaptation of national and international efforts.
Our team also engaged in strategic discussions on how agriculture, water, and food security are reflected in Israel's national security policy, and on ways that relevant ministries dealt with them. These three areas are connected and have a significant impact on each other. Our policy recommendations are designed to address the various challenges for these sectors in the face of climate change and to ensure food security for the Israeli population.
The Ministry of Agriculture is responsible for developing policies to promote sustainable agriculture and food security. The NSC works with the ministry and other non-governmental organizations (NGOs) to develop policies that address the impact of climate change on agriculture. Taking advantage of Israel's unique technology advantages, farmers are encouraged to increase usage of precision agriculture to optimize crop yields while reducing the use of water and other resources. This policy was aimed at improving the efficiency of agricultural yields while reducing the negative impact of agriculture on the environment.
Food security is a critical issue for Israel, given its dependence on food imports and the potential impact of climate change on global food production. The NSC has worked with different ministries and organizations to promote policies aimed at increasing food security, such as developing new varieties of drought-resistant crops, promoting sustainable farming practices, and increasing the use of locally produced food.
While significant progress has been made in addressing these issues, there is still much to be done. The government must keep investing in research and development to ensure that Israel remains at the forefront of innovation in agriculture, water management, and food security. Additionally, policies will need to continue to evolve to address emerging challenges, such as the impact of climate change on pests and diseases that affect crops and the need to reduce greenhouse gas emissions from agriculture.
From March 14 to 16, the N7 Initiative, a partnership between the Atlantic Council and Jeffrey M. Talpins Foundation, held a conference on agriculture, water, and food security in Abu Dhabi. The productive discussions between experts from Israel and ten Arab and Muslim countries demonstrated that there was an appetite for common approaches addressing these climate-driven challenges. Working together on water technology deployment, trade policies, and improved desert agriculture practices were at the heart of these discussions.
However, Israel's experience of addressing climate change as a national security challenge is also an approach that bears sharing with its regional partners. Among other things, a consensus around climate change as a threat to national security could incentivize governments to adopt, fund, and implement a wide range of the proposals initiated at the N7 Conference and similar gatherings with focus and urgency.
Efrat Minivitzki Thein is a nonresident senior fellow at the Atlantic Council's N7 Initiative in the Middle East Programs. Thein spent the last fifteen years working for the Israeli government.
Further reading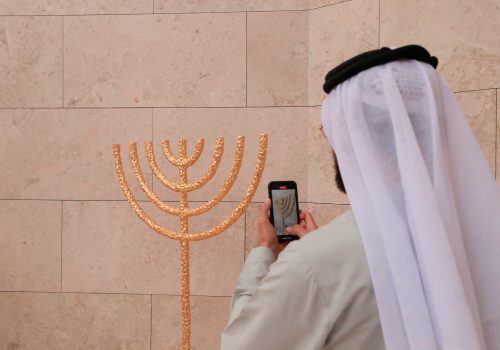 Mon, Feb 27, 2023
MENASource By Marcy Grossman
The Abrahamic Family House, a mosque, church, and synagogue all sharing a multi-faith campus in Abu Dhabi is about to make its worldwide debut, opening its doors to the general public on March 1.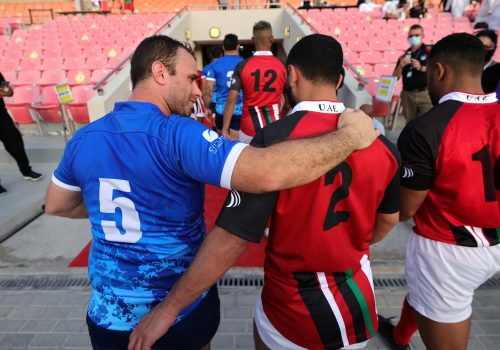 Fri, Feb 24, 2023
MENASource By Tom Vizel and George Stevens
People-to-people (P2P) exchanges have long been recognized as a crucial tool in promoting peace and resolving conflicts.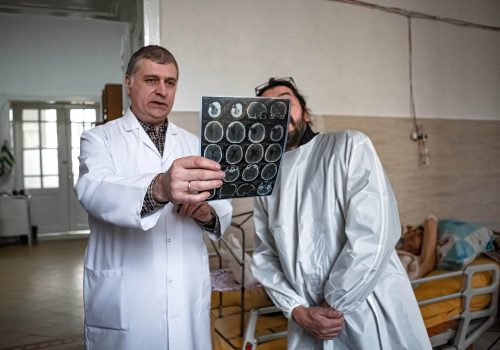 Fri, Feb 17, 2023
MENASource By Yoel Har-Even
To ensure they can provide care in the face of these adversities, European hospitals are learning to prioritize hospital resilience, which can be defined as the ability to withstand and quickly recover from attacks.