Modernizing MENA education: How to close the career success gap
The Middle East and North Africa (MENA) region, historically recognized for its strong educational system, is struggling to equip its students with the essential competencies required to secure employment opportunities. This comes at a time when the job market is experiencing rapid growth, driven by new technologies and innovations. Furthermore, the region has a substantial number of youth, with over 28 percent of its population aged between fifteen and twenty-nine, according to World Bank Data. This represents a remarkable 108 million people—the largest cohort of young people transitioning to adulthood in the region's history.
In order to accommodate the significant influx of youth into the workforce, the MENA region will need to generate three hundred million fresh employment opportunities by 2050. Interestingly, despite the generous spending on public education, the likelihood of unemployment may actually increase with higher levels of education, which sets it apart from other regions in the world.
As mentioned before, the education system in the MENA region often falls short in adequately providing students with the skills and competencies required for a successful path to employment. This gap is evident in the high percentages of skill deficits that exist across the region, with 70 percent of the workforce lacking essential skills. This figure underscores the urgency to prioritize closing the divide between education and employment. Without such efforts, the gap is likely to persist further as new technologies emerge, creating substantial obstacles for job seekers and organizations in search of competent candidates.
The importance of bridging the gap between education and job market needs is further emphasized by a recent report unveiled at the World Economic Forum in Davos, Switzerland in 2022. According to the "Catalyzing Education 4.0: Investing in the Future of Learning for a Human-Centric Recovery" report, investing in the skills of primary and secondary school children in the Middle East and North Africa can generate an additional $266 billion for the region's economy by 2030. In addition, the effect of equipping the current generation of school-aged children is highlighted, showing that enhancing collaborative problem-solving abilities alone could make an astounding contribution of $2.54 trillion to the global economy—equivalent to more than $3,000 per child of school age.
The report also underscores the importance of investing in the skills of the next-generation workforce. The findings suggest that broad-based investment in future skills could contribute to a boost of $8.3 trillion in productivity for the global economy by 2030. Thus, efforts to address the skills gap and provide students with relevant skills and competencies are crucial for ensuring long-term economic prosperity in the Middle East.
Identifying the challenge in the skill gap
The job market is constantly changing, yet educational institutions must adapt accordingly to ensure that students are prepared with the essential skills for success in the workplace. Recognizing these challenges can empower companies, education providers, and governments to address the skills gap, formulate effective strategies, and prevent future skill shortages.
The education systems in the MENA region are failing to keep pace with the rapidly evolving labor market, which is increasingly characterized by emerging technologies, innovation, and entrepreneurship. Moreover, a PricewaterhouseCoopers (PwC) survey indicated that 60 percent of CEOs think that Middle East education systems are falling short in equipping students with the necessary skills for employment. The majority of Middle East countries continue to use traditional curricula that are often outdated and do not reflect the changing needs of the labor force. Many institutions focus too much on theoretical knowledge and rote memorization and fail to offer experiential learning opportunities. This approach may have been effective in the past, however, it is no longer relevant today, as the region witnesses the influx of new technologies and becomes a hub for innovation.
Addressing challenges facing MENA students in the job market
Students need to be prepared to face real-world challenges, where they may be required to apply their knowledge to practical situations. In order for this to happen, they need to be taught problem-solving, critical thinking, creativity, communication, and teamwork. These skills are difficult to acquire solely through classroom learning and require hands-on experience. Therefore, it is essential for educational institutions in the Middle East to provide students with opportunities such as internships, apprenticeships, project-based learning, and vocational and technical programs. By gaining practical skills and experience, students will be better equipped to meet the demands of the job market and become more competitive candidates for employment. Currently, there is a disconnect between education and employer demand—something that is evident in the youth unemployment rate, which stands at nearly 26 percent.
Moreover, the study conducted on the impact of education on labor market outcomes in Egypt and Jordan found that vocational and technical education (VTE) graduates tend to have better employment outcomes compared to their general education (GE) counterparts. The research suggests that this could be attributed to the fact that VTE programs are better tailored to meet the needs of the labor market and have a more robust alignment between graduates' skills and the market's demands.
In response to these realities, it is imperative to take a comprehensive approach that involves collaboration between educational institutions and employers. This will foster innovation and entrepreneurship, leading to economic growth and job creation. Additionally, providing career counseling and guidance can help students identify the right career path for them and the tools and knowledge this will acquire.
Finally, it is crucial for governments in the region to prioritize education and allocate sufficient resources to support reforms. To achieve this, policymakers must commit to investing in infrastructure, teacher training, and curriculum development to create an education system that meets the demands of the twenty-first century workforce.
If these changes can be implemented, the MENA region will unlock massive potential that will address unemployment rates, resuscitate economic growth, and ensure long-term prosperity.
Nibras Basitkey is a program assistant at the Atlantic Council's empowerME Initiative at the Atlantic Council's Rafik Hariri Center for the Middle East. 
Further reading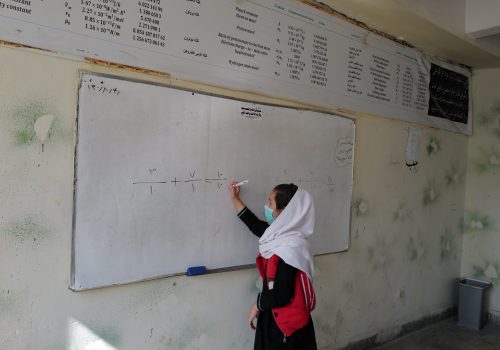 Thu, Mar 16, 2023
MENASource By Nibras Basitkey
As an Iraqi refugee who understands the importance of education, I recognize that achieving gender parity in education is critical for Afghanistan's long-term economic growth and prosperity.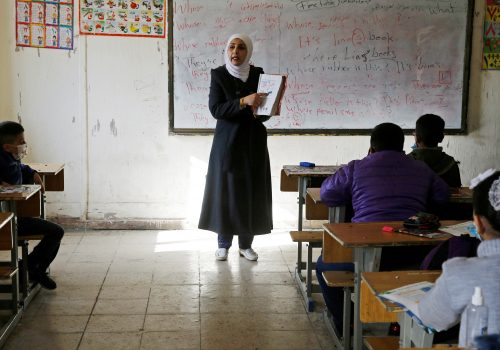 Mon, Jul 26, 2021
MENASource By Hezha Barzani
The devastating impacts of COVID-19, coupled with years of spillover effects of violent conflict and extremism, have already proved to be detrimental to students whose education and future career ambitions already receive limited attention.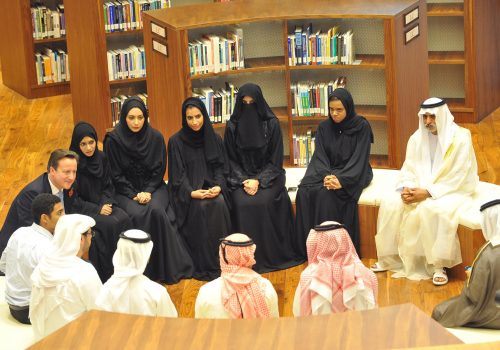 Tue, Sep 29, 2020
MENASource By Omar Al-Ubaydli
The production of new knowledge is a very complex process and many factors contribute to the low levels of innovation exhibited by the Gulf countries. One factor that plays a role is the structure of tertiary education—particularly PhD programs.