People-to-people exchanges matter. They're integral to nurturing the Abraham Accords.
Bringing Israelis and Arabs together is at the core of the Abraham Accords. Having witnessed the cold peace between Israel and its treaty partners Egypt and Jordan, the early adherents of the 2020 Abraham Accords recognized the need to make people-to-people exchanges a key element of their project. Over the last two months, participants from the involved countries have made considerable progress in identifying areas where they want to focus their cooperative work, with people-to-people exchanges permeating all these initiatives.
However, good ideas do not spontaneously transform into functioning projects, and exchanges do not just happen. They require detailed planning, funding, management, and sustained political support. In the case of the Abraham Accords and multilateral initiatives such as the Negev Forum and our own N7 Initiative, different countries operate at different speeds, adding another level of complexity to an already challenging effort. This piece identifies some of the issues involved in creating a strong framework for a vital "Abraham Exchanges" program and proposes a few ideas on how to get it off the ground.
Exchanges take many different forms, with many different types of participants, and should always focus on the topics relevant to the countries involved. In the case of the Abraham Accords, the topics for exchanges should be related to the sectors identified by the official Negev Forum Steering Group, which met in January in Abu Dhabi. In their framework, which provides the political parameters and organizational framework for continuing efforts, the participants identified the following critical areas for emphasis: food security and water technology; clean energy; tourism; healthcare; education and coexistence; and regional security.
The N7 Initiative, launched in partnership with the Atlantic Council and Jeffrey M. Talpins Foundation, supplements and supports the official program through working groups on education; agriculture, water, and food security; and trade. Both the Negev Forum and the N7 Initiative plan a series of follow-up working group meetings. Exchanges will be a crucial element of putting substance into the planning efforts of both broader strategy groups.
Organization
The use of existing national mechanisms for managing Abraham Accord exchanges may be adequate for the time being, but they do not offer an effective permanent solution. Exchange programs need experts devoted to developing topics, recruiting experts, planning schedules, and handling travel and lodging. Governments involved in the Abraham Accords could devote existing staff to these new responsibilities. However, to put a multifaceted exchange program on stronger footing, it would be much better for the N7 governments to develop a joint management mechanism to handle exchanges across their working groups.
Such a mechanism would be a worthy contribution to developing the accords, especially if it brings together talented personnel from all the participating countries. This exchanges platform would develop standard operating procedures and be responsible for carrying out exchanges mandated by the working groups, as well as developing additional topics and exchange mechanisms. Such an organization will need strong leadership to navigate the complex political landscape of Arab-Israeli cooperation and act as an advocate, fundraiser, and occasional crisis manager. The organization will likely draw on officials from participating countries and contractor organizations for day-to-day administration.
Funding and drawing on existing organizations for advice
The current participants in the N7 Initiative should convene some key experienced players in the exchange business to think through what would be needed to create an "Abraham Exchanges" management entity. The N7 Initiative should work with the State Department's Bureau of Educational and Cultural Affairs, along with key exchange organizers in the United States, such as Global Ties and Meridian House. A follow-on session could then be organized with all N7 partners to discuss their willingness to participate in such an entity and their ability to contribute to it.
When it comes to funding, it would likely come from a variety of sources—both governmental and private. The United States should provide modest seed money and expertise to get the outlines of an organization on the table. The Abraham Accords participants should be major funders. Private donors who wish to sponsor exchanges—but not manage them—could provide significant funding.
Interested donors—countries, organizations, foundations, and individuals—want to do something to support Arab-Israeli cooperation. Financial support guided by the priorities of the countries involved would be a key contribution. However, all donors should come into the arrangement knowing that exchanges do not happen without considerable overhead costs. Moreover, the organization should not be used to fund narrow pet projects that limit the flexibility of the exchange partners. Ideas should emerge primarily from the Arab and Israeli participants. Given the tentative participation of some of the countries, much effort will also be needed to obtain commitments to participate and to identify appropriate participants. Additionally, mixed results should be expected as the implementation of the accords moves forward.
Types of exchanges
Exchanges vary widely. One successful US program sends high school students from Arab countries to communities in US states for an academic year. The flagship State Department International Visitors Leadership Program provides a good model for putting together small groups from multiple countries to travel together and focus on a specific topic for three weeks. The Fulbright Program has a long-standing record of success in academic exchanges. Additionally, there are well-established exchange programs focusing on young political leaders and legislators.
Although face-to-face exchanges are optimal, there is also a place for virtual exchanges. These may be an easier sell for some of the more reluctant participants. The Stevens Initiative, created in 2015 to honor Ambassador Christopher Stevens, has been an innovative pioneer of virtual exchanges focused on young people in the Middle East and North Africa and the United States.
The small group of experts from State and US exchange organizations could identify scores of other models (they already began to do so at the N7 meeting in Morocco in December 2022). Of the other countries involved in the Abraham Accords, Israel has deep experience in sponsoring visitors. The United Arab Emirates and some other Arab states bring groups or individuals to visit their countries as well, focusing on Congressional staff members, for example.
All experts in international exchanges will advise that the specific topic of an exchange is important, but equally important are the life-changing personal connections made through exchanges. Participants gain a new perspective on people from other cultures and the impact is long-lasting. If the Abraham Accords are to endure and prosper, people-to-people exchanges will need to strongly complement the development of good working relationships between governments.
Ambassador (ret) Richard LeBaron is a nonresident senior fellow at the Atlantic Council. He served as US Ambassador to Kuwait and in a number of other senior diplomatic positions in the Middle East and Washington. He is a member of the Advisory Council of Global Ties US. Follow him on Twitter: @RBLeBaron.


The N7 Initiative, a partnership between the Atlantic Council and Jeffrey M. Talpins Foundation, seeks to broaden and deepen normalization between Israel and Arab and Muslim countries. It works with governments to produce actionable recommendations to deliver tangible benefits to their peoples.
Further reading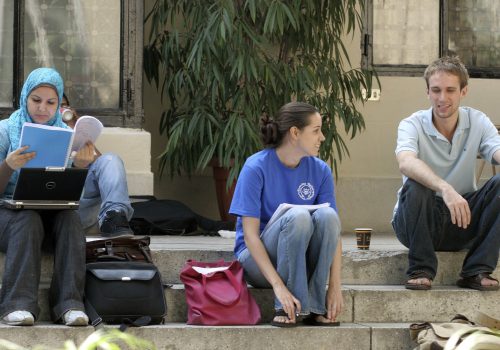 Fri, Dec 4, 2020
MENASource By Richard LeBaron and Dan Sreebny
While US policy toward individual MENA countries will be hammered out in the interagency process through the first year of the new Joe Biden administration, we recommend action in the first months employing existing Public Diplomacy programs to reinforce support for unlocking human potential.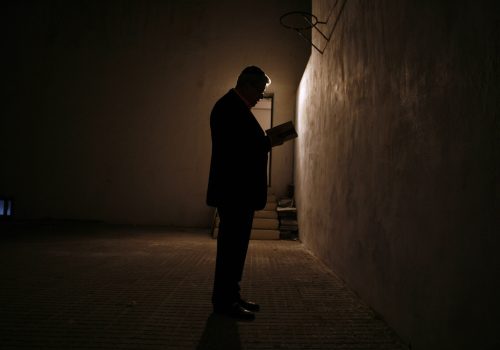 Fri, Dec 2, 2022
MENASource By El Mehdi Boudra
Morocco's continuation of decades-long efforts to safeguard the Moroccan Jewish heritage is integral to combating extremism and hatred and fostering interreligious dialogue.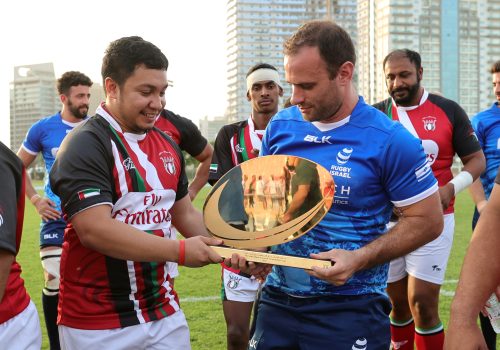 Thu, Dec 15, 2022
MENASource By Nureldin Satti
Cultural exchange is based on the will of individuals, groups, and nations to reach out to each other and better learn, or re-learn, to live together.