Could a regional bloc work in the MENA or is it a fool's errand? 
The Middle East and North Africa's (MENA) geopolitical landscape, which is enriched yet often mired by its diversity, is also steeped in historical complexities—rampant violence, state failures, unsuccessful attempts at democratization, and a surge in extremism and potent non-state actors—and ongoing rivalries. Despite the tumult, notable players, such as Saudi Arabia, Iran, Turkey, and Israel, have continued their often-zero-sum geopolitical games, escalating economic and security predicaments. Emerging mechanisms like the Abraham Accords, the Negev Forum, the I2U2 Group, and China's involvement in Iran-Saudi rapprochement offer hope for regional stability. But what is the best structure the region could unite under to address current and future challenges?
Addressing the regional conundrum requires transcending the traditional boundaries of geopolitical competition. One viable proposition is the establishment of a regional bloc—akin to the Organization of American States (OAS) or the African Union (AU)—that focuses on shared challenges and common interests. This idea proposes expanding beyond the current sub-regional cooperation bodies, such as the Arab League, Arab Maghreb Union, Gulf Council Cooperation, and the Quartet Cooperation Council. Past examples show that regional organizations often emerge after prolonged conflicts or détentes, a scenario not alien to the MENA region.
This MENA bloc could anchor its efforts in areas of mutual challenge and strength, spanning climate change, biodiversity conservation, disease control, and cultural and educational exchange. The urgency to address climate change, for instance, is palpable, as the region prepares for the United Nations Climate Conference known as COP28, which will be hosted by the United Arab Emirates (UAE) at the end of November. Existing initiatives like the EastMed Gas Forum, N7 Forum, the Negev Forum, and the I2U2 Group—dedicated to regional issues like climate and energy—should eventually coalesce into a unified regional voice to maximize impact.
The caveat, however, is understanding the context and unique challenges within MENA. Given the intricacies of the region, membership will likely require trade-offs. Many regional states continue pushing back against formal engagement with Israel (e.g., Qatar and Oman). At the inception point of the regional bloc, the trade-offs consist of either involving Israel, which encapsulates all its complexities (losing the participation of Iran and possibly that of Syria, Iraq, and Oman), or the other side of the coin: Israel choosing not to participate in the regional bloc at the beginning, thereby allowing other countries to dictate the rules.
Historical divides, competing national interests, and diverse alignments with global powers make unity a nuanced endeavor. It should avoid the pitfalls of political disunity and the decades-long rivalry found in the Arab League or the infamous Arab Maghreb Union (AMU). Although the former has been marred by serious divisions, there have been attempts to overcome those diverging interests. AMU, however, is effectively dead due to the deep political divisions between Algeria and Morocco.

Creating an intra-regional cooperative mechanism necessitates an equal footing that is not rooted in hegemonic aspirations or marred by historical grievances. Moreover, it is crucial not to gloss over the hurdles similar bodies face and not paint an overly optimistic picture of their efficacy. Like other regional bodies, economic equality does not exist for these member states, but shared challenges will. No regional body is without challenges, and an overhaul of multilateral bodies has reached a critical pivot point. Nevertheless, for the MENA region, a platform for meaningful dialogue based on shared challenges and strengths must start somewhere.
In the first instance, any such regional dialogue may not get off the ground without some degree of external backing or support, especially from the West. The question for MENA policymakers will be what the incentive for the first-mover regional convenor is. Western policymakers should incentivize the bloc chair by offering it observer status or participation on behalf of the bloc at multilateral dialogues, events, and summits, where a government/leader from the region may not always be a naturally fitting participant—similar to other regional bodies.
As Gulf countries compete for economic and foreign investment, diplomatic leadership, and security, perhaps this could be a role for one of them. The region privileges both authoritarian top-down and consensus-based leadership. Maybe a regional leader that fairly considers other countries' interests through a majlis-style model could be another option. Because of the complexities of any collective effort, regional actors should continue to participate in parallel sub-regional partnerships similar to other regions.
The question for Western policymakers surrounds the strategic value of fostering these intra-regional partnerships. The absence of a unified regional body complicates engagement with the MENA region as policymakers grapple with numerous forums and channels. This is not to say that the West does not have to deal with individual states—and, in parallel, an attempt to calibrate policies against individual state interests versus those of a bloc (e.g., NATO or ASEAN)—in other parts of the world where it does deal with regional blocs. However, a consolidated bloc would offer a more structured avenue for dialogue and cooperation, aiding in managing widespread issues, such as a health pandemic or climate crisis.
The United States can play a role in fostering regional cooperation. For instance, as a starting point, the new senior advisor for Regional Integration, former US Ambassador Daniel Shapiro, will continue to encourage successful cooperation through the Abraham Accords and Negev Forum. Eventually, these forums and channels could be created to serve in an observer status role within the MENA regional bloc.
However, global attention has veered away from the MENA region amid escalating tensions between the US and China and the Russia-Ukraine conflict. Simultaneously, regional governments concentrate on domestic stability and economic resilience to navigate looming economic challenges and prepare for potential crises. The drive towards economic transformation across the region is tangible, with leaders making concerted efforts to create opportunities for burgeoning youth populations. Even countries with warring bilateral tensions, which can pose a challenge to forming such a group, can still coalesce around areas of mutual interest or facilitate dialogue to deal with problems.
The current geopolitical climate and internal focus within the MENA region could present a ripe opportunity for a discussion around the creation of a regional bloc, which would be led and convened by a regional actor with incentives from the West. Such a bloc could streamline dialogue and commitments, offering a unified voice on large geopolitical issues like climate change. Simultaneously, it would provide a platform for overcoming cross-border challenges and promoting efficient, impactful regional solutions. In an era of shifting global focus, a cooperative MENA region can serve as a critical partner in addressing pressing global challenges while safeguarding regional stability and prosperity.  
Negah Angha is a nonresident senior fellow at the Atlantic Council and is an associate vice president with The Cohen Group. She previously served as a senior advisor in the US Department of State and director for multilateral initiatives at the National Security Council.
The opinions and characterizations in this piece are those of the author and do not necessarily represent those of the US government or the views or opinions of The Cohen Group.
Further reading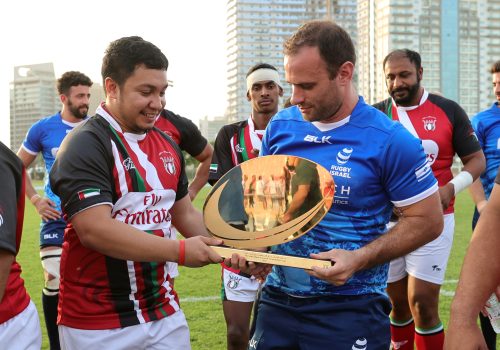 Thu, Dec 15, 2022
MENASource By Nureldin Satti
Cultural exchange is based on the will of individuals, groups, and nations to reach out to each other and better learn, or re-learn, to live together.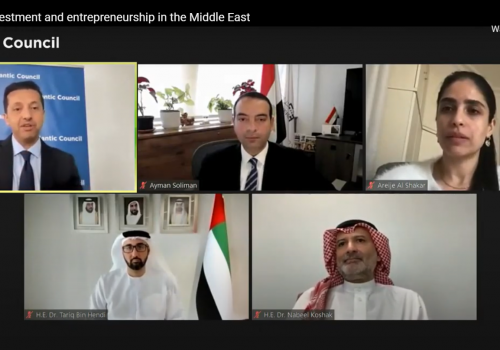 Thu, Mar 25, 2021
MENASource By Heba Malik
Atlantic Council's empowerME initiative and the King Faisal Center for Research and Islamic Studies co-hosted an event that discussed strategies for building regional cooperation to create a more attractive investment landscape and productive entrepreneurial ecosystem. These are some key takeaways.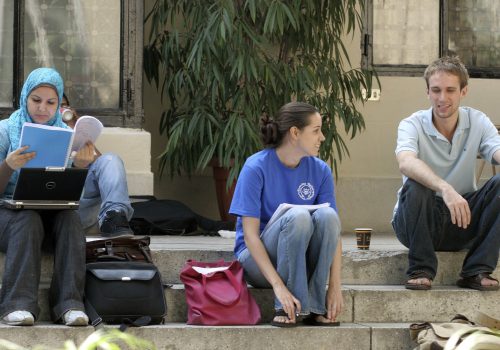 Fri, Dec 4, 2020
MENASource By Richard LeBaron and Dan Sreebny
While US policy toward individual MENA countries will be hammered out in the interagency process through the first year of the new Joe Biden administration, we recommend action in the first months employing existing Public Diplomacy programs to reinforce support for unlocking human potential.