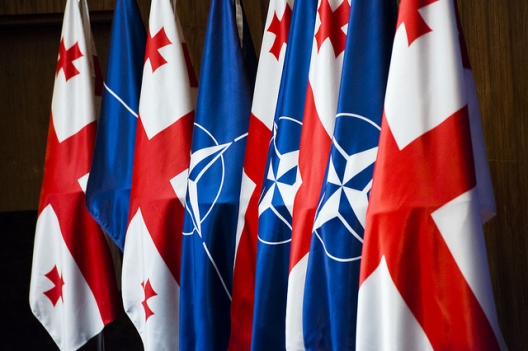 Differences have emerged within the Georgian leadership over the country's desire to expedite its accession to NATO.
Speaking in Tallinn on January 13, Georgian parliament speaker Davit Usupashvili warned that failure to grant his country a Membership Action Plan (MAP) at the September 2014 NATO summit in Wales could undermine domestic political stability and substantiate the argument that Georgia has nothing to lose by resorting to force to bring the breakaway republics of Abkhazia and South Ossetia back under its control.
But Prime Minister Irakli Garibashvili told journalists on January 16 that he disagreed with Usupashvili's assessment. At the same time, Garibashvili stressed that Georgia's foreign-policy priorities remained unchanged. He expressed confidence that "if there is no MAP now, it will be late…. This will not pose a threat to and change our European integration."
Usupashvili further recalled the disappointment engendered by the decision at the April 2008 NATO summit in Bucharest not to grant Georgia a MAP. (The United States, Canada, and most East European states were in favor of awarding Georgia a MAP, but Germany, France and most other West European states were against.) In a nonbinding plebiscite just three months earlier, 61 percent of Georgian voters had affirmed their support for NATO membership, which was one of the primary foreign-policy goals of then-President Mikheil Saakashvili. . . .
There remain, however, several imponderables. It is highly likely that the ENM will continue to seize every opportunity to try to discredit Georgian Dream in the eyes of the international community. The ENM this week demanded the resignation of Sozar Subari, the minister for the penitentiary system, in connection with allegations by ENM Secretary-General Vano Merabishvili that he was taken secretly last month from his prison cell for a meeting with then-Prosecutor-General Otar Partskhaladze, who sought to pressure him. According to public defender Ucha Nanuashvili, the ministry's probe into those allegations leaves some questions open.
Second, it remains unclear to what extent the Georgian Army as a whole meets NATO standards, as opposed to the battalions that have served since 2009 with the NATO-led mission in Afghanistan.
And third, NATO will have to weigh the advantages of granting Georgia a MAP against the inevitable negative reaction from Russia. Russian Foreign Minister Sergei Lavrov reiterated to the NATO-Russia Council last month Moscow's opposition to Georgia's accession to NATO. Lavrov argued that NATO enlargement is a holdover of Cold War thinking and "implies not only preserving the dividing lines which we have all committed to remove, but also implies moving [these lines] further to the east." "No one should take steps that pose a danger to partners' security," he added.