Tue, Jun 2, 2020
Nations in Europe's northeast cooperate through a variety of multilateral security and defense arrangements. "Geometries of Deterrence" assesses how these arrangements individually and collectively contribute to deterrence and defense in Northeastern Europe.
In-Depth Research & Reports by Hans Binnendijk and Conor Rodihan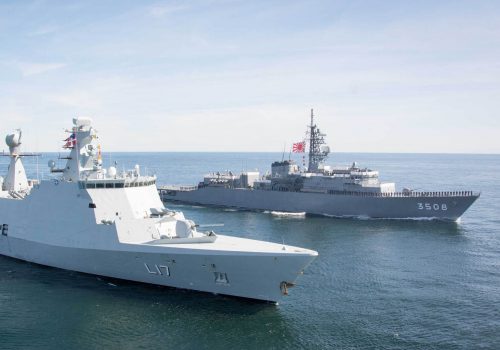 Wed, Oct 14, 2020
NATO is the only institution capable of organizing transatlantic and transpacific stakeholders to address China's political, military, and information threats.
NATO 20/2020 by James Hildebrand, Harry W.S. Lee, Fumika Mizuno, Miyeon Oh, and Monica Michiko Sato

Wed, Oct 14, 2020
Reexamining NATO's founding charter can be an exercise in creating an Alliance fit for a new geopolitical era.
NATO 20/2020 by Damon Wilson and Will O'Brien
Subscribe for events and publications on NATO's partners
Sign up for updates from the Atlantic Council's Transatlantic Security Initiative, covering the debate on the greatest security challenges facing the North Atlantic Alliance and its key partners.