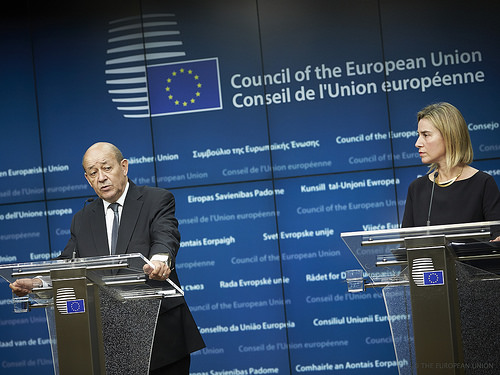 From Robin Emmott and Sabine Siebold, Reuters: France invoked the European Union's mutual assistance clause for the first time on Tuesday, asking its partners for military help and other aid in missions in the Middle East and Africa after the Paris attacks.
The unexpected move to look to the European Union for help, rather than the U.S.-led NATO alliance, requires all of the bloc's 28 members to provide "aid and assistance", which Defence Minister Jean-Yves Le Drian said meant taking some of the burden off France as Europe's most active military power.
"France cannot do everything, in the Sahel, in the Central African Republic, in the Levant and then secure its national territory," Le Drian told a news conference during a meeting of EU defence ministers in Brussels where he invoked the EU's Article 42.7 mutual assistance clause.
French troops have been deployed in Mali, Burkina Faso, Niger and Chad in the Sahel area of west Africa.
From Lorne Cook, AP: "Every country said: I am going to assist, I am going to help," he said….
He said EU partners could help "either by taking part in France's operations in Syria or Iraq, or by easing the load or providing support for France in other operations."
Article 42.7 of the EU's Lisbon Treaty states that if a member country "is the victim of armed aggression on its territory," other members have "an obligation of aid and assistance by all the means in their power.
The clause is similar to, but less far-reaching than, NATO's Article 5, which designates an attack on one ally as an attack on them all, and was invoked by the U.S. after the Sept. 11 attacks in 2001. It's the only time Article 5 has been used….
"Paris traditionally doesn't turn to the alliance for these types of counterterrorism missions, and it's usually reluctant when other allies try to do it," said Jorge Benitez, senior fellow at the Washington-based Atlantic Council.
But he said he expects France to accept help from individual nations to "benefit from the interoperability and the relationship of NATO, even though the organization itself will not be involved."
"From Julian E. Barnes and Laurence Norman, Wall Street Journal: Before Tuesday's meeting, two French officials said Paris hoped triggering the self-defense clause would prod the bloc to advance its work on other security issues, including better border control and increased intelligence-sharing.
French officials said there needs to be agreement on stronger background and passenger name record checks on the EU's external borders—an initiative that has long been blocked by the European Parliament. The French also want more cooperation on fighting illegal arms sales within Europe.
EU interior ministers are set to meet Friday in an emergency meeting to address those issues.