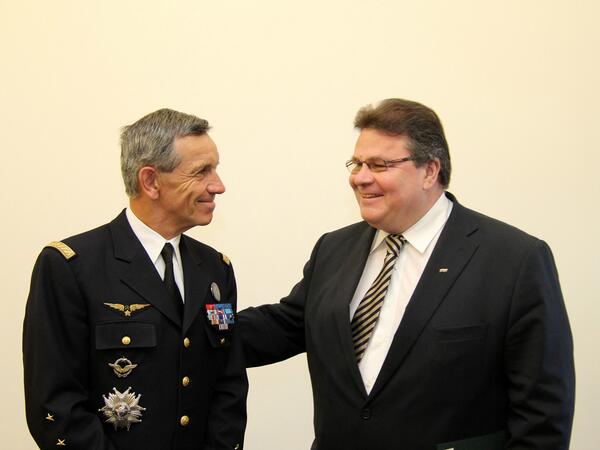 From Luke Baker and Justyna Pawlak, Reuters: Lithuania could block Russia's road and rail access to its enclave of Kaliningrad if Moscow keeps pressuring its neighbors over their ties to the European Union , the Baltic state's foreign minister said.
Vilnius, which currently holds the EU's rotating presidency, will host a summit in November between the bloc and six states in eastern Europe and the Caucasus that are negotiating closer trade ties with Brussels.
All six are ex-Soviet republics that Russia views as part of its sphere of influence. It has been blocking some of their exports and threatening to limit Russian gas supplies in an effort to persuade them not to turn away from Moscow.
Lithuania, which joined the EU in 2004, has had its transport trucks held up at Russian customs for up to 20 days at a time in recent weeks, causing heavy losses for its sizeable trucking industry.
Asked whether Vilnius might retaliate, Foreign Minister Linas Linkevičius said: "We could also apply the same measures."
"As you know, the Kaliningrad region is isolated, geographically isolated, so we could apply some measures also to cut something," he told Reuters late on Tuesday, adding that no discussions along those lines had taken place.
"Transport, we could cut off trains, but not only trains, also the supply of goods, whatever. It is theoretically possible. It was not discussed, it's not our way of thinking, it's not our methods," he said.
The Russian enclave of Kaliningrad, with around 430,000 people, is enclosed by Poland to the south and Lithuania to the north and east but it has a large port on the Baltic.
Aside from sea shipments, it relies on road and rail links with Russia that cross Lithuania and Belarus.
From RT: Linkevicius's statement on Wednesday is not Lithuania's first attempt to pressure Russia using the so-called Kaliningrad Transit as leverage. In 2008 Washington was planning to place some elements of the US global missile defense in Poland. Russia said that such move would seriously shift the balance of power and threatened to deploy medium-range ballistic missiles in Kaliningrad – an exclave deeply embedded into East European territory between Poland and Lithuania.
Lithuania immediately opposed the move, and said that beefing up of Russian military might in Kaliningrad would be disproportionate. It also threatened to raise the price for railroad transit to the region as well as to complicate visa procedures for Russians who had to cross EU territory when they were moving to Kaliningrad by train or by car.
Russia replied by urgently developing other transport links, such as Baltic Sea ferries and aircraft.