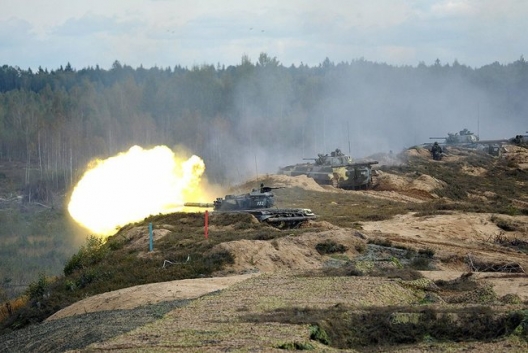 Russia is working to develop within a few years the capability to threaten several neighbors at once on the scale of its present operation in Ukraine, a senior American general said.
Lieutenant-General Ben Hodges, commander of U.S. Army forces in Europe, told Reuters an attack on another neighbor does not seem like an immediate threat because Moscow appears to have its hands full in Ukraine for now.
But that could change within a few years, when upgrades sought by President Vladimir Putin would give Russia the ability to carry out up to three such operations at the same time, without a mobilization that would give the West time to respond.
"Right now, without mobilizing, I don't think they have the capacity to do three major things at one time. They can do one thing, I think, in a big way without mobilizing. But in four to five years, I think that will change," Hodges said.
"Certainly within the next four to five years they will have the ability to conduct operations in eastern Ukraine and pressure the Baltics and pressure Georgia and do other things, without having to do a full mobilization…."
Hodges said neighbors like the Baltic states and Georgia appear to be safe for now, but possibly not for long.
"I think their focus is on Ukraine. I do think some of the other countries that are around the perimeter of Russia are watching that and they are thinking they have got two or three years to get ready before they may become the target…."
Russian Defence Minister Sergei Shoigu was quoted this week by TASS news agency as saying Moscow would stick to its modernization plans estimated to cost more than 20 trillion rubles ($300 billion) through 2020.Plans for this year would include 700 new armored vehicles, 126 new military planes, 88 new helicopters and two brigades of Iskander-M air defense systems, he said….
While many analysts believe Russia would not want to risk a direct confrontation with the United States, NATO strategists are giving thought to the possibility Moscow could stage a Crimea-style operation in a country such as Estonia, with a large ethnic Russian minority.
"They (the Russians) have got the capability to mass quickly and conduct an offensive before we could militarily respond fast enough at the same scale," the NATO military officer said.